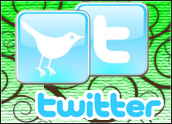 Although Twitter is growing at an incredible rate, it's having trouble retaining users, according to online activities research firm Nielsen Online.
The Twitter micro-blogging service only retains about 40 percent of users month-over-month, Nielsen Online Research Vice President David Martin claims in a company blog post.
That could impact its long-term growth prospects, he warned.
Is Twitter soon destined for the dustbin alongside other flashes in the online pan, or will its name recognition give it the power to stick around long enough to draw profits?
Nielsen Online's Doubts
On the company blog, Nielsen Online's Martin said Twitter's growth is partly due to celebrity exposure. However, before Oprah signed on to Twitter, its user retention rate was below 30 percent, compared to about 40 percent now.
That 40 percent retention rate will limit Twitter's growth to about a 10 percent reach figure, Martin said. "There simply aren't enough new users to make up for defecting ones after a certain point."
A high retention rate is necessary to reach a large audience, although it does not guarantee that reach, Martin said. Twitter's relative newness — it was founded in May 2007 — is not a factor because Facebook and MySpace, when they were new, had double the retention rate of Twitter.
Nielsen Online did not respond to requests for comment by press time.
Twitter Keeps On Growing
The number of visitors to Twitter.com shot up 131 percent in March to total 9.3 million visitors, according to statistics from comScore, another online research firm.
That was 5 million, or 86 percent, more visitors than in February, comScore said.
Twitter is being used at all levels, from Barack Obama during the Presidential campaign to citizens sending out news and pictures of U.S. Airways Flight 1549 as it made an emergency landing in New York's Hudson River in January, comScore said.
"We've seen incredible growth. Right now, Twitter is at 10 million users in the U.S. and growing very quickly," comScore Senior Analyst Andrew Lipsman told TechNewsWorld. "Even if you have a 40 percent conversion rate, considering all the millions of people using the service, that's a pretty valuable conversion right there."
Who's Using Twitter Now?
It seems there are as many reasons for using Twitter as there are Twitter users.
For example, with stories about swine flu sending shudders of fear down people's spines worldwide, Nielsen Online has found that nearly 2 percent of all tweets focus on this topic.
Professional athletes also use Twitter. They include skateboarder Tony Hawk, basketball player Baron Davis, pitcher Barry Zito, and Olympic swimming champion Michael Phelps.
The NFL used Twitter to announce draft selections last week, and there's an NFL Twitter feed with the latest news on football players.
Celebrities have also jumped on the Twitter bandwagon. Earlier this month, Ashton Kutcher drew attention for beating a CNN Twitter account to the 1 million follower milestone, and Oprah Winfrey began using Twitter on her show, putting a big spotlight on the service for people who may not have heard of it before.
Business to Business
Twitter is also gaining ground in the corporate world.
Microsoft has partnered with Federated Media to create and sponsor ExecTweets, a platform that aggregates tweets of top business executives, including billionaire Richard Branson, Alex Chriss of Intuit, and Craigslist founder Craig Newmark.
Software as a Service giant Salesforce.com has connected its Service Cloud to Twitter.
"Twitter [has] a very strong brand and [is] one of the most talked-about companies in the world," Julien Blin, CEO of JBBResearch, told TechNewsWorld.
"A lot of brands and advertisers will do what it takes to start using Twitter as their next platform."