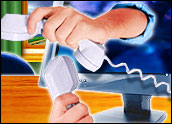 More and more consumers — not just twenty-somethings — are interested in giving up their conventional landline telephone for a mobile phone.
According to the latest research from Boston-based Strategy Analytics, one in five mobile phone users in Western Europe would consider disconnecting their landline because they also own a mobile phone.
Findings from the report, "Western European Cellular User Dynamics," were provided to TechNewsWorld.
Cellular-Only Homes
"Nineteen percent of homes in Western Europe are already cellular-only. Cellular operators should be encouraged to see that a further 18 percent of cellular users with fixed telephones are also considering disconnecting that fixed line," said Phil Kendall, director, global wireless practice. "Younger users will be key targets for cellular operators, with older users in family units showing strong interest in triple plays and quad plays."
The company's survey of 1,000 cellular users in Western Europe also found that some people's attitudes have changed very little in recent years, despite a rapidly changing mobile market climate. Future voice usage profiles will be much more sensitive to price levels than any combination of new technologies or converged services, the survey said.
"Fixed-mobile convergence prospects look good," said David Kerr, vice president, global wireless practice, Strategy Analytics. "We found massive interest in the ability to call from home on your cell phone at landline rates, something both cellular operators and fixed-mobile operators can offer."
Kerr said there is even growing interest in VoIP on cell phones. "Convergence players will need to tap into existing VoIP communities, such as Skype, with these users particularly open to lower home cell phone rates, and the ability to access VoIP services via their cell phone," he noted.
Emotional Decision
Improving results show that consumers are acting on their emotions when it comes to mobile phones. Vodafone Group, the world's biggest mobile-phone company, said customer additions accelerated during the last quarter of 2005.
Vodafone said it added 8.33 million clients, reaching a total of 179.3 million at the end of 2005, an increase of 4.9 percent from the previous three months, surpassing the 3.5 percent growth rate a year earlier, the company said.
The company's main Western European markets are maturing, and Vodafone's sales growth will likely slow in the future. CEO Arun Sarin said the firm is interested in acquiring companies in Africa, Eastern Europe and Asia. Converged technology — combining voice, video and data — will also be a future sales niche.
"Our major markets have seen increasing competitor activity, whilst our emerging market businesses have reported strong growth," Sarin said. "We expect to deliver full-year results in line with our existing guidance and our preliminary outlook for next year remains unchanged."
Americans, Too
The trend is apparent in the U.S. as well. An increasing number of Americans are using cell phones as their main lines, according to reports from the Federal Communications Commission (FCC).
The FCC said more than 90 percent of the population between the ages of 20 and 49 use wireless phones with one third of American households receiving half their calls using wireless phones.
Currently, there are more than 200 million wireless subscribers in the U.S., said Shannon Nix, a spokesperson for the Cellular Telecommunications and Internet Association (CTIA), an international organization for the wireless telecommunications industry. According to the CTIA's figures, wireless usage surpassed wire line usage last fall.