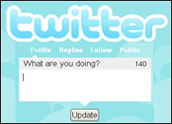 The entire world, it seems, is all aflitter about Twitter. Everywhere you turn, from Bill O'Reilly trashing the world of tweets on The View to Rick Sanchez praising it on CNN, someone's got something to say about Twitter. Is there something to this tweet-fest or are we all drowning in a sea of self-fascination?
"It has become fashionable to castigate Twitter, the microblogging service, as an expression of rampant narcissism," Sam Vaknin, author of Malignant Self Love: Narcissism Revisited, told TechNewsWorld. "Yet narcissists are verbose, and they do not take kindly to limitations imposed on them by third parties. Thus, rather than gratify the average narcissist and provide him or her with narcissistic supply — attention, adulation, affirmation — Twitter is actually liable to cause narcissistic injury."
That's welcome news to the masses that tweet endlessly about the more mundane aspects of their lives. Despite the constant preening on Twitter, at least it isn't narcissism.
However, if it isn't an exercise in narcissism, what's the big deal about tiny messages?
Pre-Historic Twitter and the Death of Dinosaurs
From the dawn of civilization, when writing was the province of the few and esoteric, people have been memorizing information and communicating it using truncated, mnemonic bursts, explained Vaknin. "Sizable swathes of the Bible resemble Twitter-like prose. Poetry, especially blank verse, is Twitterish," he said. "To this very day, newspaper headlines seek to convey information in digestible, resounding bits and bites. By comparison, the novel — an avalanche of text — is a newfangled phenomenon."
Short communiqus existed before recorded history and now reign supreme in modern technology from text messaging and IMs to Twitter. Is Twitter here to stay, or will it be the downfall of people and businesses that reject truncated communication modes — the dinosaurs of our time?
The Tweet Test
"This is the million-dollar question," Brad Wayland, vice president of business development and partner at BlueCotton.com, a custom-design online T-shirt company, told TechNewsWorld. "I listened to a panel the other day that included representatives of Carnival Cruise Lines, JCPenny, and H&R Block. It was very interesting to observe that, although they are all using Twitter, they are not sure of its purpose and what it is accomplishing for their customers."
No doubt it's tough to put Twitter to the test. Reliable return on investment (ROI) metrics do not yet exist, although several attempts have been made to measure other things like influence and reach of individual Twitter entities. For the most part, the pro-Twitter argument is anecdotal but clearly observable.
For example, Wayland attended the South by Southwest Interactive conference (SXSW), where there were several panels, parties and events going on at any given moment. To keep up with all the action, he searched Twitter using "#sxsw" (a tag agreed on by attendees). He could then view every update that each person made as long as they included "#sxsw" in their tweets. People use the hash (#) tag to help segregate their updates for the people who are interested in them. "So when Gary Vaynerchuk decided he was going to a certain tech party, he would post — "heading to the Parish, be there #sxsw" and 20 minutes later, there were hundreds of people trying to get into the party," says Wayland.
In another incident, the rousing round of Twitter-bashing surrounding a poorly received Motrin ad resulted in the ad being pulled, and the random tweet found complaining about a service or product is sometimes rapidly answered by the offending company and quickly resolved. In this way, even with the absence of hard metrics, one can see the value of Twitter by extrapolating from hard data available through CRM metrics — so much so that leading CRM vendors such as Salesforce.com are integrating Twitter.
Ubiquitous as the Phone?
In any event, the question of metrics may be the wrong question entirely.
"Essentially it's the same question as 'what's a phone for?'" Brendan Cooper, Metia's social media expert, told TechNewsWorld. "It's a fairly basic thing, but very useful if you actually need to talk to someone. It's for communicating and sharing, and people will always want and need to do this."
Just like telephones and email, Twitter is a tool and nothing more. Whether it works for an individual or a business is totally dependent on how it is actually used.
"It is a tool and one of many," Larry Weintraub, cofounder and CEO of Fanscape, a digital marketing firm whose clients include clients AT&T, Samsung, Paramount Pictures, M&Ms, State Farm Insurance, MTV and Universal Music Group, told TechNewsWorld. "Before there was Twitter, people were text messaging. Why weren't they just calling? Because they didn't want to have a conversation; just make a point and move on."
"We need to recognize that this is an accepted form of communication — quick bursts of information that our friends and coworkers can access and decide if they want to know more," adds Weintraub. "Twitter itself will most likely be replaced by something else in a matter of months or years. That is how social media works. What is hot today is replaced by something tomorrow."
Tweeting After Twitter
"The basic concept of communicating short bites of information will still be here; whether Twitter is the leader in the format remains to be seen," says Weintraub.
Indeed, the power of the tweet is perhaps diluted by its own money drain.
"The financial challenge is how to monetize their operations," Don Patterson, assistant professor at the University of California Irvine's Bren School of Information and Computer Sciences, told TechNewsWorld. "They are growing rapidly, and behind the scenes that growth translates into bandwidth, computation and personnel costs. Given the state of the economy, I wouldn't be surprised if they had to drastically change their core function in order to remain viable."
However, Patterson said, changing their core function would alienate many of Twitter's loyal users who can fairly easily move to another service that provides similar functionality.
Ironically, the second biggest challenge Twitter faces is on the social front.
"The social challenge they face is something fundamental to how they architected their service," explained Patterson. The way Twitter thinks about tweets is as a shout-out to the world, he said, and while it has some capability to limit this, culturally Twitter is a public broadcast service. This is great for 11 percent of the adult Internet users who need to self-promote themselves as part of their jobs, he explained, but that leaves 89 percent who are likely doing it for fun. Corporations also spend a lot of time self-promoting, so it seems Twitter is a good fit for advertising as well, but that setup may end up shook-up.
"If Twitter finds the need to charge for their services, the 89 percent tweeting for fun are going to find that it's not worth it and will go somewhere else," says Patterson. "This will reduce Twitter's value to the self-promoters and corporations alike. Together with the financial challenge, this suggests that Twitter will have to have a radically new kind of business model to survive."
No worries — Facebook has already copied Twitter. Others will surely do the same soon.
In the meantime, please retweet the link to this article, lol @bakercom1.