Uber this week announced a feature that lets drivers set their destinations twice a day for when they only want to pick up riders traveling their way.
The feature is rolling out this week in the Bay Area, reportedly in the company's hometown of San Francisco first.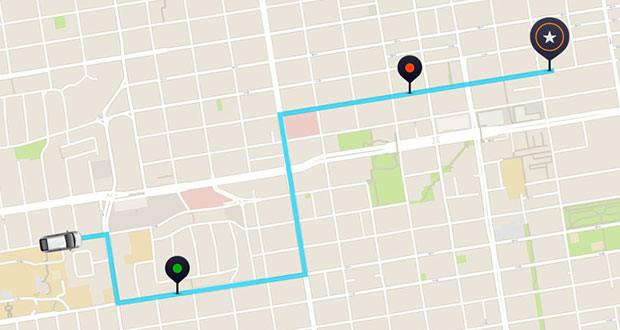 "We haven't announced when and where we will offer this feature next, but we are focused on rolling it out to additional markets," Uber spokesperson Molly Spaeth told TechNewsWorld.
Drivers can set a destination by tapping the clipboard icon in the top corner of the Uber app, selecting a saved location or searching for a new address, or just driving toward their destination. Uber will automatically filter requests for trips along the way.
This feature assures both part-time and full-time Uber drivers that they'll get pickups along their route daily, said Praveen Chandrasekar, a research manager at Frost & Sullivan.
"In spread-out cities, a large number of passengers cancel a booked trip if it takes the driver more than 15 to 20 minutes to reach them, costing drivers fuel and possibly affecting their ratings," he told TechNewsWorld. "This is why, in many places, Uber drivers call passengers right after they've booked a ride to confirm that they're willing to wait 15 minutes or so for the ride."
The Impact on Taxi Services
Cabbies, already suffering because of ride-booking services, will get hit harder now because the feature will let users get an Uber ride faster, said Chandrasekar.
Taxi drivers throughout Europe and the United States have strongly opposed shared ride services, sometimes going on strike to make their point.
"Depending on the time of day, surge pricing model, and operations in and around airports, based on regulations, taxis might still survive the Uber model," Chandrasekar asserted, but in countries like China, where some cities have allowed cab fleets to operate like Uber, "the competition will be much more head-on."
Passenger Experience
Passengers likely won't be affected, apart from having shorter wait times for their Uber rides in larger cities, he observed.
However, the new feature "could degrade the quality of passengers' experience, as the driver may be distracted by his own agenda and time-management concerns," warns Dave Sutton, spokesperson forWho's Driving You? , a public safety campaign launched on behalf of theTaxicab, Limousine & Paratransit Association, which has been battling ride-sharing companies for years.
The added strain on Uber drivers "could cause unpleasant confrontations with passengers," he told TechNewsWorld. They "will strive to maintain a high rating while simultaneously balancing other key concerns," and this will make them "more likely to make errors and become frustrated."
Uber passengers have had several unpleasant experiences with drivers, some having beenphysically or sexually assaulted, WhosDrivingYou.org said.
Playing Catch-Up
Uber's Destinations app comes one year after arch-rivalLyft released a similar one called "Driver Destination."
The Lyft app is available in six cities: San Francisco; Los Angeles; Boston; Washington, D.C.; Houston; and New York, company spokesperson Paige Thelen confirmed.
Lyft copied this feature fromSidecar, Frost's Chandrasekar said.
Driver Destination "has been successful," but Uber, "with operations in more than 300 cities worldwide, can benefit much more from this feature," he suggested.
While Lyft doesn't operate outside of the U.S., it has partnered with Chinese ride-sharing service Didi Kuaidi, Thelen told TechNewsWorld.
Lyft customers will be able to use the company's app to call for rides in cities serviced by Didi, and Didi's customers will be able to do the same when they travel to U.S. cities served by Lyft.