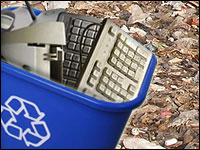 Developing nations will be buried under mountains of e-waste unless they quickly implement programs to collect and manage it, according to a report released Monday by the United Nations Environment Programme (UNEP).
By 2020, e-waste from old computers and other electronic devices will surge by 500 percent in India and by between 200 and 400 percent in South Africa and China. E-waste from discarded mobile phones, television sets and refrigerators will also soar.
Other developing nations, including Brazil and Mexico, may also be swamped, and it's essential to establish ambitious, formal and regulated processes to collect and manage e-waste in China, Achim Steiner, executive director of UNEP, said.
Toxic Stats
By 2020, e-waste from discarded mobile phones will be about 18 times the 2007 level in India, and about seven times the 2007 level in China, the UNEP report predicted. e-waste from television sets will double by 2020 in both countries. In India, e-waste from discarded refrigerators will double or triple.
In 2010, China produced 2.3 million tons of e-waste, UNEP estimated, second only to the United States, which churned out about 3 million tons. Further, although China has banned "imports" of e-waste, it remains a major dumping ground for e-waste from developed nations, the UNEP report states.
One noted e-waste dumping site is the town of Guiyu, in Guangdong Province, China, which takes in about 1 million tons of e-waste every year, according to reports. Kids play in the toxic e-waste, which is spread throughout the town.
Most e-waste in China is improperly handled, with much of it being burned by backyard recyclers to recover valuable metals such as gold. This causes toxic pollution, according to UNEP.
Old Toys are Poison
Toxins in computers include barium, beryllium, cadmium, hexavelent chromium, lead, mercury, phosphorus, and PCBs. Dell, HP and Apple are among the computer manufacturers that have committed to producing green computers following pressure from organizations like Greenpeace.
"The U.N. report highlights the tsunami of e-waste that is growing from our use of electronics products," Greenpeace campaigner Casey Harrell told TechNewsWorld. "Greenpeace is working in a number of countries, including India, Argentina and China, to implement or strengthen e-waste import bans and national collection laws, while also working in the EU and North America to pressure manufacturers to create laws on e-waste disposal and bans on exporting e-waste."
The environmental group has not been as successful here in North America. "We've had more success in Europe than in Canada or in the U.S.," Harrell said.
The Planned Obsolescence Predicament
One of the factors behind the growing e-waste mountains may be the need to regularly upgrade electronic equipment. Computer hardware often needs to be refreshed every three to five years, and this year is expected to be good for PC and server sales because enterprises held off refreshing these items during the economic crunch.
That's good for the economy, but the problem lies in the disposal of outmoded equipment. Much of it may end up in dumps in developing nations. "Planned obsolescence is a huge problem," Greenpeace's Harrell said. "Even in Europe, where there are laws banning e-waste export and managing in-country e-waste collection, the average collection rate is still only around 35 percent. The more gadgets we have in circulation, the more likely it is that old ones will end up overseas, dumped on the shores of developing nations for crude disposal such as incineration."
The United States needs a strong, comprehensive national recycling law for electronic products, Harrell contends. "It's awful, simply awful," he said of the U.S. approach to recycling.
The situation's bad enough that the U.S. Government Accountability Office issued a report in August of 2008 calling on the U.S. Environmental Protection Agency to better control harmful exports of e-waste through stronger enforcement and more comprehensive regulation.
In 2009 U.S. Congressional Rep. Gene Green sponsored Bill H.R. 2595, which addressed the e-waste problem. However, critics said the bill has a huge loophole that lets recyclers continue exporting e-waste to developing nations by labeling shipments for repair or refurbishment.
Baby Steps
On the local level, much is being done in terms of recycling larger electronics items. Many states either have laws or programs for the recycling of old computers and mobile phones, and often city and county governments have their own programs.
Snohomish County, Wash., for example, encourages residents to recycle their old refrigerators with a US$30 reward for each appliance turned in. The program is aimed at reducing energy consumption, and has recycled 23,000 refrigerators since it was launched in 2004, Neil Neroutsos, a spokesperson for Snohomish County Public Utility District No. 1, told TechNewsWorld.
"We work with a local contractor who recycles about 90 percent of each unit," Neroutsos said. "They safely recycle the metals and foam insulation, and incinerate others." The average refrigerator contains 10 pounds of CFC-11 in its insulation, Neroutsos pointed out.
CFC-11, or trichlofluoromethane, is a colorless, nearly odorless liquid that boils at about room temperature and is used in air conditioners and refrigerators as a refrigerant. It has the highest ozone depletion potential of any refrigerant.
Meanwhile, environmental action group Basel Action Network has launched a certification program for electronics recycling, the e-Stewards Certification and Standard. This program relies on independent third-party auditors to verify safe and ethical e-waste disposal. About 50 North American recyclers are considered pledged e-Stewards and have committed to becoming certified in the next 18 months.
Another private organization, World Computer Exchange,is a global non-profit organization that provides used computers to kids in developing nations through its partners. It also works with environmental groups to raise public awareness about the proper recycling of electronic equipment.