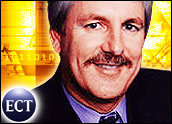 I spent most of last week in Las Vegas with IBM, learning about things that firm doesn't often talk about. While that was going on, Oracle implemented the first step in its latest world domination plan and I continued to hear chatter on Apple's planned surprise for Microsoft during its Vista launch. This is Halloween week — and we are in store for a scary ride.
IBM's Amazing Secrets
IBM just doesn't seem to want to talk widely about some of the amazing things it's doing behind the scenes but last week, at a special event at the Venetian hotel in Las Vegas, the company gave a large number of attendees a sneak peek.
I spent most of my time with the Systems & Technology Group. This organization basically is the secret sauce behind a number of products. It encompasses microelectronics, for instance, and is at the heart of Microsoft's Xbox 360, Sony's PlayStation 3 and Nintendo's Wii. Interestingly, while IBM was allowed to chat about the work it did with Sony and Microsoft, team members were sworn to silence on the Wii.
While IBM does make packaged processors like the new Power6 part, the vast majority of what it does is collaborative, something that really differentiates it from companies like Intel. This means that instead of selling a processor, it actually sells a service, which results in custom parts that are co-designed with customers. While these may be more difficult to create, these parts can also be more easily protected and generally outperform — because they are designed for a specific purpose — the generic parts that might have been otherwise used.
A couple of things that the STG is doing really stand out. Evidently the group is applying the same advanced technology used to identify professional cheaters in casinos to catch would-be terrorists. This technology has advanced to the point where it can often catch a cheater before he or she even starts cheating — and without the massive number of false positives currently resulting from profiling, data mining personal information, and such things as no-fly lists.
For those of us that over-clock and use water-cooling technology, IBM is our patron saint. Some of the most advanced work in this area, from both a processor standpoint and from a water cooling standpoint, is being done there. Research Fellow Bernie Meyerson spoke of a server radiator that could, under some circumstances, save more money in electrical energy charges than the hardware cost over a very short period of time, simply by using chilled water and a radiator mounted to the back of the server racks — and the thing costs less than US$300 per rack.
Finally, IBM is contributing through the use of one of the most (if not the most) powerful supercomputers in the world to the mapping of the human brain. This research, if successful, could provide what is needed to correct brain diseases such as Alzheimer's. It could also help us develop true artificial intelligence in the future.
Oracle Pirates Linux
The Linux crowd has been turning rather nasty and anti-corporate of late. Richard Stallman, founder of the GNU Project and Free Software Foundation, who seems to be acting like he owns Linux, has evidently gone so far as to refer to Linux founder Linus Torvalds as a traitor. And increasingly, some of the biggest corporate supporters of Linux were indicating they were getting worried.
This has set the stage for Oracle CEO Larry's Ellison's dramatic response to the Linux threat. Ellison doesn't like being worried about anything if he can help it and he doesn't play the role of victim very well at all. As he often does, he stepped in swinging this time and effectively took Red Hat's version of Linux for himself to wrap it with his own services. This immediately makes Oracle the best choice for enterprise Linux, and if there is any doubt Linux is ready for the enterprise, at least with respect to this distribution, that doubt is dead, buried and stomped into dust.
This now positions Oracle against the Free Software Foundation — and Ellison directly against Stallman. Now Stallman is certainly effective at DOS attacks, flame mail, and other painful tactics but Ellison owns his own fighter jet. If there is anyone scarier than Ellison when he is angry, at least in the world of tech, I don't know him.
Linux is forever changed by Oracle's strategy and now becomes a true corporate product. Red Hat's and Novell's goals of building an enterprise business just went up in flames as they simply can't compete with Oracle on an enterprise level. In fact I could argue that Microsoft, alone, can't compete with Oracle on an enterprise back-office level either.
In its space, Oracle is scary good and IBM hasn't even been able to compete effectively against HP with Linux. Oracle is much tougher because it is even supported by IBM's own hardware unit — kind of like Microsoft was in the OS/2 OS wars. In fact IBM hardware makers may prefer Oracle's offering because Oracle pushes high-end hardware while IBM often positions its Linux on commodity x86 hardware in a value play.
HP actually benefits from this move because it doesn't have the internal conflicts IBM does (IBM Software and IBM Hardware often don't get along), and Oracle picks up a big chunk of the support and indemnification that HP is now providing.
Apple's Vista Surprise
Speaking of scary battles; based on the chatter I'm seeing it appears very likely that Apple is preparing a little surprise for Microsoft at Macworld, which happens at the same time as the Consumer Electronics Show in January. While Microsoft and partners will be talking about Vista in advance of the launch of that product at CES, Apple, along with Intel, will be launching Apple's version of the Media Center with iTV and Leopard. That's right — Leopard. It looks like this puppy is nearly ready if I'm reading the signs right — and Apple is clearly setting up for something big.
Now Intel's part goes beyond the chip and appears to contain elements of Viiv, if not all of that platform. Viiv is actually kind of cool, it's just that Intel has not been able to explain effectively what it is and, as a result, the market hasn't been particularly excited about it on Windows. However, Apple knows how to sell and with a problem where the technology is good but the marketing's not, Apple has the skills to make a huge contribution.
Recall how Apple took the MP3 player market by storm by simply looking at what was out there and figuring out how to do it right. Microsoft's Media Center isn't fully cooked, even with Vista, something that Intel actually created Viiv to fix. Now, it appears, the two of them are collaborating to do the Media Center right, and if they hit the target as well as they did with the iPod, which is likely, they could actually have a second massive success on their hands.
So, if you are into technology, particularly if you are into Apple, you'll want to hang around Macworld in January for the Apple pre-Vista surprise party!
Oops. You didn't hear that here.
---
Rob Enderle
is a TechNewsWorld columnist and the Principal Analyst for the
Enderle Group
, a consultancy that focuses on personal technology products and trends.
---