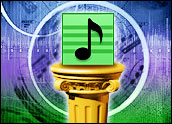 Landing a contract with a major record label can be nirvana for an artist,but it's a heaven out of reach for many musicians. That's because backingan act is risky business. While record companies can make millions from an artist's success, they can also lose millions, if the artist fails tocatch on with the public.
Now the world's largest music company thinks it has a way to give more actsa crack at affiliating themselves with a major label while reducing thebusiness risks.
This week the Universal Enterprise Group launched Universal MusicEnterprises Digital (UMED), the first label from a major music company thatwill distribute tunes exclusively for digital downloading.
Exploding Source of Income
"We are always looking for new and innovative ways to expand our businessand service even more consumers," UMED President Bruce Resnikoff said in astatement.
"And with the industry on target to sell in excess of 100 million downloadsthis year," he added, "UME Digital became the next natural step for us. It'shard to imagine that every label will not have a similar download-onlyimprint at some point soon."
The launch of a digital-only label appears to be a sign that the big playersin the music industry are seeing music downloads as an exploding source ofincome for themselves.
"We're selling about one and a half million downloads a week right now,"UMED Senior Director Jay Gilbert told TechNewsWorld. "And as an industry,we're going to hit well over a hundred million this year, compared to fivemillion last year."
"It's ramping up," he added, "and I absolutely believe a record company canbe profitable in the digital space."
To be considered for Universal's digital label, Gilbert said an artist needsto have an established fan base and a tour. "We're really not looking todevelop brand-new, unknown artists," he said.
Marketing Muscle
He explained that the idea for UMED emerged from conversations with artistsin the Los Angeles area. These were artists who could consistently sell outclubs and larger venues and did some touring, but they didn't have a recorddeal.
"I started thinking that there's got to be a way to get the music out to thepeople without necessarily going through the long arduous process of signinga regular, physical record deal," he observed.
That way turned out to be the digital label. "With a digital label, we canget the music on iTunes and Napster and Real Rhapsody and MSN and all thesemusic services immediately," he explained. "Then we can do some of thethings that a record company normally does."
"We can work hand and hand with the artist when they do tour and they do putout a release to let people know that it's out there," he added.
Seven artists will be part of the initial UMED offering: Parthenon Huxley, Rusty Anderson (Paul McCartney, Stewart Copeland); KenStringfellow (Posies); John Jorgenson (Elton John, Desert Rose Band,Hellecasters); The Shazam; Dan Reed (Dan Reed Network); and Will Owsley(Shania Twain and Amy Grant).
Huxley said that he saw the new digital label as a way to get more people tohear his music and benefit from Universal's marketing muscle.
Laying Off Risk
"There's a lot of different opportunities out there, and this is a good one,especially with Universal's marketing abilities," he told TechNewsWorld.
He maintained that the download world has become a real factor for musiciansand listeners. "The Internet is becoming a real thing, more than somethingwith just potential," he said. "It's an actual, comfortable place for peopleto go and find music."
However, critics argue that this new digital label is more about musiceconomics that about lending a helping hand to artists.
"This is a way of laying off risk when figuring out what acts they shouldreally invest in rather than trying to have a vibrant small- to mid-artisttier business," Greg Scholl, CEO of The Orchard, a major global distributorand marketer of independent music, told TechNewsWorld.
The major labels have created a marketing and radio promotion machine thatrequires an artist to constantly sell significant units and garnersignificant air play, he explained. Once an artist's popularity wanes, alabel will drop them. "The horses that don't perform get shot," he said.
"What this is doing," he continued, "is laying off some of the risk so theydon't have to invest so much to determine if it makes sense toinvest more," he contended.
Why So Long?
With the music industry continually moaning about declining CD revenues,some analysts wonder why it has taken so long for a major label to cash inon the benefits of digital distribution of music.
"The recording industry has tried to cling to an old style business modelthat was more fit for 1964 than 2004," Jarad Carleton, an IT industryanalyst with Frost & Sullivan in Palo Alto, California, told TechNewsWorldvia e-mail.
"In an era of personal computers, CD burners, color printers, online musicstores, and iPods replacing CD jukeboxes in the homes of many audiophiles,"he said, "it's amazing that Universal didn't see the writing on the wallsooner than this and try to lower their costs."