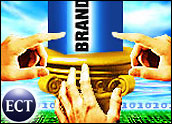 Brand is always among the top factors for consumers when they purchase a product. However, rankings between the top factor categories change by specific product. Brand has power for gaming and laptops but lower importance for digital photo frames and NAS (networked-attached storage).
Where brand power is high, price sensitivity drops, and strong awareness of available brands exists. Where it is low, the reverse is true.
Universal remote controls (URCs) are at the weak side of the middle.
Low Awareness
The weaker the importance of brand to a buying consumer, the less likely that consumer is to remain loyal to a specific brand or to even know what brand he or she seeks when preparing to purchase. For some manufacturers, the lack of a strong brand preference is good news, as they can pick up the buyer at point of purchase by good packaging, good features and attention to price parity.
For others, it is obviously bad news. In the case of URCs, only 48 percent of buyers knew what brand they wanted and then bought that brand when they walked into the store or purchased online. Forty percent stated that they had no brand in mind on the day of purchase. That high level shows little awareness of brands, overall, within the URC category.
Buyers of advanced URCs are more likely to have a brand in mind, but the identification with brand remains somewhat weak. As long as brand awareness is relatively weak, reliance upon retail as a source of information will be high. Buyers of URCs cite too much information at retail, which Parks Associates expects to include confusion from inconsistent or contradictory information.
Large and Small
The extreme example of brand strength in our research is the game console. Buyers of game consoles, for the most part, have decided on a brand before entering the store to purchase. URC manufacturers must achieve a superior and demonstrably simpler setup and operation and associate that with their brand so that the consumer will have formed a strong brand preference before walking into the store.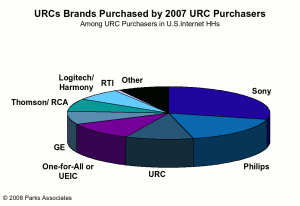 (click on image to enlarge)
Among the consumers who reported purchasing in 2007, Sony and then Philips had high rates of purchase. In both cases, but most specifically for Philips, these are basic URC volume shares. Both URC and Logitech did surprisingly well in 2007 in terms of share. Both are predominantly mid-level advanced URCs, and their popularity shows the growth in the middle-of-the-market options and that more and more consumers are opting for more capable URCs.
Not surprising is the lack of specific share percentage for AMX and Crestron; these are low-volume, high-priced remote units, acquired by only the top of the socioeconomic food chain. RTI does show up on this consumer survey, and this marks the first time Parks Associates has seen RTI appear outside of installing dealer surveys, showing an incipient but growing taste among consumers for more capable and robust models.
For more information on URC brands and market trends, read Parks Associates' latest report, Aftermarket Entertainment: Universal Remote Controllers (Second Edition).
---
Tricia Parks
is the CEO and founder of
Parks Associates
.
---