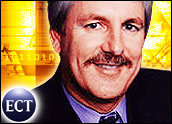 It is hard enough to keep track of a child when there is a full-time parent at home to supervise. In the single-parent household or the dual-income family, maintaining balance between work and parenting is difficult, and providing much-needed supervision is almost an impossibility without substantial help.
This week, I'll look at some technologies that can be used to help bridge the gap between where you should be and where you are in terms of adequate and actual oversight.
But before I discuss physical tracking, I should mention that there are several ways to track children on the Internet. Products like IamBigBrother, SpyAgent and eBlaster monitor various levels of activity and generate reports and alerts. There is even a product called Xanovia that allows you to view and block what is coming in or going out over the Web cameras in your house.
Of course your kids might simply choose to use some friend's PC once they know this software is in place, and many parents think the use of this type of product violates the trust between the parent and child. But in the age of an increasingly pervasive Internet, it definitely makes good sense to watch over your children closely.
Tracking Your Kids
Developed for the military, Global Positioning System (GPS) technology has been with us for some time. It is most commonly used in the consumer space for navigation. Originally, fears of being attacked by enemy cruise missiles made the technology impractical for tracking people. But toward the end of the last decade, accuracy improved to allow us to triangulate a location to within one or two yards, which now makes the technology useful for keeping track of children.
There are several devices and related services that use GPS to track kids, but be aware that these devices work best when out in the open and might not work well or at all when there isn't a line-of-site view to the tracking satellites. They also generally use the cellular network to call in to report their location, so any place cellular doesn't work wouldn't be a good location for them either.
The most interesting product in this class is the GPS Locator for Children by Wherify Wireless. This device, worn by a child, can locate a child that has wandered off. The device looks like a large watch and it can be customized by the child to make it personal. It could fool a kidnapper.
It is endorsed by the Lost Children's Network and Parenting Magazine. For those with aging parents, it also can be used by Alzheimer's patients.
Preteens and Teens
More appropriate for older children, one of the easiest ways to track a child is through a GPS-enabled phone. By using a product like AccuTracking, a child who has the related phone can be located on a Web page and tracked.
Another service is called Teen Arrive Live, which uses Nextel as its preferred carrier. Nextel has an added advantage in that it offers the only walkie-talkie solution that actually works well and could come in handy if you want to remind your children that they shouldn't be where they are.
Granted, this technology tracks the phone. If your children know this, they might learn to leave the phone behind so they aren't tracked. However, that might be an indication of a problem needing parental direction.
For children who drive, a GPS tracking alarm system might be the most effective technology. Kids worry about their vehicles being stolen, which makes a GPS auto-tracking device something the child might actually want to have. Actually, this theft problem is not trivial. Kids tend to want cars that have high theft rates, so you might want to check in to the National Insurance Crime Bureau to see whether your child is at risk of being carjacked.
Plenty of Features
One of the more interesting products is one by DirectTrack, which you can read about at GPSAlwaysNear.com. This product lets you go to a Web page to see where a car is. It also will track where the car has been. You can define a boundary region that, when violated, will result in an e-mail sent to you, which could end up saving your child's life.
The devices have several other security features, including door unlock, starter interrupt and low battery notification. Some good news about this somewhat costly technology is that you might actually get a discount from your insurance provider if you get one of these things.
Another similar product from MicroTRAKgps.com will do all of the above plus will honk the horn on command, which is really helpful when you want to locate your car in a large parking lot or just startle the heck out of someone standing near your car.
Chipping the Child
Something we do to locate our own lost pets is place a passive microchip under their skin so they can be scanned if they find their way into an animal control facility. A similar technology has been created to address parental concerns about kidnapping. Called the VeriChip, it arrived with significant controversy.
It uses a passive technology with limited range. Basically, the child would need to be scanned with a hand-held radio to pull off the information on the chip. That information would link the interested party into an online repository that would contain contact information, allergies, medical coverage, medical history and additional information deemed relevant to the parent using the service.
The chip could be removed when the child becomes an adult. Or it could be left in, depending on the privacy concerns at that time. This technology has been most visibly used in Mexico to locate missing children, where an estimated 133,000 are kidnapped every year.
Although privacy concerns are significant, often when the choice is the life of a child or the privacy of that child's medical history, life wins out. None of these technologies can replace the need for an ever-watchful parent, but when you can't be "ever watchful," these technologies can provide a level of comfort not possible a few years ago.
Some of these technologies are expensive, and most aren't for everyone, but I can think of nothing more painful than losing a child. We unfortunately live in a hostile world, and it sometimes is a comfort to know that there are technologies available that can make it a little less hostile for the most vulnerable of us.
---
Rob Enderle
, a TechNewsWorld columnist, is the Principal Analyst for the
Enderle Group
, a consultancy that focuses on personal technology products and trends.
---