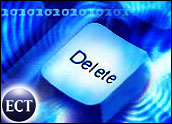 I teach people how to disappear. My methods are not like those of the great Houdini or Chris Angel; my operation is more like a private witness protection program that helps people fall off the grid, live under the radar, and vanish from society. What I provide is akin to a real life delete key.
Prior to the advances of technology, there were essentially two tools available to anyone who wanted to disappear. The first one was quite morbid — locating and assuming the identity of a deceased child. The second was simply hiding and hoping not to be found.
New tools of technology have made disappearing a real option for individuals in need — whether a victim of a stalker or a new software guru just looking to start a palm tree lifestyle in Dominica or Vanuatu.
One topic that often arises in conversation is the ease of locating people using technology and the Internet. There are dozens of databases online offering the find-anybody solution — all for US$9.99 — but that information is typically archaic. The truth is that using technology to disappear is a double-edged sword.
The word "disappear" is probably too extreme — a more accurate description would be "living virtual." One tool that facilitates living virtual is a corporation — be it a domestic entity in Delaware or Nevada, or an International Business Corporation, widely known as an "IBC." Your IBC can be located in a dozen or more countries — for example, Belize, Costa Rica or the Bahamas. You can set it up directly through the official Web site of the state or country you choose, or through an online service. Before you set up an offshore corporation, do the proper research on the solvency of the country.
The Science of Misdirection
Everyone needs a mailing address. The question is where — some upscale ZIP code like 90210? Or M5X 1A1 in Toronto? It is very easy to locate a mail drop or virtual office to accept your mail and packages. The best part of the service is that the mail drop store will ship your goods to you directly and discreetly.
As for a bank account, what is great these days is that you never have to step in a branch; you can do all of your banking online in any state or country of your choice. All of your bills can be paid online, and you can withdraw cash via an ATM. For extreme privacy, you could obtain a prepaid credit card and make all of you purchases using the prepaid card. When you're done with it, just zap it in a shredder.
Cellphones and prepaid cellphones are the greatest invention; they offer enormous freedom. Cellphones also offer the illusion of locale. With cellphones, you can have a number in any city, state or country, and the person you're calling will have no clue as to your real location. To me, that is technology at its best.
Sometimes the illusion of disappearing is necessary. For example, your boss wants you to attend a boring convention in Idaho, but instead, you take the wife and kids to Disneyworld — certainly, a greater good. When you check in with the boss, you can use an amazing techie trick — the spoof card.
With a spoof card, you can dial an access number from any phone and punch in any number you choose — like that of a particular hotel in Idaho. When your boss' phone rings, the hotel number shows up on the caller ID. Your boss now thinks you are in Idaho. If it's a landline and your boss hits *69, the call is routed to the hotel. I know it's deceptive — but it is still a great tool.
For those trying to avoid harassment by an ex-spouse in a nasty divorce or other burdensome litigation, virtual numbers are the way to go. You can provide a phone number in Chicago where voicemails can be left, a fax number in Miami where all those nasty papers can be faxed, and have everything sent to your email address, where you can access messages and documents on your own terms at any Internet cafe. If you need to fax back a lawyer, you can utilize your virtual number from New York and that number will appear on caller ID. A simple download will allow you to fax from your laptop or from a PC at most Internet cafes. No one will know where you are physically located.
Evading the Customs Gauntlet
With privacy being an important factor in the digital world, some international business travelers are reluctant to take their laptops to different countries for fear of customs cloning the hard drive. Whether this is actually done or not, I really do not know — but the fear of cloning is real.
Online data storage services allow business people to travel with a laptop that contains minimal information. They can then access what they need while in country and wipe out the information on the hard drive before they leave. Some clients take this to an extreme by purchasing a new laptop when they get to a country — and then wipe all the data and toss the laptop before departing.
In every social circle, there are those who believe they are the Sherlock Holmes of Google. They share their stories about finding a long-lost cousin in Montreal or a high school sweetheart in New Jersey. When I hear these accounts, I try to explain they are the easy skiptraces. Anyone who truly wanted to disappear with the tools of technology could do so in a nearly perfect and seamless way.
Nearly perfect is the best you can hope for. Most people cannot disappear entirely, due to the electronic footprints left behind. These footprints can be a bank transfer, a call made from home, a purchase on a credit card or something as simple as a text message. The moral of the story is this: Sure, technology can help you disappear — but it can't erase all of the footprints from your past.
---
Frank M. Ahearn
is a
privacy consultant
who works with celebrities, business executives, and others who need to disappear or find more privacy in their lives.
---