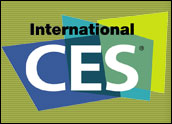 It looks like this year's Consumer Electronics Show will yield a bumper crop of Android tablets, with news that Vizio, Lenovo and Toshiba will demo their products at the conference later this week.
Vizio, known primarily for making flat-screen TVs, is apparently the dark horse here, with plans to announce a smartphone and a tablet both running Android.
Toshiba will reportedly unveil a tablet that will run Honeycomb, the next version of Google's Android operating system.
There's also talk that Lenovo will unveil at least one, if not two, Android tablets.
Visions of Vizio
Vizio will unveil a smartphone with a four-inch high-res capacitive touchscreen, a 5-megapixel rear camera to take high-definition videos and photos, and a front-facing camera for video chat.
The company will also demo a tablet with an 8-inch, high-res capacitive touchscreen. It too will have a front-facing camera for video chat.
Running the smartphone and tablet on Android "will also allow users to access thousands of apps through the Google Android Market," Vizio spokesperson Jim Noyd told TechNewsWorld.
Both Vizio's Via Phone smartphone and Via Tablet will have a 1GHz processor and a MicroSD card slot. They will have 801.11n WiFi and Bluetooth connectivity.
Both devices will offer HD video playback with HDMI video output, high-quality audio processing and a built-in universal remote control app.
The devices will use Vizio's Via Plus user interface, which is similar to Apple's AirPlay — it will let users stream audio, photos and video among devices, in this case the Vizio smartphone, the tablet and HDTVs and Blu-ray devices from Vizio.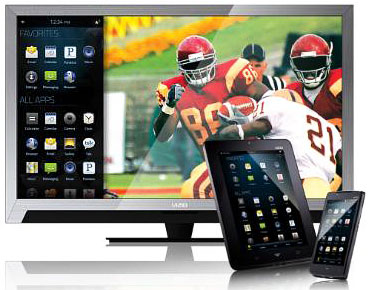 Vizio's TV, tablet and smartphone
The Vizio HDTVs and Blu-ray devices will incorporate Google TV and have a premium Bluetooth QWERTY universal remote with touchpad, dual-band 802.11n built-in WiFi and enhanced onscreen navigation, including search and a Web browser.
The devices will be available in the United States in the summer. Their prices have yet to be set.
"Vizio is on track to be the big surprise of CES in that it announced its well-priced mammoth 72-inch flat-screen TV with everything but the kitchen sink last week, and now is coming out with a series of interrelated offerings bridging home and mobile media," Rob Enderle, principal analyst at the Enderle Group, told TechNewsWorld.
"It seems to be doing what Steve Jobs did with Apple when he revived the company — take Sony's model and run with it," Enderle pointed out. "That worked incredibly well for Jobs; now you take the model, make the products even more affordable than Apple did, and you have the potential for a huge hit."
Double-Crossing Toshiba's Daimyo
Toshiba has reportedly demo'd its new Android tablet, which has a 10-inch screen.
This will reportedly use the Nvidia twin-core Tegra 2 processor, like its predecessor, the Folio 100, which was shipped to Europe in November. Also like the Tegra, it will support 1080p HD video, but it will have a higher-res display — 1,280 by 800 pixels.
Further, the new tablet will have a 5MP camera on the back and a 2MP camera on the front.
Whereas the Folio 100 supported Android 2.2, the new tablet will apparently support Honeycomb, the latest version of the Android operating system. Just which version the code name "Honeycomb" refers to is unclear — some reports list it as Android 2.4; others as Android 3.2 or 3.3. Whichever version it is, it's the one after "Gingerbread," which is Android 2.3.
The new Toshiba tablet will reportedly have regular-sized HDMI and USB connectors as well as a mini-USB and an SD card slot. Toshiba said it will produce a WiFi version first, and add in Bluetooth and GPS later. The device will reportedly ship in June.
Toshiba itself, however, would not comment on specifics.
"Toshiba has not officially announced the tablet yet," spokesperson Katie Brodahl told TechNewsWorld. "Unfortunately, our news was leaked and we aren't giving out the press release or any additional specs until CES."
Lenovo Looming?
Whether Lenovo will live up to reports that it will unveil two consumer tablet devices, one of which might be dubbed the "LePad," is similarly unclear.
The tablets will be targeted at consumers at multiple price points, Nick Reynolds, a global marketing director of at Lenovo, apparently told IDG News.
Details will be released at CES 2011, Reynolds said.
However, queries to Lenovo elicited a refusal to comment on the grounds that the device was not announced.
"We can't discuss future or unannounced products," Lenovo spokesperson Dinah Alobeid told TechNewsWorld.
She didn't respond when it was pointed out that Lenovo CEO Yang Yuanqing told The Wall Street Journal in November that the LePad will be launched in the U.S. later this year.
Whistling in the Wind?
Although many companies will likely tout new tablets at this week's CES, many of their wares may not actually reach shelves for many months.
"The technology will be ready for them by then," Enderle stated. "Honeycomb was designed to be the iPad beater, but it won't be available until the second half of 2011."
By that time, it's likely that Apple will have unveiled the next-generation iPad. Won't that mean Android tablet makers will end up eating Apple's dust?
"These products would be iPad 1 killers, but they should still be competitive with the iPad 2, which is expected to have many similar features," Enderle said.