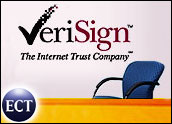 Infrastructure bad boy VeriSign defended itself today, asserting it could find no evidence that its controversial SiteFinder redirector service had compromised the stability, security or performance of the Internet.
"VeriSign conducted extensive evaluation and testing of the service both internally and externally and with the assistance of third-party experts," the company said in a statement. "The prelaunch testing results indicated, and current operational data confirms, no impact to the stability of the Internet."
Verisign added that it is "fully committed to a secure, stable and interoperable Internet that will continue to innovate and grow in a responsible manner." It is important to recognize, said the company, that striving to make the user experience the best it can be "without sacrificing stability and security is an objective that benefits us all."
Violating Trust?
SiteFinder is a service that redirects users who input nonexistent Internet addresses to a VeriSign site, which offers possible alternatives to the dead-end address as well as search functions, browsing features and advertisements.
Critics of the service have said that VeriSign is unfairly exploiting its position as the caretaker of all .com and .net domain names — and their numerical IP equivalents — on the Internet.
Analysts also have criticized the service for increasing the load on e-mail transfer agents and interfering with some spam filters that depend on the accuracy of the domain name system to determine whether or not a piece of e-mail is spam.
SiteFinder Suspended
In response to a request by the governing body of the Internet, the Internet Corporation for Assigned Names and Numbers (ICANN), VeriSign suspended operation of SiteFinder last Saturday for an unspecified period.
Responding to VeriSign's defense, Steve Crocker, ICANN's security and stability advisory committee liaison, told TechNewsWorld: "Our job is to examine the facts and report what we see. We've received reports of several specific problems, but beyond any specifics is the larger question of the stability of the architecture and operation of the core services on the Internet."
ICANN's first concern, said Crocker, is the fact that the core domain name service was changed and that it was done abruptly without coordination with the community. "That creates instability," he told TechNewsWorld.
Stability Issues
"There may be additional stability issues related to SiteFinder and how it's configured," he said. "It takes a while to look into this closely, which is why it's regrettable that VeriSign didn't share their plans and engage the community, and this is why we are looking into this matter in depth. We haven't reached a conclusion yet."
There are larger issues involved, admitted Jim Hock, a spokesperson for VeriSign, but those issues are more substantial than the stability of the Internet's architecture. "We look at this as a larger issue of where innovation is going on the Internet," Hock told TechNewsWorld. "The Internet has seen lots of innovation in the last few years, but the Internet itself has not been innovative."
He contended that the governing structure of the Internet needs to be "enhanced" if innovation is going to flourish on the Net. "There is a need for a debate over innovation on the Internet," he said.
PR Offensive
Maybe such a debate will take place in the sit-down sessions ICANN requested in a letter sent to VeriSign on Monday.
"We want a meeting with VeriSign where they can lay out all their data and state their case," explained ICANN spokesperson Mary Hewett. "We're interested in what they have to say, and we'd like to have a healthy dialogue ensue."
VeriSign already has begun a public relations offensive to brighten the image of SiteFinder. The company released a statement today rebutting a report by the Internet Architecture Board that was critical of the technology underlying SiteFinder.
Users Like Service
The company also released poll findings indicating that users liked the service.In a survey conducted by Maritecture and Harris Interactive, 84 percent of Internet users said they preferred being redirected to SiteFinder rather than receiving an error message.
"Internet users clearly have found SiteFinder a helpful tool to navigate the Web," Russell Lewis, VeriSign's executive vice president for the Naming and Directory Services Group, said in a statement.
"We will continue to take feedback from both Internet users and the technical community on how we can ensure that the service is available for the many Internet users who clearly like it," Lewis said.