Motorola and Verizon Wireless jointly announced the Droid 2 smartphone Tuesday, confirming weeks of speculation and leaks in the media.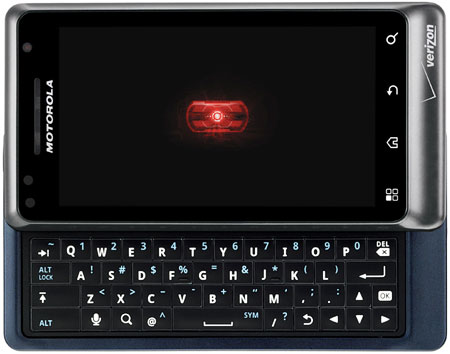 The Verizon Droid 2 from Motorola
The Droid 2 will be available online on a pre-sale basis starting Wednesday, and it will arrive in stores Thursday. Pricing will be US$199 with a two-year contract after a mail-in rebate. Purchasers must also get a data plan.
The release of the Droid 2 closely follows that of another Verizon smartphone made by Motorola: The Droid X, a device with several similar characteristics, was released to the market less than one month ago.
Hello Again, Humans
The Droid 2 has an enhanced physical QWERTY keyboard, 3G mobile WiFi hotspot capabilities and full corporate email capabilities. It also offers Web browsing and runs Adobe Flash Player 10.1. The device runs the Android 2.2 operating system, a version known as "Froyo."
"Droid 2 is not only a continuation of our commitment to Android, but offers customers the features and form factor they crave on the Verizon Wireless network," stated Jeffrey Dietel, a vice president at Verizon Wireless.
The Droid 2 is "a big leap forward" from the original Droid, said Bill Ogle, chief marketing officer of Motorola Mobile Devices and Home Business.
However, aside from its physical keyboard and smaller screen, the Droid 2 is pretty similar to the Droid X.
The Droid 2's Guts
The Droid 2 has a 1 GHz processor. The QWERTY keyboard has relatively large keys, and the device also has a virtual keyboard.
Other features include Swype, an optional variation on the virtual keypad interface which lets users type with a continuous finger motion. Also rolled in are voice-to-text and a 3G mobile WiFi hotspot capability that lets users connect up to five devices to the Web. This feature will cost $20 per month extra.
"The WiFi hotspot feature is cool, but how often are going to use that, really?" asked Ramon T. Llamas, a senior analyst at IDC.
Support for Microsoft Exchange, unified inbox and enhanced features for IT compliance such as remote wipe and password enforcement are among the features that target the enterprise market.
The Droid 2 leverages Froyo's pinch-to-zoom feature. It has a 5 MP camera with dual LED flash and DVD-quality video capture capability. Preloaded social networking widgets let users sync and stream feeds and updates from Facebook, Twitter and MySpace together onto the device's screen in real time.
The device has 8 GB of onboard memory and comes with a preinstalled 8GB memory card, expandable up to 32 GB. It comes with 512 MB of RAM. Talk time is up to 575 minutes, and standby time is up to 315 hours.
The Droid 2 has a 3.7-inch multitouch screen. That's more than half an inch smaller than the Droid X's. Is Motorola bucking the trend, given that smartphone manufacturers are turning out devices with ever-larger screens?
"Your display is going to be the major drain on your battery," Llamas told TechNewsWorld. "A smaller screen lets you use your device for longer periods between recharging. I think it's a smart strategic move on Motorola's part to improve battery life. It also highlights a major problem — battery life, which the industry has to do something about."
Room for One More?
Given that Motorola and Verizon released the Droid X mid-July, aren't they risking cannibalizing the market for the previous device?
"The Droid X and the Droid 2 target different uses," Chris Hazelton, a research director at the 451 Group, told TechNewsWorld. "The Droid X is for users who prioritize the consumption of content, and the Droid 2 is for those who want to author content," he said.
The Droid 2's hard QWERTY keyboard will appeal to heavy text and email users, Hazelton explained.
Also, there's plenty of room in the market for more Android devices, IDC's Llamas contended.
"The Droid Incredible and Droid X were launched at roughly around the same time, but they couldn't meet demand — there's a three-week backlog on the Incredible and one week on the Droid X," Llamas explained.
That demand may have forced Motorola and Verizon to launch the Droid 2 earlier than they'd planned.
"I'm a carrier and I have demand for Android phones that I can't meet," Llamas said. "There's another Android phone, the Droid 2, in the pipeline from a trusted supplier, which is Motorola, so I do the smart thing and advance the release of that smartphone. That will help me meet customer demand."
Motorola Picks Up Steam
Motorola bet its future on Android phones, and churning out new models in quick succession may help it cash in on demand for the devices. Expect it to keep up the rapid-fire pace of launches.
"Now we have the Droid 2, and I'm hearing about Motorola's preparing the Droid Pro," IDC's Llamas said. "This confirms what we expect to see from Motorola — they're saying they'll offer 12 to 14 million Android handsets this year, and they can't just get by with offering one or two 'hero' devices in six months. They have to offer several, tweaked so there are noticeable differences between them.
Motorola did not respond to requests for comment by press time.
Little Things Mean a Lot
The Droid X and Droid 2 are very similar. Are smartphone makers running out of ideas? If they are, will that stifle sales for any individual brand because there will be few, if any, differentiating factors among the different smartphones on the market?
"I think all the big innovations have happened, at least for the next 12 months," Maribel Lopez, principal analyst and founder of Lopez Research, told TechNewsWorld. "We're really starting to see a settling of functionality."
The market has reached the point where "everybody's catching up on baseline functionality, and we're seeing these minor incremental functionalities coming out," Lopez said.
"It will probably be eight to 12 months before somebody makes a breakthrough," she added.