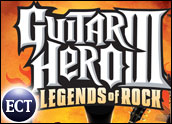 "Rock Band." "Guitar Hero." "SingStar." These music-oriented video games have become fixtures in popular culture, appearing in movies and on television, and sparking a new musical movement.
Younger players are not only gaining exposure to a wider variety of genres and artists, but also getting a basic music education. Although no one will argue that these games truly emulate playing a real guitar or a real bass, they certainly nurture musical imaginations.
"SingStar," in particular, is a good example of how the musical video game genre has evolved. This game allows people to share their own recordings of their favorite songs with other people through the PlayStation 3 network — similar to YouTube. SingStar gives anyone who buys it the opportunity to seize 15 minutes of fame.
Extending the Game
Guitar Heroes, the first streaming Internet channel that plays "Guitar Hero" music exclusively, is the brainchild of a "Guitar Hero"-playing mother who wanted to hear those popular songs on the radio to help improve her skills.
Longtime producer Robert Goodman quickly latched onto the idea and developed it for RadioIO. Guitar Heroes' brilliant synergy of radio, Internet and video games into one distributable medium has drawn more than 220,000 people to tune in every month.
With its accessibility to basically anyone who has an Internet connection, the relatively new medium of Internet radio has improved musical awareness and spawned a new generation of virtual "rock stars." In addition to being accessible on a computer, RadioIO is available through its IO2go service or on any smartphone.
As a "Guitar Hero" enthusiast, I was ecstatic to hear of an Internet radio channel completely devoted to playing "Guitar Hero" songs. The Web site itself is basic and easy to use. It's organized into different sections varying from 70s rock to classical, jazz and everything in between.
Boon for Music Industry
How do music video games and spinoffs like the Guitar Heroes radio station affect the sales of CDs or MP3s? The answer: greatly. With the new release of "Guitar Hero: Aerosmith" just around the corner, publicity for the band will obviously rise as will their exposure to younger audiences who have never experienced the four guitar solos in "Walk this Way."
The Aerosmith game is the first of many Guitar Hero games to come that will feature just one artist. Because the songs on these games can't be downloaded, many people will look for another version. Browsing iTunes, listening on RadioIO, or even going the seemingly antiquated route of purchasing a CD are alternatives for listeners who want to continue to indulge their new musical interests.
RadioIO and Guitar Heroes, which piggybacked on the success of "Guitar Hero," have boosted the popularity of many bands. Being featured as an artist in a video game has turned into an incredibly lucrative business for everyone involved. People are becoming more aware of the new music that's being produced, and younger generations are making classic rock fresh again.