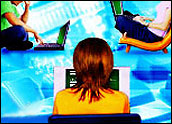 There are two schools of thought when it comes to consumer video editing programs.
One school believes that most videographers want to create their movies with as little human intervention as possible.
The other school argues that consumers want as much control as they can get to put their stamp on their productions.
With VideoStudio 10, Ulead attempts to cater to adherents of both creeds and does a pretty good job of it.
Ad Zapper
The program is sold in two flavors: a standard edition for US $69.95 and a "Plus" edition for $99.99.
Most of the additional features in the Plus version relate to HDTV — capturing video from an HD camcorder, editing HD video through a proxy to speed up the process and such.
The Plus release also allows you to create Dolby 5.1 Surround Sound tracks for your video.
Another bonus in Plus is the "Ad Zapper." When editing video captured from television, this feature will automatically detect the black frame that's used to separate content from commercials in TV shows. That makes it easier to cut the ads out of the video before burning it to DVD.
Three Pillars
You also have to buy the Plus offering if you want to output your video in MPEG-4 format, the format used by devices like the iPod for displaying video.
While I can understand the rationale for charging a premium for HD support, however, I don't know why MPEG-4 support isn't included in the standard edition.
VideoStudio is built around three pillars.
VideoStudio Editor is a full-function editor bejeweled with all the chrome and polish needed to tweak every aspect of a production.
Movie Wizard lets a video maker choose some clips or a set of photos, then automatically produces a finished product from them.
DV-to-DVD Wizard automates the process further. It will create a movie on the fly — complete with menus, titles, transitions and music.
Terrific Editor
The VideoStudio editor, which hasn't been altered much from the previous incarnation of the program, remains a terrific choice for consumers in the PC world.
It has a classic layout. A large preview window and media palette occupy the top of the interface, while its bottom is traversed by the timeline/storyboard view.
Not only can you toggle between a timeline and storyboard view, but you can display an audio view, too. In that view, a waveform for the sound associated with the video appears under it. This facilitates fine-tuning the sound for the production.
The editor's preview window is a good size for working with clips — not the stingy view found in some video editing programs. You can move the window to the left or right of the interface to suit your taste.
Simple Trimming
Trimming clips was such a transparent process that I got the feeling I was doing something wrong.
You click a clip. It appears in the preview window. To trim from the beginning, you grab a control on the left of a slider bar under the window and move it right. To trim from the end, you grab the control on the right and slide it left. Nothing could be simpler.
Unlike some programs that limit their timelines to a single video and audio track, VideoStudio gives you two video tracks, a title track and two audio tracks. (The Plus version has seven video tracks.)
The extra video track adds another dimension to what you can do with your video. For example, you can create "picture in picture" effects, with a small clip displayed inside a larger one.
Once you've created a video with the package, you can turn it into a attractive looking DVD with VideoStudio's DVD authoring component.
As a standalone video editor for consumers on a PC, VideoStudio is the best that I've seen. It's a good buy whether you want to roll up your sleeves and get your hands dirty with the details or just want to create a project with some pizzazz in a few clicks.
---

John Mello
is a freelance business and technology writer who can be reached at
[email protected]

.
---