When the Oculus Rift launched in 2014, industry stakeholders speculated that the new, high-end in-home virtual reality headset would disrupt the entertainment industry. Just four years later, the technology has reached a crossroads, still lacking adoption by mainstream consumers.
---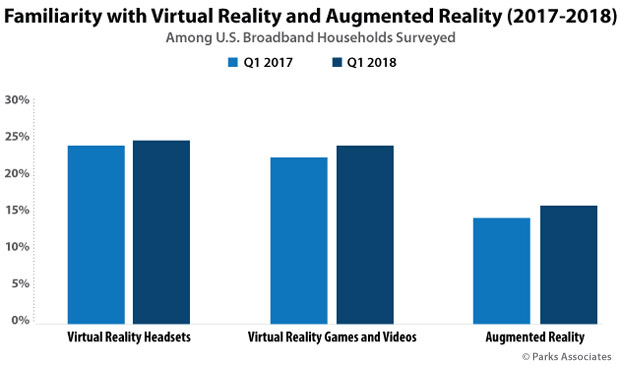 ---
In a recent survey, 25 percent of broadband households indicated they were familiar with some type of VR technology, but just 8 percent actually owned a headset, Parks Associates researchers found.
Headset Owners Using Them Less
While ownership has grown significantly over the past two years, VR headsets have not experienced the explosion in adoption that has characterized connected devices like smartwatches and smart speakers. Most consumers view VR headsets as a luxury niche product.
Gaming remains at the heart of VR technology, with the average headset owner playing 1.7 more hours of video games than the average gaming console owner. However, VR content creators have struggled to create an exclusive game that would garner widespread praise and mainstream adoption among gamers.
Titles like Resident Evil 7, The Elder Scrolls V: Skyrim VR, and Fallout 4 VR have received critical acclaim, but they were multiplatform releases that many gamers experienced on other consoles before their release on VR.
As a result, consumer use of VR headsets actually has decreased, the survey suggests. Forty-one percent of headset owners indicated that their use had decreased since they first purchased the headset.
In contrast, just 23 percent of headset owners indicated their use had increased since they first purchased the headset, suggesting that many consumers have been curtailing their use of VR headsets. This is likely the result of lack of quality content.
However, the opportunity for VR headset manufacturers is to craft virtual reality experiences that extend beyond the gaming space. Opportunities for VR use in health, education and enterprise-level implementation represent the next frontier in VR use, as manufacturers attempt to extend their reach beyond gamers.
VR's Health Promise
VR for health is expected to be a focal point of the technology's presence at the upcoming Consumer Electronics Show. Cedars Sinai Medical Center in Los Angeles has started using VR to help patients with pain management, utilizing the technology to distract patients receiving treatment.
Patients receiving treatments ranging from IV insertions to labor can use VR to transport them to calming virtual environments, such as Yellowstone National Park. This can help mitigate both the pain and anxiety associated with medical treatments.
VR for Training
National retailer Walmart purchased 17,000 Oculus Go headsets this fall, with the intention of using them to train employees for Black Friday. This deal marks the largest corporate investment in VR in history.
The headsets transported employees to crowded stores on Black Friday, where they could learn to deal with the bevy of customer service issues brought on by large crowds flocking to a retail store at once. Employees were able to repeat the training as many times as they needed to, without burdening managers or holding back coworkers, who were able to learn the material more quickly.
Underdeveloped Ecosystem
Use cases like pain management and retail training undoubtedly present the cutting edge of VR technology.
However, for this holiday season, the VR ecosystem is stagnant. With no new headsets released in 2018, and many high-end systems still cost-prohibitive for most consumers, significant gains in adoption as a result of holiday shopping are unlikely.
While there are certainly opportunities to lower costs via bundling — especially with Sony's PlayStation VR, which requires a game console to function — there is no new technology to excite consumers this holiday season.
Furthermore, the Oculus Quest — a standalone headset promising VR quality similar to PC-based headsets like the Oculus Rift and HTC Vive — is set to launch in 2019, which likely will affect the adoption of current VR offerings this holiday season.
Consumers who had considered purchasing a VR headset this year may opt to wait to see if the new Oculus headset will offer a superior experience.
These factors show the VR headset market is at a crossroads. As content creators search for the game or app that will appeal to mainstream consumers in order to expand their core audience, new use cases have emerged that might serve as a catalyst to bring VR to the mainstream.
Additionally, while the outlook for this holiday season is dismal, future headset iterations could prove more attractive to consumers.
Certainly, the current state of VR is not what many experts expected it would be when they made their projections in 2014. However, there are exciting developments on the horizon that could propel VR to new heights.