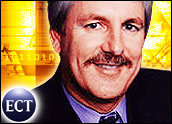 Last week was one of the busiest of the year. California, where I live, was mostly in flames, and that had me thinking about what we need to do to prepare for a catastrophic event.
One of the most liked features in the new Leopard operating system from Apple — coincidentally — is Time Machine, which could be a life saver. Let's also talk about how that launch is doing. Finally, Microsoft's small investment in Facebook had some folks going wacky as to what that company was actually worth. While great for headlines, it was incredibly overinflated.
The product of the week is an online backup product backed by EMC for consumers primarily because keeping your stuff safe allows you to focus on your family so you can keep them safe.
Leopard Launch Update
As I mentioned last week, it looked like Apple was performing one of its classic clean launches, and last week's execution further confirmed this assessment.
Microsoft, because it has to support IT departments and a massive number of partners, has to disclose its platform well in advance. With Vista, we got to see everything Microsoft had initially planned for the product and every feature drop that occurred as the product was brought to market. Apple really only gives one view, and that is when the product is almost launched. You never see a glass half full because you never know how full the glass could have been — and this is a huge marketing advantage.
Apple hand picks its initial reviewers from people who favor the platform and consistently praise it, though if Microsoft were to do that it would get blasted from here to the moon.
This gives Apple a burst of positive reviews that are the only initial information on the offering, making them the baseline for early coverage and effectively ensuring the first product impression is positive.
Apple doesn't do extensive beta testing, which means the initial release is more like a public beta. However, Apple owns its hardware platform, which means breakage will be contained in third-party applications. Most know — and accept — that many of these may not work at launch (we probably won't ever know how many), but most of these problems should be fixed before the end of the year.
Hardware ownership also ensures a low possibility of driver problems with the hardware platform itself and, since this is a minor release, there should be minimal problems with third-party drivers for non-Apple peripherals. We won't be able to confirm this until later in the week.
While there is fun fake TV ad up on YouTube, Leopard Ads haven't hit yet. However if they are in line with the new iPhone campaign, they should drive relatively strong sales to Apple.
The timing is good, but not great — great would have been August, but Apple numbers did not reflect a slowdown last quarter. The company contained demand, and now is ramping it on product, so it should ramp nicely till the end of the year. The worst time to launch a consumer product is in the first quarter — particularly early in the first quarter.
So far the launch is textbook Apple perfect, and should result in strong sales numbers for Apple for PCs this quarter consistent with their strong financial results from last quarter.
If you are thinking of moving to Leopard, I'd wait a couple of weeks for any initial problems to become visible, and then evaluate whether it is ready for you.
As it was with the iPhone, those who waited a bit turned out to be glad they did. Me, I'm waiting for the really cool iPhone nano. Seriously, just recall the saying, "explorers get the arrows, settlers get the land" and don't feel you need to personally discover the problems in any new product. You can still be early; you just don't need to be first.
California Fires and Preparing for a Disaster
It is interesting to note that the most popular feature in the new Apple OS is Time Machine, which is basically a very slick backup and recovery product. There are a lot of folks who have lost their homes in California and who are likely wishing they had been more prepared.
I'm sure most were thinking during Katrina — probably like you are with regard to this massive fire — that the chances of a disaster occurring are so remote that you don't need to do anything about it. Until it happens to you, that's pretty much what everyone thinks. Maybe it's time to assess whether you are prepared should something like this happen to you.
Losses can occur from home accidents, from burglaries or from inadequately supervised children. I remember a story from a few years back where a toddler put the family car into gear and darn near destroyed her house, and it wasn't even the first time she had done something like this.
Knowing how to get out of your home and neighborhood quickly, knowing where to go to meet if your home is destroyed, or who to collectively call can save your — and your family's — lives.
Knowing what to do with pets — which includes putting two phone numbers on their tags (cell phone and an out of area phone if lines are down), having kennels for each pet, containing them if evacuation is possible, and chipping them in case they lose their collars — are all important.
Do a home inventory; there are some great free programs you can use to do this, and having digital pictures of your assets will help you get reimbursed for them if they are covered by insurance.
In technology, having a backup solution that includes a remote backup service is critical. Another important move is to scan your critical documents before putting them into either a safe deposit box or fireproof safe to ensure you don't have to run them down during an evacuation.
Finally, having an emergency kit that you can grab and run can make a huge difference in a crisis.
Take the time — right now — to at least think through how important your family is and to make sure they, you, your pets, and your critical documents can survive a disaster. You can replace your things; you can't replace your memories or those who are close to you.
Microsoft and Facebook: $15B Insanity
OK, let's be clear: Just because Microsoft paid US$240 million for a part of Facebook doesn't mean the rest is worth $14.76 billion. What Microsoft bought that was easily worth $240 million is a block against Google getting Facebook and an opportunity for Facebook to help it develop what is currently the most powerful social networking site on the Web.
The whole $15 billion thing was way too much like the old dot-com days — people need to step back and take a breath. At some point in the future it could be worth that much, but right now the firm isn't performing as a small fraction of what would be required to reach a valuation like this.
Granted, Google's YouTube purchase worked out in the short term, but Google is a special case in that investors reward it if it makes an acquisition and don't seem to care that much about the numbers. Even for them $15 billion would be insane.
Realize that what you are seeing is two companies playing the real-life version of Monopoly and that the roles in this instance are reversed, with Google as the power player and Microsoft as the underdog.
That probably has a lot to do with why Microsoft was able to work the deal — concerns surrounding Google's size, power, and share of revenue appear to have influenced the outcome. Google should be at a bidding advantage given the YouTube experience. What appears to have happened is Facebook chose independence, a stronger financial future, and technology over cash to make its decision.
Going forward, expect each deal like this to be hard fought between both companies who are well funded and focused on not losing. Watching Google and Microsoft do battle will likely be a really good spectator sport.
Product of the Week: Online Backup
Back to getting ready for a disaster, the product of the week (and it was tough not picking Leopard) is Mozy. The reason for this is for those people using Mozy in California who have had to abandon their homes. This technology has given them one thing they aren't worried about — and that is the data they have backed up onto the service.
Mozy is a reasonably priced online backup service which is backed by the strongest information management company in the world, EMC. While a recent acquisition, the combination means capabilities going forward that could eclipse what other services currently supply. It also gives the assurance that the firm — and your data — will be there if you need it. Or, put another way, this is the service which the leading vendor in information management liked so much, it bought the company.
The first two gigabytes are free, and that may be more than most of you actually need to back up in terms of pictures and documents. Unlimited storage is $5 a month. Whether you use this service or not, seriously consider getting a good backup product.
Wherever you are, here's hoping you and your loved ones — including your pets — remain safe.
---
Rob Enderle
is a TechNewsWorld columnist and the principal analyst for the
Enderle Group
, a consultancy that focuses on personal technology products and trends.
---