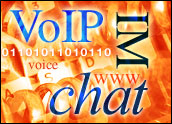 The Voice Over IP landscape has changed considerably in the last few years. The easy availability of broadband access to the Internet, coupled with Herculean leaps in technology, makes VoIP service a viable alternative to traditional telephone and PBX offerings.
Today's VoIP services offer several features and options not possible a few years ago. The voice quality is also much better, largely due to the delivery speed differences in high-speed Internet access versus dial-up service. VoIP service providers now have cost-efficient plans tailored to the needs of businesses and residential users.
"The days of the traditional phone company are numbered. But local phone companies won't die out any time soon," Michael Ulicki, vice president and CTO for Norlight Telecommunications, told TechNewsWorld.
"Most people still have dial-up Internet access. But the transition from Plain Old Telephone Service (POTS) to VoIP is like the change from dial-up Internet access to broadband," he said.
VoIP connections started as a way for a business to trim calling costs between branch offices, Ulicki said. Now VoIP is not just a phone service. It is becoming feature rich as it merges with computer configurations.
Growth Evident
A few short years ago, VoIP, at its best, was an acceptable supplement to more traditional phone systems. Not so anymore.
In the enterprise environment, VoIP use has grown rapidly. According to a report by Scottsdale, Arizona-based Synergy Research Group, VoIP sales surged last year by almost 90 percent.
That trend is continuing. In the first quarter of this year, VoIP sales grew by 17 percent, according to the Synergy Research Group.
Some industry watchers predict that VoIP is where the next telecommunications motherload will be found. According to a recent Radicati Group study, VoIP-related spending will increase from $1 billion this year to $5.5 billion by 2008.
That study also reports the number of corporate telephone lines that use VoIP will leap from 4 percent to 44 percent by 2008.
Along with the growth of VoIP service comes a demand for skilled workers. A recent survey by New Canaan, Connecticut-based research firm Foote Partners reports that over the last two years, networking department staff with VoIP skills have seen a 22 percent increase in bonus pay. By comparison, bonus pay for all IT skills combined fell by 15.5 percent in the same period.
'Five-Nines' Philosophy
According to some analysts, the need for enterprise staff with VoIP technology skills is rising more quickly than the demand can be filled.
Other telecommunications analysts are quick to point out that VoIP still must battle an established principal. VoIP must compete with the "five nines" philosophy. That means traditional phone service is 99.999 percent reliable.
Despite the great enthusiasm over VoIP, most enterprises are still adjusting to the pilot stage. They are still winding their way through complex calling plans fraught with too many variables.
Many corporate managers are leery about taking chances. It is a lofty undertaking to change from an established phone system to an IP-based system. This is especially risky for mission-critical applications like voice communications.
New adopters of VoIP have to assess the advantages and disadvantages of the new type of voice communications system. VoIP removes boundaries within an organization's phone system. But it also presents restrictions.
No 911 Service
For instance, 911 service is not possible with VoIP. Reliability, too, is a factor. If the IP network goes down, the phone system goes down with it.
"Over the last 10 years there has been tremendous development of codex to give VoIP the look and feel of a telephone, but VoIP is not a telephone," Jason Talley, president and CEO for VoIP service provider Nuvio, told TechNewsWorld.
So far, he said, VoIP has a small adoption rate. But he sees a growing awareness among consumers for what VoIP can and cannot do.
One of the most effective selling points for VoIP is the development of VoIP service providers. Using a hosted service, a business or residential user does not need to spend money on a phone system and does not need local phone lines from the regional Bell operating company.
Instead, the enterprise or private customer can move into VoIP service in what amounts to a turnkey fashion. Using a single high-speed Internet connection, the host provider supplies the communications features. Customers do not need to build the infrastructure at their location. Only VoIP phones are needed. So the initial investment in equipment does not exist.
Monthly Fee
Nolight Telecommunications' Ulicki said that hosted IP telephony provides advantages over unmanaged VoIP. With unmanaged systems, customers have to purchase the software and the telephone equipment from various vendors and provide their own support on-site.
A hosted service is more cost effective, about $25 range per phone set, Ulicki said. Users just pay the monthly service fee and plug the VoIP phones into the corporate LAN.
Andrew Temnorod, president and CEO for Broadvox Direct, said VoIP technology has matured to the point that existing standards are working together and the voice quality is very good.
"The phones look like traditional devices but are really computers. They plug into Ethernet for Internet connection," he said. "The phones come preconfigured with auto configuration when plugged in."
Only Gets Better
Nuvio's Tulley sees the VoIP landscape getting better as more customers adopt it. "The user base will move to more mainstream adoption, and a better relationship with customers will develop," he said. "The technology will evolve and improve, and the regulatory disputes will be settled."
He also sees new entrants joining the ranks of VoIP service providers. One of the big players will be the cable companies. Mike Ulicki said the infrastructure will continue to undergo rapid changes as VoIP expands with wireless technology.
"Two or three years ago people didn't envision the impact of wireless. Companies can now go to wireless mobile for VoIP access," he said.
Until now, cell phone use to transfer calls from office PBX systems have had very costly fees, Ulicki noted. Using a wireless LAN with a VoIP network is much less expensive. It now lets VoIP seamlessly connect corporate locations to mobile locations.
VoIP used to be a way for early adopters to avoid long distance tolls. Now it is a high-quality, fully featured phone system, Ulicki said.