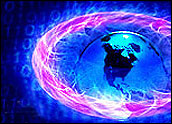 Two weeks ago, Apple and AT&T outlets opened their doors to massive lines of fans eager to buy the new iPhone 3G. The stores were stocked and ready to sell, but the network — shouldered with the burden of activating so many new phones — was quickly overwhelmed, and the process slowed to a crawl. Demand quickly outpaced the ability of the system to provide for it, and as a result, it failed. Most users were told to go home and activate their new phones from there.
Is this sort of pile-on some sort of preview of what hides around the corner with the surge of video downloads on the Internet at large? Is the Web's infrastructure inching toward collapse?
Stories of users overwhelming individual Web servers is nothing new. In the above example, some iPhone buyers had to leave without having their phones activated because the servers were clogged. A few weeks ago, anxious downloaders toppled the Mozilla Web site 15 minutes ahead of its scheduled release of Firefox 3.0. A couple of months ago, Amazon.com experienced sporadic outages, perhaps costing the company hundreds of thousands of dollars in lost sales. And woe unto any smallish Web site or blog that gets a hot pickup on a popular news aggregator like Fark.com.
Even more serious is the potential impact of video's popularity on the Internet. Video is developing a "friend or foe" relationship with online companies. Online collaboration tools — such as video conferencing, Web training and webinar participation — are fast becoming a happy alternative to expensive corporate travel.
"Recent data shows that while the Internet traffic is still growing, it's growing at a manageable rate of increase. Video makes up a significant component of overall traffic, but the backbone and peering interconnect systems can still be easily managed upwards in capacity," James Crow, vice president of technology for digital media distribution firm ON Networks, told TechNewsWorld.
Disaster Prognosis
Despite the Chicken Littles' assertions that the Internet sky is about to fall, those pushing for the increased use of video on the Web deny the end is near. Others warn that some retooling of the Web's infrastructure will soon be needed to prevent widespread traffic snarls.
Just as uses for the Internet are not static, product producers are not standing still with the technologies they use for their services. Still, increasing video use on the Web will not be free of charge or challenge.
"Video isn't a challenge on the Internet yet. It is not being overly used. But there are challenges with video ahead," Iain Molland, the North American CEO of the video streaming firm Vividas, told TechNewsWorld.
Content Delivery
Video players on the Internet are developing several technologies to mitigate the increasing consumer bandwidth needs and network responsiveness, Crow said. For instance, most video providers, of both streaming and downloading varieties, leverage edge-based content distribution networks (CDN).
These systems optimize traffic away from the backbone and isolate it to the distributed, last hop/last mile networks. These last-mile systems do represent a potential constriction point, but current technology projects like DOCSIS 3.0 and the FTTN/FTTC initiatives are directly targeting this problem, he explained.
"A company can deliver video very easily from a small server using CDN. This puts thousands of servers within the Internet infrastructure," Molland added.
CDN uses local servers as part of the process. It pushes video content to standard Web page servers while the content is stored at the edge, he explained.
Faster Networks
Internet users are being increasingly drawn to video in the form of full-length, prime-time TV shows posted online by the networks that produce them. ABC, Fox, ABC, CBS and the CW channel make some of their shows available for free on the Web through various outlets. Prime Time Rewind has a unique approach to preventing Internet overload. It links prime-time shows, but directs users back to the original network's site within a cube frame that viewers navigate to find their desired show.
This method allows Prime Time Rewind to serve as a video gateway without having to host its own online player and store all the video files locally. Instead, the content owner has to deal with bandwidth along with contributing to page views, ad revenue, etc.
Nortel, a provider of bandwidth-expanding technology, arms Internet video providers with more bandwidth to ensure that high-definition (HD) video and expanding Web services do not "break" the Web. Using its optical technology, Nortel can deliver both 40G and 100G network capacity, enabling four times the network throughput.
This new technology provides carriers with the capability to keep pace with dramatically increasing demand from heavy bandwidth applications like IPTV (Internet protocol TV), Internet video, HD programming and mobile video phones. Nortel's Adaptive Optical Engine uses enables both 40G and 100G transmission through fiber-optic cables.
Other Methods
Internet service providers often claim that a great deal of the excess traffic on their networks is due to peer-to-peer (P2P) file-sharing, with the implication that users illegally trading in copyrighted movies and videos are to blame. However, some P2P developers are bringing new technology to Web video distribution. Take, for instance, BitTorrent, a free, open source file-sharing protocol that effectively distributes very large software and media files. While applications using BitTorrent are popular tools among pirates, the technology is also being used to maximize the ability of the Web to handle all kinds of traffic.
"Our traffic is half of that on the Web. Web creators were sound in their architecture. Video is the latest scaling of that technology," Eric Klinker, CTO of BitTorrent, told TechNewsWorld.
From his view, people reporting that the Web is in danger of collapse are misinformed. Slow spots have always been and will continue to be a fact of life on the Internet, he believes.
"The Network is constantly being upgraded. Constant shifts occur with the backbone," he said. "We consume bandwidth in about the five to six megabyte range. This is about the bandwidth taken by a single audio track. We focus on transport only, not searching or cataloging," he explained, noting thatBitTorrent is not a file-sharing operation but a transfer of files in what amounts to a separate network.
Movie Moving Alternatives
Vividas' technology streams video across HTTP (hypertext transfer protocol). This harnesses the power for existing bandwidth, according to Molland, who adds that this approach is much more scalable.
"Use of video requires additional Flash server capacity. Issues have been related to not having enough equipment. This is very expensive," he said.
Because the Internet is scaled for delivery of Web pages rather than video, as video use increases it will become a bandwidth problem, he warned. An alternative measure is for video suppliers to start with CDN and switch to P2P as usage increases.
Corrective Measures
Another factor to consider about the growing use of video on the Web is its impact on Web site performance. Officials at AlertSite, which offers a Web site performance and management service, said they do not really see a breaking point for the Internet as a whole.
"But major problems are happening now and in the future with page load times, broken rich Internet applications, and as a result unhappy customers of companies whose Web sites feel the pinch from video slowing Web sites and Internet performance down," Ken Godskind, Web performance evangelist for AlertSite, told TechNewsWorld.
To deal with the bandwidth concerns, enterprise Web users should measure their Web site's performance, he said. For instance, AlertSite's product sets a dynamic base line — online commerce sites can then use this baseline to monitor overall Web site performance under different circumstances.
"Companies should step back and ask questions. Is their network's poor performance a network problem? Can the ISP help the customer share traffic better? You may find that the bandwidth is maxed out. This will help with capacity planning techniques," he suggested.