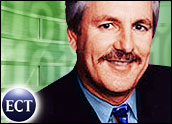 One of the first jobs I ever held was as an auto mechanic and have had a passion for cars that predates my passion for technology. Watching the U.S. auto industry make mistake after mistake until it was nearly out of business has been particularly painful for any of us who love both cars and our country. I'm in the market for a new car myself, and there isn't a single one from any of the Big Three that excites me at the moment. Based on how well the Japanese and Korean car companies are doing, I'm guessing I'm not alone.
For instance, GM came out with a killer prototype electric car which looked like this and changed it into boring — and now may not bring it out at all.
It occurred to me that some of the lessons that were demonstrated by Apple and HP as their CEOs successfully turned around their companies might work for the auto industry.
We'll close with few more ideas for gifts off of my weird, expensive, and memorable list.
What if Steve Jobs Ran GM?
What Steve Jobs did with Apple is he cut the company down to executives who were loyal to him and a level of complexity he could actually manage. The Apple he took over was on death watch, largely because it couldn't execute and it was facing a market made up of cheaper products, both that ran the then-aging MacOS, and Windows that were cheaper and generally adequate to the needs of the market.
In addition, he reintroduced strong demand-generation marketing to the company and then allowed one idea — the iPod — to emerge (this was at least partially luck). The combination of all of this assured Apple's future.
If Steve were to take over GM, he would likely purge a number of the divisions that overlap. When he was done the GM brand would only be applied to the commercial products, and Chevrolet and Cadillac would define everything else. Each division would have the minimum number of different vehicles and there would be no overlap between any of them. Each product, instead of the current shotgun approach, would be tightly targeted at its demographic and, if it wasn't competitive, he would replace the people responsible.
He would immediately, even before the new products came to market, shift to heavy demand-generation marketing and showcase each of the remaining existing products in the best possible light to eliminate inventories. But he would dump those inventories very fast.
He would have no tolerance for unions and likely would be willing to use bankruptcy and overseas manufacturing to drive them into more favorable agreements so the company would be more competitive. Regardless, I would expect him to be aggressive at shifting some manufacturing to China, Korea, and/or India for cost advantages and in anticipation of competition coming in from those regions.
I would expect him to also buy up some of the dealerships and use them as showcases for how product should be sold, with the automotive equivalent of a genius bar and a focus on sales quality over salesperson quantity.
While there would be fewer cars and they likely would be comparatively more expensive, they would also be more attractive and, even under the hood, extremely well finished. In the end, the company he took over would be far smaller, particularly in the U.S., but it would be vastly more profitable and likely have a level of brand loyalty others would envy. Oh, and I'd also expect an iScooter, like this, as one of the more affordable offerings.
What if Mark Hurd Ran Ford?
The first thing Mark would likely do is replace the underperforming Ford division heads with top players he could be confident in and give each a mission to turn around their units with hard metrics. Any division he felt was unable to make a transition to profitability quickly enough would be cut. He, too, would likely ask that redundancies be minimized, but it would be more of a request not an order.
He would then back up his individual managers as he drove each of them toward better financial performance. He might take a central role with the unions and might even move to buy GM or Chrysler to consolidate his position. He would probably set up something like the Technology Office that Shane Robison runs at HP to assure there is cross pollination and make sure he wasn't surprised by problems.
With Mark, in effect, you'd see each of the sub-brands get more emphasis and a willingness to grow the company and not shrink it, though I would expect he too initially would cut staff sharply to give himself some headroom but then allow the various divisions to build out as needed.
He would focus more on updating Ford's infrastructure to make the overall company more agile and on centralized services that more economically benefit all of the various models and brands. While he would clearly delegate marketing, you would think, given his history at HP, that he would encourage the use of ex-Apple people or their equal in his various divisions who would then own product marketing.
Products would improve because they would have to meet the financial goals for the company and he would likely drive a major green initiative both in Ford proper and in the cars the company produces. You would expect Ford to emerge as a leader in both areas within five years under Hurd's leadership.
Jobs + Hurd?
In the end, Jobs' approach would turn GM into something closer to Porsche, while Hurd's approach would turn Ford into a more successful GM. What likely would be a perfect mix is a Mark Hurd running one of these companies and a bunch of Steve Jobses running each division. That would likely return the U.S. auto industry into the leader it once was. But either approach would be better than the mess we currently have. In short, rather than billions of dollars maybe the real answer the auto industry needs is capable and competent management.
Weird, Fun and Green Gifts:
Here are a couple things I've enjoyed over the last few months that fall into the weird and fun category. Not cheap, but sometimes a memory comes with a little cost.
Peak Handcrafted Professional Quality Starpex Guitar Hero/Rock Band guitar: Guitar Hero is a ball to play but you generally feel like a dork with the little plastic guitar that is typically used in the game. This $180 guitar has the look and feel of a real electric guitar and if people aren't looking closely it looks like you are really playing. Half the fun of pretending in a game like this is feeling real and a guitar like this helps the realism significantly. There is nothing like a realistic fake guitar to get the blood moving and the folks competing for high score. Though, at US$180, if you break this puppy it is going to hurt so you may want to hide it from little Jimmy.
E+ Electric Bicycle: This is far from cheap, running between $3,500 and $4,300 delivered (guess which configuration I bought) but it looks like a regular bicycle and has a top speed of between 20 and 30 mph, depending on configuration and a range of over 10 miles depending on how much you actually pedal the thing. Based on advanced military technology, this puppy does regenerative breaking and assures you can pass the best bicycle rider in the world while still talking on your cell phone (something I don't recommend). While not cheap, it is green, and if you do pedal, it is actually good for you. Blasting by that in-shape neighbor who makes fun of you for not being in shape is clearly a gift that keeps on giving.
Tactical Alert Muffs with Tactical Amplifier and Radio: While designed for hunters or sports shooters, these ear muffs both protect against ear-damaging sound and amplify the sounds around you. Kind of like having Superman hearing with a built in AM/FM radio you can use to listen to the TV while at the gym or hook them up to your iPod (with optional cable) while riding around and still hear that Mack truck driving up behind you. Could actually save a life and they look impressive and probably will strengthen your neck as well. Around $120.