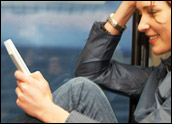 Whether it's on a piece of paper in a typewriter or a word processor on the desktop, writers typically begin with a blank white page. This white page has been the look of books for… ever. And beginning next week, Amazon's new Kindle should be presenting words — perhaps jumping off the page to engage the reader — on a similar "Paperwhite" display.
The new Kindle Touch reportedly will follow the lead of Barnes & Nobles' GlowLight Nook e-reader, which has a screen that makes it easier to read at night. This new Kindle, which will be officially unveiled at the company's media event next week, reportedly features a form factor similar to Amazon's existing Kindle Touch, but with a slighter darker bezel casing and, interestingly, no "home" button at the bottom of the panel.
Amazon has promised that this new Kindle will have higher contrast, along with high resolution and integrated lighting, with up to eight weeks of battery life. But will the new "Paperwhite" really be that much better for reading than the existing "Pearl" screens? It could be in the eye of the beholder.
"This should be similar to the Nook with the screen light — e-paper with a built-in light for night viewing," said Rob Enderle, principal analyst at the Enderle Group.
Night and Day
Much has been noted about this being better for nighttime reading, but does it mean that those who do their reading while at the beach or just in the backyard will be left in the proverbial dark? Not likely, as the technology is meant to improve reading in the dark, while still providing a bright screen that can be seen during the day.
"The light only comes on when it is dark — otherwise you have an experience similar to the existing Touch — great for outdoors," Enderle told TechNewsWorld. "Because e-paper doesn't generate any light, its weaknesses are the opposite of LCD screens: better the brighter it is; worse the darker. The light makes it into a 24-hour device. Up until this ships, they had been putting the light into a cover, but the result was less than elegant."
This likely could fire up Kindle fans and ensure that a Nook doesn't appear on their bookshelf.
"The 'Paperwhite' display sounds like a reasonable addition that would put the Kindle on firmer footing vs. Google's Nexus 7 and the Barnes & Noble's Nook with the GlowLight," said Charles King, principal analyst at Pund-IT. "Backlit displays tend to be harder on the eyes than the Kindle's 'E-Ink' displays, but it's the only way to read without a light in a darkened room."
E-Reader Goes Tablet
Rumors are also circulating over what new features can be expected in the Kindle Fire — Amazon's tablet contender.
"Likely additions include a higher-performance CPUs, cameras, and mobile features such as maps, Yelp, etc.," said King.
"If a 10-inch model arrives, 3G/4G options may be included as well," he continued. "The challenge with this exercise is whether or how Amazon will use Kindle to pursue three separate market strategies — for one, traditional e-readers; two, 7-inch Android tablets like the Nexus 7; and three, 10-inch tablets. Amazon largely owns the first category and made a decent run at the second — at least initially — with the Kindle Fire."
Creation vs. Consumption
The new Kindle Fire tablets might gain cameras, but it is unlikely Amazon will be introducing them — or other tablet features — to the Touch or any of its other e-paper devices, said Enderle.
"E-paper doesn't lend itself to a camera experience. I think Amazon will mostly focus on making these consumption rather than creation devices to differentiate them more strongly on price from the other tablets," he suggested.
"Amazon wants these to be delivery devices for Amazon paid content," Enderle added. "They'd only add a camera if they felt consumers wouldn't buy it if they weren't there — creation isn't their goal. In this, they are following the initial Palm and Apple strategies with PDAs and MP3 players that proved so successful. Keep it simple."
As a consumption device, the Kindle Touch could own its space.
Furthermore, "it's important for Amazon not to position the Kindle [Fire] directly across from the iPad or Surface," said Roger L. Kay, principal analyst at Endpoint Technologies Associates.
"As a reading device and access to Amazon's platform at a great price, it's well positioned. Moving it up into the iPad's space would likely be a bad move," he said.
Amazon did not respond to our request for further details.