The mean cyborg of Terminator 2 was unstoppable until it was immersed in a vat of molten iron. It might have survived, however, if it had self-healing processors at its core like the ones announced Monday by a team of researchers at the California Institute of Technology.
The researchers said they had built tiny power amplifiers for chips that recovered functions even after many of their components had been vaporized in tests.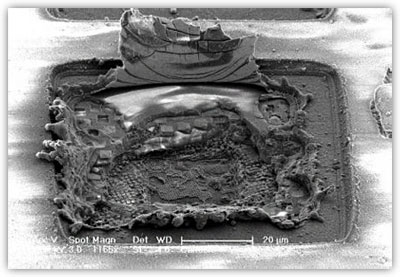 A Vaporized Chip FeaturingCaltech's Self-Healing Technology
This capability might result in faster chips with much better performance, Dr. Ali Hajimiri, Thomas G. Myers Professor of Electrical Engineering at Caltech, told TechNewsWorld. The chips will allow "more robust systems that are less sensitive to environmental conditions, and better performance in the chips and systems."
The Chip That Wouldn't Die
The researchers built power amplifiers so small that 76 of them can fit on a penny. These amplifiers have robust sensors that monitor their temperature, current, voltage and power. Information from these sensors is fed into a custom application-specific integrated circuit (ASIC) unit on the amplifier.
The ASIC acts as the system's brains, analyzing the amplifier's overall performance and determing if it needs to adjust any of the actuators — the changeable parts of the processor. There are 11 different actuation units of various kinds on the chip, Hajimiri said. The transmission line actuators have multiple actuation points, and there are roughly 250,000 different actuation states on the chip.
Just like a human brain, the ASIC draws conclusions about the amplifier's overall health based on the aggregate response of the sensors, rather than running on algorithms that are set up to respond to every possible scenario. If there's a change of state in one of the actuators, the ASIC "will automatically compensate and find a state close to optimum," Hajimiri said.
Devising algorithms for every eventuality might not be feasible in any event; there are about 10,000 transistors on each chip, including "all the necessary peripherals on that chip responsible for all functions including self-healing," he said.
"It's a great application that tests the boundaries of system on a chip (SOC) technologies," Charles King, principal analyst at Pund-IT, told TechNewsWorld. "Depending on its cost, it could have a range of practical applications."
Good Enough for Chips to Work
The self-healing capability restored most of the functions of the amplifiers tested, giving rise to the question of whether that's good enough.
The necessity of ensuring that all the functions of a chip are restored after it is damaged depends on the processes involved, King said. "For example, if the processors were used for cognitive or computational functions, losing a portion of capability probably wouldn't be wonderful, especially if it affected the accuracy of results. But if the chips were involved in controlling motor functions — say, directing the drive mechanism in a Mars Rover — the effects might be negligible."
Possible Uses for Self-Healing Chips
As semiconductors become smaller, intrinsic variations in them become more significant, so their designs have to be very conservative, Hajimiri said. "Our self-healing approach will allow designers to explore a much more aggressive design approach, where the chip itself deals with its own issues, realizing the full potential of a given semiconductor process."
The self-healing process will "extend Moore's law by improving the process yield in smaller feature size processes," he added.
Self-healing processors would be applicable in "products where reliable performance is critical, from ruggedized laptops and servers used to support industrial processes in remote areas and for military applications," King speculated. They might also be useful in extreme conditions such as deep-sea buoys used for measuring ocean conditions, remote weather stations, satellites and the Mars Rovers.
The United States Defense Advanced Research Projects Agency (DARPA) and the Air Force Research Laboratory funded the research at Caltech.
Other Self-Healing Processor Research
DARPA also runs the HEALICS self-healing mixed-signal integrated circuits project.
Google was issued a 2008 patent for a self-healing chip-to-chip interface. In 2011, the University of Illinois at Champaign developed a self-healing system that restores electrical conductivity to a cracked circuit by rupturing microcapsules of liquid metal sitting on the circuit.