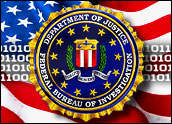 Concern that a dearth of external e-mail accounts at the FBI will effect the agency's ability to fight crime and terrorism is "overblown," according to Coleen Rowley.
Rowley is a former principal legal advisor with the bureau known for blowing the whistle on oversights it made prior to the World Trade Center attacks on Sept. 11, 2001.
"Trying to tie this in with terrorism is a little overblown because you can't communicate that kind of information over a non-secured system that goes outside the FBI anyway," Rowley, who is now running for a Congressional seat in Minnesota, told TechNewsWorld.
Alarms over the FBI's external e-mail situation were raised this week in the New York media when the head of the bureau's office in the Big Apple, Mark Mershon, reportedly told members of the Daily News editorial board:
"As ridiculous as this might sound, we have real money issues right now, and the government is reluctant to give all agents and analysts dot-gov accounts.
"We just don't have the money, and that is an endless stream of complaints that come from the field."
New Sentinel
Ironically, Mershon's remarks were made just seven days after it was reported that the FBI plans to spend US$500 million to upgrade technology at the bureau.
The upgrade is part of the bureau's efforts to resurrect its Virtual Case File (VCF) system. After spending $170 million on that system, the agency had to scrap it last year because it was obsolete and riddled with problems.
The first contract for the new system, dubbed Sentinel, is expected to be awarded in April.
National Shortage
Although everyone in the bureau has access to internal e-mail and some have access to a law-enforcement intranet called LEO (Law Enforcement Online), there appears to be a shortage of external accounts nationwide.
"Currently, over half of all FBI employees have a non-classified e-mail account," Cathy Milhoan, a spokesperson in the bureau's Washington, D.C. headquarters, told TechNewsWorld.
Jim Margolin, a spokesperson in the FBI's New York City office, told the TechNewsWorld that 80 percent of the 2000 employees in that office have external e-mail accounts.
Milhoan noted, however, that by the end of the year, external accounts will be available to all 30,000 FBI employees nationwide.
Doesn't Impair Performance
She attributed the current shortage of external e-mail accounts to the termination a year ago of a contract with AT&T. "Their servers were compromised so we discontinued the old fbi-dot-gov account," she explained.
She said that the new external e-mail system runs on FBI servers and its accounts have the designation ic-dot-fbi-dot-gov.
Asked if the unavailability of an external e-mail account impairs an agent's ability to perform their duties in any way, Milhoan declared, "Absolutely not."
Drop A Dime
Rowley added, "When you're working in the FBI, most of your communication is internal.
"Most people who see something happening and think it's imperative to get the information to the FBI would not e-mail it," she contended. "They would probably pick up the phone and call.
"If you're working on any matter involving terrorism or counter intelligence, you can't be e-mailing any of that outside the FBI anyway," she observed.
Shortfalls Not New
Rowley maintained that the FBI's New York office has always been chronically plagued with resource shortfalls.
"The New York office, because it has the largest number of agents and personnel in the FBI, was always disadvantaged in terms of resources," she said.
Today, the shortfall is in e-mail accounts, when she served in the New York office in the 1980s, it was automobiles.
"We were driving real clunkers back in the '80s," she recalled. "Some of the cars we were driving were demolition derby models."