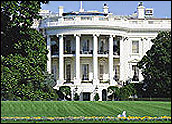 Internet privacy appeared on the big stage last week when the Obama administration unveiled its plans on the subject, which included a bill of rights for consumer privacy.
The president's privacy framework evoked reactions from stakeholders ranging from enthusiastic to guardedly optimistic.
"Consumer trust is vital to the growth of a vibrant Internet, and respect for privacy — putting people first — is essential to earning and maintaining that trust," Microsoft Vice President for U.S. Government Affairs Fred Humphries told TechNewsWorld.
The "framework signifies an important milestone in the evolution of privacy interests of Americans and individuals around the world," he added.
Takes Privacy Seriously
For the first time, an administration is finally taking privacy seriously, maintained Justin Brookman, director of the Center for Democracy & Technology's Consumer Privacy Project.
Of particular importance is the administration's call for congressional action on the issue.
"It's saying there ought to be a law to enshrine privacy rights, which we absolutely agree with and I think is really important," Brookman told TechNewsWorld.
Passing any substantive legislation this year, however, is unlikely, he acknowledged.
Will There Be Any Beef?
While praising the President and firms signing on to the spirit behind the proposed Bill of Rights, Jeremy D. Mishkin, a partner with the law firm of Montgomery, McCracken, tempered his kudos with caution.
"The cynics will note that while the aspirations contained in the Privacy Bill of Rights are noble, Web users are only too familiar with lofty rhetoric that sadly is not matched by action," he told TechNewsWorld.
"They've talked the talk," he added. "Now we have to see if they walk the walk."
No Immediate Impact
The framework was a momentous document, agreed Sarah Downey, a privacy analyst with Abine, a security services firm and software maker, but she discounted its immediate impact.
"At the end of the day, it's not going to make an immediate impact on consumer privacy," she told TechNewsWorld.
That's because Internet marketers will continue to gather information about consumers, even with one of the chief privacy protections called for in the framework, Do Not Track, in place.
"All Do Not Track does is prevent the delivery of personalized advertising," Downey explained. "The things consumers are really worried about are still going to go on."
For consumers who want full protection from marketers, Abine makes a free browser plug-in, Do Not track Plus, that blocks data collection from more than 580 tracking technologies and more than 200 companies, including Google and Facebook.
Security Fest
Security pros will be congregating in San Francisco this week (see calendar below) for the annual RSA Conference. Among the topics on the event's agenda will be hacktivism.
"Hacktivism has reached a new level and is changing the game for a lot information security professionals," Conference AVP/GM Sandra Toms LaPedis told TechNewsWorld.
"They have to better prepare people for an attack if their company makes an unpopular decision," she added.
The last year has been an infamous one for security incidents, according to the Conference's Program Committee Chair Hugh Thompson.
"We've taken five years of security incidents and run a compression algorithm on them and put them into the last 12 months," he joked to TechNewsWorld.
Not only will conference sessions be looking at defensive measures against cyberattacks, but offensive ones, too. There'll be two forums — one legal, one technical — on cyber counterattacks.
"If there's a cybercrime group going after your company, can you attack them?" Thompson asked. "It's a very controversial topic."
The conference will also have some high-profile keynote speakers, including New York Times columnist David Brooks, FBI Director Robert S. Mueller III and former UK Prime Minister Tony Blair.
Breach Diary
Feb. 21: Porn site YouPorn breached by unknown hacker and the passwords of 6,400 users posted to the Internet.

Feb. 22: University of Florida notified 719 persons that their Social Security numbers were exposed on the Internet when the school accidentally forwarded the information to a public website operated by the state.

Feb. 23: The Hacker News reported that two hackers breached the servers of Philips Electronics and claim to have stolen 200,000 email addresses that they intend to sell on the Internet black market.
Security Calendar
Feb. 27-Mar. 2: RSA Conference. Moscone Center, San Francisco, Calif. Delegate pass: U$2,295. Student/Academic Pass: $695.

Feb. 27-28: Bsides Conference. Children's Creativity Museum, 221 Fourth St., San Francisco, Calif. Admission: free.