As an analyst in a market of experts, I'm known as a generalist, but if I have an area of particular focus, it is how to make customers love you. In the car space, there are two emerging vendors on the world stage: India's Tata, which now owns brands like Jaguar and Land Rover; and Tesla, the dominant provider of electric cars.
Both companies are trying to make a dent in the world, and Tata is by far the larger and more capable of the two. Ironically, it is Tesla that is having a bigger impact and that consistently rates higher, even though it sells a car that none of us should really like. The fact that Tesla's customers don't just like its cars but love them goes more to how the company sells to and supports its customers than to what it sells.
I maintain that if Tesla used the same methods to sell gas cars that it uses to sell electrics, it would be doing to GM what Apple did to Microsoft last decade. Then again, the Tesla S could be Apple's iPod II (it was the third version that took over the world).
I'll focus on that this week and close with an interesting accessory for an iPhone that looks like it should have come out of Her Majesty's Secret Service Q Branch (James Bond's), the FLIR One.
Why Tesla Should Have Failed
Tesla has accomplished what seemed to be the impossible. It sells a big, expensive electric sedan. When it started, there was no electric car charging infrastructure. Folks who were economy minded bought little sedans or even small sports cars — costing at most US$50K for a really great one that could be easily parked, driven in cities, and was sparing with gas.
Most of the competing electrics were little things that could be charged reasonably quickly with relatively low-powered chargers. The Tesla S is in the SUV class with regard to size; its massive battery requires special chargers (superchargers) in order to charge quickly, which still aren't that common; and it is priced toward the high end of large luxury sedans. You could easily buy two Lincoln Town Cars for what one Tesla S cost.
If you were a VC and Elon Musk had pitched this to you as an idea, you'd have thought him nuts and had a hard time not laughing him out of the office. But you know what? Musk wasn't wrong. The reason wasn't the car, though — it was what he wrapped it with.
What Makes Tesla Different
Tesla built the car like Apple builds hardware — but better. It is fully instrumented and connected back to Tesla; often, it knows about a problem before you do.
If the car has a serious issue, Tesla typically will send someone to you who can repair it very quickly (no making an appointment and driving to the dealer). If it needs to keep your car for a while, it picks it up and leaves you a comparable loaner. I remember taking my then brand-new Audi S5 in for service and being given a Chevy Impala to drive in its stead.
Tesla's cars are designed like consumer electronics. Components are modular, so that the car can not only be rapidly repaired, but also easily updated. Tesla began offering a path for you to take an older sedan and update it to a new one by replacing key modules.
Tesla monitors customer satisfaction, and it doesn't use a dealership network, so it is intimately engaged with its customers, who act very similar to the old Apple fans in the 90s and aggressively defend the Tesla brand and cars.
In tech, we have Software as a Service. Tesla provides Cars as a Service. Most buyers lease — but with payments more similar to buying a car, which are far lower, and Tesla plans to take its cars after the lease is over, update them, and then put them back out in the market at even lower prices.
Seriously, if Tesla made a car configuration you liked, you'd be silly to buy from anyone else. The only thing keeping it from taking over the car industry is the fact that we really are nowhere near ready to move to electric cars en masse yet. You'd never know that here in Silicon Valley, though. Here they are more common than Toyotas.
If Tesla ever does manufacture a gas car or hybrid, or if we get a more robust electric infrastructure, or there's a big breakthrough in batteries (like the lithium anode breakthrough earlier this year) — then watch out.
The Jaguar Comparison
Why am I comparing Tesla to Jaguar, you ask? Because I ended up picking a Jaguar F-Type over a Tesla when I was shopping this time last year. In general, I'm happy with the result, and the problems with the Jaguar have been far lower than the reported problems with the Tesla — but customer care from corporate has kind of sucked.
Let me give you an example. In the documentation for the car — and apparently in the cars sold in Europe — the car has a locking gas cap door, consistent with most cars in the mid-to-luxury range. The only thing is, someone forgot to put it in the cars in the U.S. If the car had been made by Tesla, Elon Musk personally would have kicked some butts, and the problem would have been fixed, but Jaguar corporate's response so far has been "suck it up — that isn't our problem."
Jaguar is not that much different from most car companies out there, and that is what makes Tesla scary. It is changing the game.
Wrapping Up: Tesla = Apple for Cars?
A lot of folks have compared Elon Musk to Steve Jobs — and in one key area, they are right. Musk is willing to break the existing model that defines the car industry — one focused primarily on preserving profits and selling cars.
Jobs broke the technology market open with a massive push to make computing fun for everyone, and Musk is breaking the automotive model in an effort to turn cars into a service. To do this, both Apple and Tesla had to create massive loyalty and advocacy.
There is a bigger thought here, though. There is a huge push to begin using a tool called "analytics," which is at the core of Tesla's effort and success. I expect that in five to 10 years, you'll be able to tell the difference between companies that use analytics well — like Tesla — and those that don't.
Those that don't likely won't be around anymore. Analytics tells managers about their customers, their products, their market and their competitors. It makes their customers happier and more loyal, their products better, and their profits greater. Tesla showcases what we'll see in the next generation of successful firms.
Product of the Week: FLIR One Thermal Imager for the iPhone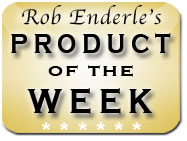 If there ever were a James Bond-like accessory for the iPhone, the FLIR One Thermal Imager would be it. What it does is transform your iPhone into a thermal imaging camera. It is actually pretty handy to see where you are leaking hot or cold air out of your house, where you may be leaking coolant out of your car, or how well your refrigerator is performing.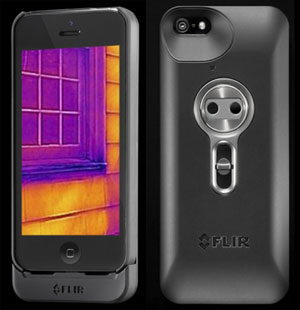 FLIR One Thermal Imaging Device
If you build gaming PCs, like I do, it is handy for finding hot spots. IT folks can use it to see where their thermal loads are coming from in a raised-floor environment.
If you are hunting at night, this can pick up any living thing, including your too-funny buddies hiding in the bushes with water balloons (an absolute ton of fun on an already cold winter night). It can entertain the kids as you drive through forested areas, because it'll pick up the critters in range.
Thinking of Jaguars, an infrared camera is what the villain used in one of the old James Bond movies (Die Another Day) to see Bond's then-invisible Aston Martin Vanquish. By the way, it is one of the best car chase scenes ever! Yes, I have a FLIR Camera in my own XKR project car).
One interesting use of the FLIR is to see what muscle groups you are pushing while exercising (granted, someone else has to take the picture). The hotter the group, the harder you are pushing it.
A use that could save you money is scanning your walls for water leaks that can result in mold, foundation damage, and massive repair bills if they aren't caught in time.
In the end, the FLIR One Thermal Imagine Camera for the iPhone not only is practical, but also cool because it can help you see things you otherwise wouldn't be able to make out. And there is that whole James Bond vibe going for it, which is why it is my product of the week.