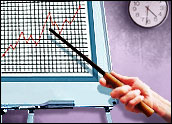 Social networking sites such as MySpace and Facebook have become extremely fertile environments for product placement and branding. Marketers can reach consumers where they are spending significant amounts of time with compelling content that can potentially break through the marketing noise.
Widgets are ideal for social networking venues because they pack a huge impact into a small size, providing a full-featured, sharable experience without the consumer's having to go outside the social network.
Consumers have shown that they can't get enough of widgets and social applications when they are useful, entertaining, and easy to share.
Inexpensive Development and Deployment
Detailed behavioral analytics are crucial if widgets are to realize their potential as brand builders.
According to a March 2008 BusinessWeek report, major marketers such as Hewlett-Packard, Gap and Sony Pictures are recognizing that widgets are no longer simply novelties: They can be extremely effective in spreading marketing messages and reinforcing brand. While consumers spending time on social networks dislike being interrupted by overt commercial messages such as banner ads, they are often receptive to brand introduction and reinforcement, particularly if the brand is associated with engaging or useful content.
Widgets and social applications are optimal vehicles for multimedia content, since they are portable, flexible and relatively inexpensive to develop and deploy. Within their online communities, consumers are very likely to share, rate, and comment on branded content, and recommendations from reliable sources are viewed as more credible and valuable than traditional promotions.
Widgets would likely have been adopted earlier as a mainstream marketing tool had they served as a window into consumer preferences and behavior. Instead, widgets have been constrained by Flash and JavaScript, which rendered them impenetrable to sophisticated analytics tools used in traditional e-commerce applications. Online marketers have utilized their Web sites not only to sell product, but also to track consumer behavior, preferences and engagement levels. However, today's online consumers are increasingly expecting content to come to them, without their having to search or visit multiple Web sites. That means that detailed metrics on consumer loyalty and site interaction will be more difficult to garner as consumers spend less time on discrete Web sites and more time viewing personalized, aggregated content within their online communities.
Until recently, most of the data available on widget deployment has been related to distribution. Measuring viral hotspots or clickthroughs has provided some value to evaluate popularity, reach and potential return on investment. At the same time, distribution metrics tell marketers very little about audience interaction with the content, the effectiveness of individual content components, and the potential for viral velocity based on audience behavior. Marketers need metrics that can break down audience engagement to the component interaction level. The ability to unlock detailed audience behavioral data will not only increase the inherent value of widgets and social applications, but will effectively transform them from short-lived, whimsical entertainment to essential components of any distributed branding strategy.
Widgets and Analytics
Pairing widgets with behavioral analytics creates a sea change in the iterative marketing process.
Emerging sophisticated analytics tools for widgets and social applications now give marketers unprecedented capabilities to reach out and track engagement within the consumer social networking environment. As a result, widgets and social applications may well become the most powerful brand builder of all for online marketers.
While most widget platforms that target the professional market provide analytics, some go a step further by giving marketers access to detailed interaction metrics, including time spent with the widget, number of viewings at the component level, rollovers, clickthroughs, pass-alongs, postings, and mass distribution. Brand awareness and recall, difficult to measure in traditional advertising without focus groups and surveys, can be measured at a granular level by analyzing widget engagement levels.
For years, direct marketers have used iterative marketing techniques to test, evaluate, and hone messages. Traditionally, iterative direct marketing campaigns have been long and laborious due to the time required to repeatedly print, mail and synthesize consumer response data. Widgets backed by advanced audience engagement analytics give marketers the tools to react on the fly to audience response, updating widget content based on specific audience interactions.
For instance, if consumers consistently begin playing a video in a widget but abort midstream, the marketer can identify at what point viewers are "turning off" and modify the video accordingly. The capability to adjust and refresh media and messages in real time and measure the effect these changes have on brand awareness and audience behavior is a profound advancement in branding methodology.
Points of Engagement
Widget analytics overcome obstacles to measuring audience engagement.
Forrester Research describes engagement as having four components: involvement, interaction, intimacy, and influence (Source: "Marketing's New Key Metric: Engagement," August 2007) While marketers should measure all of these components to evaluate the effectiveness of their branding initiatives, it is a tall order when the data is sourced from Web site visits and transactions.
According to Forrester, marketers need to employ surveys, e-commerce activity, social media platforms, brand monitoring and customer service records to fully understand audience engagement. "No measurement vendors provide unified services to help tie it all together — yet."
Sophisticated multimedia widgets, when paired with innovative analytics tools, have broken through to make engagement data much more accessible. Widget analytics measure involvement by tracking the amount of time spent with the widget and the degree to which the user explores the full widget content. Interaction is measured by tracking clickthroughs or other actions, such as music or video downloads. Intimacy, or brand sentiment, can be tracked by measuring loyalty to the content, user commentary, likelihood to endorse, and the user's desire to keep the widget and view refreshed content.
By tracking posting, sharing, and viral hotspots, widget analytics provide specific metrics regarding a consumer's actual and potential influence and his value on the engagement ladder.
Convincing the Opinion Makers
Influencers may have more value than customers within social networks, and widget analytics help predict their behavior.
With advanced widget analytics, marketers can identify, profile and reach out to opinion leaders within social networking communities. These influencers might be missed when tracking purchase history or Web site page views, because they may not be frequent or large dollar value purchasers. Instead, these opinion leaders influence their network of family, friends and associates by passing along content, posting it to their blogs or profile pages, or reviewing and rating it.
By measuring the level of engagement of these influencers and their past behavior, marketers can predict viral pass-along and the potential of these evangelists to advocate and share similar or related content.
Marketers can also measure the engagement level of these influencers to evaluate whether content will be compelling to others. The depth and duration of influencers' interaction with the widget can help marketers hone their content, message and media mix for optimal audience engagement before wide deployment. Influencers can help marketers sustain a long-term, ongoing relationship with their audiences by serving as de facto distributors for brands they support or endorse.
Unifying Metrics
Cross platform analytics are hard to find, but well worth the investment.
The portability of widgets and social applications makes them ideal vehicles for monitoring the effectiveness of various online channels, including comparing customer engagement in different social networking platforms.
To properly compare channels, however, analytics must be cross platform and allow for the differences in functionality of competing social networking sites. Although cross-platform widgets and widget analytics will eventually be standard, they are the exception today. Marketers that are able to unify and analyze cross-platform widget metrics are ahead of the game and have the power to tailor and target their social applications to delight, inform and engage their different constituencies.
---
Ori Soen
is the cofounder and CEO of
MuseStorm
, a provider of widgets and social applications.
---