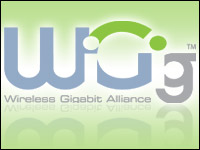 TV viewers may soon be able to watch videos without interruption over wireless networks as they move from their television sets to their PCs to their handheld devices, with the signing of an agreement Monday between the Wireless Gigabit (WiGig) Alliance, the WiFi Alliance and semiconductor developer SiBeam.
The WiGig Alliance's specifications enable data transmission rates of up to 7 Gbps, more than 10 times faster than the highest speed offered by the 802.11 standard.
"WiFi is a very successful technology and has a wide variety of devices, and we want to leverage that success and extend it into the 60 GHz range," Bruce Montag, a board member of the WiGig Alliance, told the E-Commerce Times.
A Marriage Made in Heaven?
The WiGig Alliance was formed in May 2009 to promote the adoption and use of 60 GHz wireless technology worldwide. It completed its unified wireless specification, which enables high-performance wireless video and audio, in December of 2009.
That standard extends WiFi technology into the 60 GHz range but retains backward compatibility with existing WiFi devices. It can be used on PCs, mobile handsets, television sets, Blu-ray disc players and digital cameras.
Many members of the WiGig Alliance are also members of the WiFi Alliance, which makes the teaming up of the two a fairly straightforward deal. It will also boost adoption of the WiGig Alliance's standard.
The WiGig Alliance will be able to leverage the WiFi Alliance's certification program, which has been place since 2000.
"The partnership will let the Wireless Gigabit Alliance leverage all the tools and structure for industry participation that's available to WiFi and extend that to 60 GHz," the WiGig Alliance's Montag said. "The idea is to bring multi-gigabit wireless capability to a wide variety of devices like PCs, netbooks, cellphones and consumer electronic devices — everywhere that WiFi is available today."
SiBeam's inclusion in the partnership will further boost the WiGig Alliance's efforts. This company is a fabless semiconductor company that develops high-speed wireless communication platforms.
"Support from SiBeam adds momentum to what appears to be the industry-supported standard," Rob Enderle, principal analyst at the Enderle Group, told TechNewsWorld.
WiGig Version 1.0 specs
The WiGig Alliance on Monday published its specs, which were completed in December 2009.
In addition to supporting data transmission rates of up to 7 Gbps, the specs supplement and extend the 802.11 Media Access Control (MAC) layer and are backward-compatible with IEEE 802.11.
The physical layer enables both low-power and high-performance WiGig devices to ensure interoperability and communication at gigabit rates between the two.
The standards support beamforming, thus enabling robust communications at distances beyond 10 meters.
Beamforming is a signal processing technique used in sensor arrays for directional signal transmission or reception. There are two types of beamforming techniques in the cellular industry: Passive mode and active mode. Passive mode is for WCDMA transmissions, while active mode solutions are for 2G, 3G, 3G evolution standards such as LTE, and 4G and other standards beyond 3G.
Implications of the WiGig Announcement
With its announcement of a team-up with the WiFi Alliance and SiBeam, the WiGig Alliance has ratcheted up pressure on another 60 Hz standard, from the Wireless HD Consortium.
The consortium offers a 60 GHz wireless standard that it says will eliminate the need for HDMI cables. It announced the second generation of its standard back in January of this year.
This latest spec will let high-definition TV sets, Blu-ray disc players, PCs and portable devices transmit, share and display content and let users instantaneously transfer multi-gigabyte media files among various devices.
The WiGig Alliance's goals appear to overlap many of the Wireless HD Consortium's.
"WiGig is networking; WirelessHD is more of an HDMI cable wireless replacement," Enderle pointed out. "They could both coexist for different reasons, but I expect that WiGig may be able to encompass Wireless HD's capability, rending WirelessHD prematurely obsolete."
In addition, SiBeam's joining up with the WiGig Alliance could make things more difficult for the WirelessHD Consortium, of which it was an early backer.
Living Together in Harmony for Now
Right now, however, the two standards may be able to coexist.
SiBeam on Monday announced the availability of the world's first solution that leverages both the WirelessHD Consortium's and the WiGig Alliance's standards. This is the SiBeam sb8110 WirelessHD/WiGig RF transceiver and the associated SK8100 software development kit.
"Upon review of the WiGig specification, we believe that WirelessHD will continue to provide the best solution for wireless video area networking; WiGig can potentially serve as a good platform for support of data and wireless local area network applications," said John LeMoncheck, SiBeam's CEO.
In the long run, the WiGig Alliance's specs may win out.
"WiGig could encompass what WirelessHD does, rendering it redundant," Enderle explained. "It's similar to the fight between printers and scanners — eventually scanners became part of printers even though the two didn't really overlap."