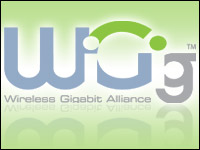 Home entertainment systems could soon see much higher wireless transmission speeds — possibly of up to 7 gigabits per second (Gbps) — if the plans of the Wireless Gigabit (WiGig) Alliance continue on course.
The Alliance, members of which include companies in the chip, mobile phone and telecommunications industries, announced the completion of its unified wireless specification on Wednesday.
The spec uses the 60 GHz spectrum and will enable data transfer at rates more than 10 times faster than today's wireless LANs (local area networks). It will be offered for implementation in the first quarter of 2010.
WiGig 1.0 Specs
The WiGig specs support data transmission rates of up to 7 Gbps, which is more than 10 times faster than the highest 802.11n WiFi rate. It also supplements and extends the 802.11 Medium Access Control (MAC) layer and is backward compatible with the IEEE 802.11 standard.
"Our technology is backwards compatible with existing WiFi, and we fall back to 802.11n and 802.11g when we can't connect at [7 Gbps] speeds," Ali Sadri, chairman and president of the WiGig Alliance, told TechNewsWorld. "We're based on 802.11, so our spec is not replacing WiFi but extending it to 10 to 20 times faster than WiFi."
The specification's physical layer enables both low-power and high-performance WiGig devices, guaranteeing interoperability and communications at gigabit rates.
The WiGig Alliance is developing protocol adaptation layers to support specific system interfaces. These include data buses for PC peripherals and display interfaces for high-definition television sets, monitors and projectors.
The specifications also support beamforming, which enables robust communications at distances beyond 10 meters. "We focus the energy in one direction and the power of our transmission plus antenna gain will let you reflect the beam off walls, the floor and ceilings," Sadri explained. "In the prototypes we've developed, we can do communications in a room and beyond a room, to the room next to it."
Why 60 GHz?
The 2.4 GHz and 5.8 GHz wireless frequencies are running out of room, so the industry is looking elsewhere for more space. A slice of unlicensed spectrum near the 60 GHz frequency is relatively untouched. Also, it's free.
"The 60 GHz frequency is considered as an ISN, or Industry Scientific, band and is license-free," Sadri explained. "Any standard can operate there without needing to get a license."
On the technical side, wireless communications systems operating in the 60 GHz band take advantage of the high absorption caused by the oxygen in air. This limits signal propagation to a few feet, but it also limits interference from other wireless systems.
Recent developments in the semiconductor industry make it cheaper to create 60 GHz systems. Up until now, manufacturers had to use relatively expensive, power-hungry gallium arsenide chips, but researchers have found that CMOS, or silicon, chips can do the job far cheaper and with less power.
Sidestepping Wireless HD?
To some extent, WiGig competes with WirelessHD, an industry alliance that has come up with specs for wireless video area networks (VANs) for high-definition signal transmission in consumer electronics products.
The WirelessHD consortium also positions its specs around the 60 GHz radio frequency. "Wireless HD is specifically for uncompressed video transmission and can replace your HDMI cable," Sadri said.
HDMI is an interface frequently used to connect high-definition televisions to Blu-ray players, video game systems, and other set-top boxes providing HD content.
Unlike Wireless HD, WiGig focuses on wireless networking and seeks to extend the WiFi standard, Sadri claimed. "If you need networking and WiFi connectivity, WiGig is the only standard out there that claims to be backwards compatible with WiFi," he pointed out. "We're determined to make the next generation of WiFi as successful as the current generation is."
The two consortiums are more similar than they're different, Lianne Caetano, executive director of WirelessHD, told TechNewsWorld. "Like WiGig, we're a standards consortium," she pointed out. "We have pretty much the same setup as WiGig and we share some of the same members." Broadcom and Intel are among the companies that have players on both teams.
WirelessHD is working on the next iteration of its specification, which will be "much faster" than WiGig's specs, Caetano said. This will be announced sometime in the first quarter of 2010.
"We're going to extend from the current consumer electronics products to add more consumer electronics products, and beyond that, we'll add PCs and portable devices," Caetano said. Consumer products incorporating WirelessHD standards began shipping in Q1, 2009.
However, Caetano would not say whether or not WirelessHD would also move into wireless networking. "There will be an evolution to the next phase of the network," she said. "We have the wireless home multimedia network covered."
WirelessHD's use in consumer products on the shelf has benefited the WiGig Alliance, WiGig Chairman Sadri said. "Wireless HD has done a great job in convincing people that CMOS-based 60 GHz devices are feasible," he explained. The WiGig Alliance hopes that, like WiFi, its technology will be built into "every laptop and smartphone," Sadri said.