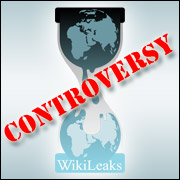 Google may have contributed to violating the First Amendment rights of three journalists working for WikiLeaks two and a half years ago, when it turned over to the FBI all their email, subscriber information and metadata.
Google informed the journalists — Sarah Harrison, Kristinn Hrafnsson and Joseph Farrrell — about its actions last month.
"We are astonished and disturbed that Google waited over two and a half years to notify its subscribers that a search warrant was issued for their records," Michael Ratner, Carey Shenkman and Margaret Ratner Kunstler wrote in a letter sent Monday to Google Chairman Eric Schmidt and General Counsel Kent Walker. The three attorneys are representing the journalists and WikiLeaks.
If the journalists had received timely notice, they "could have intervened and protected their interests including their rights to privacy, association and freedom from illegal searches," the lawyers argued in their letter.
"While it is too late for our clients to have the notice they should have had," the attorneys wrote, "they are still entitled to a list of Google's disclosures to the government and an explanation why Google waited more than two and a half years to provide any notice."
Google Gagged
When the government sought to obtain customer information from Twitter and keep it quiet, Twitter challenged the government and was allowed to inform its customers of the government's demands, the attorneys noted.
WikiLeaks founder Julian Assange requested that Google follow Twitter's lead in a conversation he had with Schmidt on April 19, 2011, they noted.
"We are surprised that Google appears to have failed to act upon this request, causing notice to our clients to be delayed more than two and a half years," the attorneys wrote.
Google told the WikiLeaks journalists that it could not inform them of the government action because it was under a gag order until very recently, The Guardian reported.
Google did not respond to our request to comment for this story.
It's not unusual for prosecutors to seek a gag order when they believe disclosure of a warrant to a target would jeopardize an investigation. However, an order lasting two and a half years is a bit unusual.
"It's very surprising to me," said Joel R. Reidenberg, founding academic director of the Center on Law and Information Policy at Fordham University School of Law.
"The length of time that has elapsed between the subpoena and the disclosure to WikiLeaks of the subpoena's existence seems quite striking," he told TechNewsWorld.
Warrant Too Broad
The breadth of the warrant used to obtain the information from Google is also questionable.
"We don't yet know all of the facts surrounding Google's involvement," noted Alex Abdo, a staff attorney with the American Civil Liberties Union's Project on Speech, Privacy and Technology.
"However, the warrant issued to Google appears dangerously overbroad based on what we know so far," he said.
"We would expect a company in Google's position to have challenged such a warrant — or at least to have fought for the right to notify its customers of the warrant in a timely fashion," said Abdo.
"From what we know about some of these dragnet operations, they are not as discriminating as they really need to be in a democracy," added Reidenberg .
In their letter to Google, WikiLeaks' attorneys are asking for materials and communications pertaining to the warrants, and answers to questions about Google's compliance with them. Once that information is obtained, a number of options could be pursued by the journalists.
"The Justice Department has procedures that it's required to follow when it issues search warrants and subpoenas for journalists so our clients may have a cause of action under the privacy protection act," Wikileaks' attorney Shenkman told TechNewsWorld.
His clients also have First and Fourth Amendment rights to access the materials associated with the search warrant, he added.
"If the government doesn't release the materials, our clients can sue in federal court and obtain what they're entitled to," Shenkman said.
The FBI, through spokesperson Jenny Shearer, declined to comment for this story.