Cisco pulled the plug on its Flip digital video camera earlier this week, putting an end to its line of popular, relatively low-cost dedicated digital video cameras.
Up until December, Cisco had invested a lot of time and effort into building up the market for the device.
Could Cisco's stunning reversal be a harbinger of doom for an entire category of devices? With smartphones, tablets and your average pocket digital still camera able to take videos of increasingly high quality, often in high definition, is the bell tolling for standalone digital videocams?
The Cisco Kid Ain't No Friend of Mine
Cisco shelled out US$590 million to buy Pure Digital, the maker of the Flip videocam, less than two years ago. Up until the end of 2010, Cisco had worked very hard to enlarge the market for the Flip.
In December, Cisco teamed up with the NHL to offer Flip cameras adorned with team logos. In September, the company debuted an all-new lineup for the Flip and announced a new accessory program for the device.
Just this month, Cisco announced a new model: the Flip SlideHD videocam. And on Thursday, days after the lineup officially got the ax, The New York Times' David Pogue revealed that Cisco put Flip to death the day before it was to release a new model called the "FlipLive," which was capable of streaming live video directly to the Web via WiFi.
Cisco said it will close down the Flip business and refocus its home networking business for greater profitability and connection to its core networking infrastructure. It took similar actions with other consumer lines such as its Umi teleconferencing solution.
Back to the Cisco Comfort Zone
What happened? Why the sudden reversal in attitude?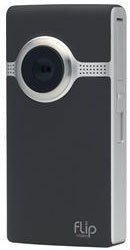 The Flip camcorder
"Cisco closed down Flip as it sought to focus on its core strengths in networking, and nothing was further from that than the camcorder business," Chris Chute, a research manager at IDC, told TechNewsWorld.
"The big issue with Cisco was that it wasn't really a consumer products company and still isn't and as such didn't have the stomach for the types of marketing, advertising and customer service necessary to make a consumer product successful," Carl Howe, director of anywhere consumer research at the Yankee Group, told TechNewsWorld.
The decision to get out of the consumer business shouldn't surprise those who know Cisco's history. Back in the early 1990s, while battling 3Com for the networking market, Cisco decided to focus on the back end while 3Com picked the front end — the routers and stuff like that.
Cisco went from strength to strength, while 3Com was clobbered by the recession of 2000-2001 was eventually purchased by HP for $2.7 billion in a deal that closed April 2010.
Cisco did not respond to requests for comment by press time.
Death Cab for Standalone Digital Videocams?
With new-to-market smartphones, tablets, pocket digicams and DSLRs more often than not equipped with digital video capabilities — and sometimes offering high definition — could Cisco's closure of its Flip business be a sign of things to come?
Whether we're witnessing the beginning of the end for the standalone digital videocam depends on whom you talk to.
"I think video cameras are about to experience the same erosion by smartphones that has occurred in digital cameras," the Yankee Group's Howe suggested. "Now that most smartphones take video, why do you need a standalone video camera?"
Even "prosumer" video cameras, which are for the higher end of the market, are getting hammered, Howe remarked. For one thing, digital single-lens reflex cameras — the big, expensive cameras with interchangeable lenses — now often come equipped with the ability to shoot full HD video that rivals the quality of footage shot with expensive dedicated camcorders.
"I just got a Canon T2i DSLR, and it takes better video than any consumer grade video camera I can buy short of a $3,000 3CCD model," Howe pointed out. "So why would I buy the next-generation Sony video camera, which will require different lenses and more expense?"
The EOS Rebel T2i EF-S has an 18MP CMOS image sensor, advanced HD mode, and can capture up to 30 frames per second in video mode. [*Correction – April 18, 2011]
Keep Shooting!
On the other hand, the camcorder market is growing both in the United States and globally, chalking up a 22 percent growth worldwide, IDC's Chute said.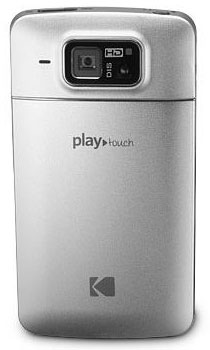 The Kodak PlayTouch
"Consumers are looking for low-priced HD video capture devices that do not have an expensive service contract associated with them like smartphones, and may be more rugged as well," Chute stated.
More than 20 million camcorders are sold worldwide every year, Chute pointed out. "We expect the camcorder business to grow, largely due to pocket camcorder models like the Flip. Sony and Kodak are the likely candidates to lead now that Cisco has exited the market," he added.
For example, Kodak's digital videocam website lists several models, all with 1080p HD video and 5MP HD still photo capability among other features. They come in at between $128 and $153, and are waterproof. At least one is also shockproof and dustproof.
Sony's site offers several video camcorders, including its popular "Bloggie" 4MP model.
Neither Sony nor Kodak responded to requests for comment by press time.
---
*ECT News Network editor's note – April 18, 2011:
In the original publication of this story, it is stated that the Canon EOS Rebel T2i EF-S can capture 3.7 frames per second. This is the device's rate of still photo captures. In video mode, the camera captures up to 30 frames per second.