HTC unveiled its first Android tablet Tuesday at the Mobile World Congress in Barcelona, Spain.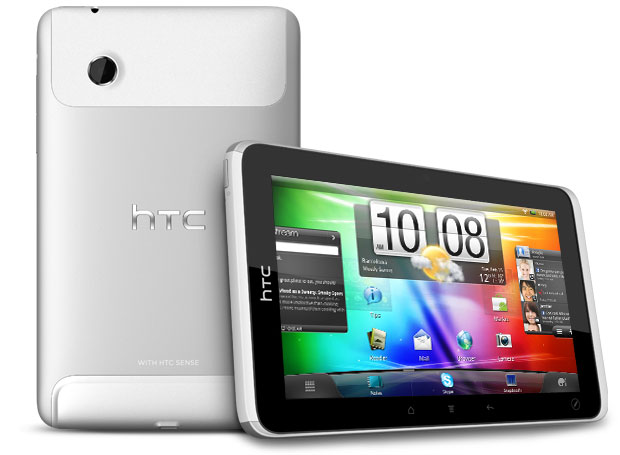 The HTC Flyer
Called the "Flyer," it has a seven-inch screen and comes with a stylus.
The HTC Flyer runs on a 1.5GHz Qualcomm processor and uses HTC's Sense user interface over Android 2.3, aka "Gingerbread."
It's positioned as a gaming device, but it also serves as an organizer, an e-reader, and it lets owners read and work on Microsoft Office documents.
The device also lets owners make HD video calls, watch movies and videos, and it offers virtual surround sound.
"The lightweight HTC Flyer is perfect for those who have been waiting for a tablet that is both compact and powerful," Rickey Bird, who works with HTC's public relations agency Waggener Edstrom, told TechNewsWorld. "It has very flexible functionality that can be used in an office, on the road or in the living room."
Flipping Through the Flyer's Specs
The HTC Flyer uses Qualcomm's 1.5GHz second-generation Snapdragon processor which is "twice as fast as the previous-generation processor," Bird said.
The mobile world's moving toward multi-core processors, so is HTC flying out in left field on this score?
"Today, with the exception of the browser, the Android OS is not optimized for dual-core scenarios because it lacks multi-threading," Bird pointed out.
However, the HTC Flyer might run into some problems with its single-core processor.
"They run the risk of being underpowered, just like the BlackBerry Torch," Maribel Lopez, founder of Lopez Research, told TechNewsWorld. "If you don't come with dual-core processors, just don't show up."
The Flyer uses HTC's Sense user interface, which has a 3D home screen that can be viewed without glasses. It supports Flash 10 and HTML 5.
When users scroll through the device's home screens, the pages will appear in 3D, Bird said. Further, when they tilt the Flyer, various sensors such as the G-sensor, will rotate and tilt widgets on the screen to the user's viewing angle.
The G-sensor is a type of accelerometer that measures movement in the device and uses it as input, Bird said.
The HTC Flyer comes with a stylus and HTC Scribe technology. This lets users write and draw pictures on documents as well as Web pages and photos.
HTC Watch, a new download service from HTC, will premier on the Flyer. This will let users download HD movies from major studios on demand.
The Flyer integrates OnLive's cloud-based gaming service. Owners will be able to play games including "Assassin's Creed Brotherhood," "NBA 2K11," and "Lego Harry Potter" on the tablet through the service, or transmit them wirelessly to their TV sets.
The HTC Flyer has a 5MP color camera with autofocus and flash in the rear and a 1.3MP 720p camcorder in the front for taking video and making video calls. It also has other features that are now standard on mobile devices, such as various sensors, support for WiFi and Bluetooth and GPS.
Being Fly at Work
HTC's Scribe technology can capture audio input during a meeting through its Timemark feature and integrate that with users' written notes, so tapping on a word in the notes takes them to the second that word was recorded.
The HTC Flyer has a calendar that integrates with notes taken using Scribe.
It comes with the Evernote feature that turns it into a personal organizer. Evernote lets users keep notes, add pictures or take voice recordings to add to their calendars. It syncs up instantly to a secure online server so users can access their notes from the Flyer, a smartphone or a computer.
The HTC Flyer also consolidates a user's email accounts and color-codes emails for identification. It lets users sort emails using various criteria.
Finally, Flyer owners will be able to view and edit Microsoft Office documents, and send them via WiFi to printers.
HTC said the Flyer will be available globally this month but did not specify when. It also did not specify a price.
Observations on the Flyer
Is the stylus accompanying the HTC Flyer too retro? Windows Slate tablets have had styluses for years, and so did the old Palm Pilot.
"I don't see why anybody would have a stylus today unless it was for a special-purpose device in, for example, the medical field," Lopez Research's Lopez stated. "The problem with styluses is that you tend to lose them."
However, HTC may be on to something here.
"Don't knock styluses," Andrew Eisner, director of community and content at Retrevo, told TechNewsWorld. "It's one of the hottest-selling accessories for the iPad, and one of the accessory vendors told me it couldn't make them fast enough."
One problem the HTC Flyer may face is the question of differentiation from other tablets in the market.
"The features such as video calling and email are becoming standard fare for tablets, so it's unclear how the HTC Flyer will differentiate itself to users," Josh Martin, a senior analyst at Strategy Analytics told TechNewsWorld.
Pricing might be the other problem HTC will have to resolve.
"The big question will probably be what's the price point," Retrevo's Eisner suggested. "It looks like all the other tablet vendors so far are coming out with prices that aren't competitive with the iPad. I've heard the Motorola Xoom will be priced at about (US)$800 and the HP TouchPad at about $700."
HTC has not yet determined the Flyer's price, Bird said.