Personal computer sales recently began to slow down to levels not seen since early 2020, before the pandemic turbocharged the PC space.
By all estimates, PC manufacturers are battening down the hatch for yet another challenging year after shipments fell markedly in 2022.
The pandemic-fueled sugar high of PC shipments that the industry saw in 2020 and 2021 began dissipating last year. Most industry analysts are not projecting a complete recovery until 2024.
The PC Boom Is Over
To wrap some numbers around the severity of this decline, Gartner reported worldwide PC shipments fell almost 29% in Q4 of 2022, the most significant drop in nearly three decades.
Market demand for PCs for enterprise buyers, always a good barometer of the PC industry's health, signaled the slowdown in Q3 2022 by extending PC lifecycles and postponing purchases. Gartner also reported that OEM PC shipments were somewhere in the 65.3 million to 67.2 million range in the Q4 of 2022, with worldwide sales in 2022 coming in at 286.2 million, a 16% decline from 2021.
The PC market surge in 2020 and 2021 was primarily the function of a world that had to quickly adjust to working from home and remote schooling behavioral changes. Businesses and consumers reacted by gobbling up PCs (particularly laptops) at a brisk pace not seen in years. Supply chain issues caused by the pandemic led to long lead times for PCs and critical videoconferencing peripherals like webcams.
Because pre-pandemic conditions have returned for the most part, demand has chilled despite average selling prices declining as PC OEMs resorted to the age-old tactic of discounts and promo offers to clear a glut of high inventory levels.
In short, the salad days of PC market growth appear to be over for the next couple of years.
Windows 365 May Turn the PC Market on Its Head
Even as the major PC OEMs trim expenses in anticipation of another challenging year, a strong headwind that could retard the PC industry's return to growth is Microsoft's Windows 365. It's not nearly getting the level of attention I believe it merits.
Still, given the impact of persistent inflation on IT and perhaps even consumer spending, Windows 365 may get much more appealing. The revenue impact of this could be devastating for traditional PC makers.
Arguably, Windows 365 is the future of the PC for several reasons.
First, this new cloud-based capability from Microsoft offers a comprehensive suite of productivity tools critical for businesses and individuals. These tools include Office 365, which provides access to popular applications such as Outlook, Word, Excel, and PowerPoint, and cloud storage services like OneDrive.
This attribute means that users can work from anywhere, on any device, and have access to their documents, files, and presentations no matter where they are.
Another compelling reason why Windows 365 is attractive to enterprise and business users is that it is constantly evolving. Unlike software packages that require a large and expensive IT staff to manage, the platform is updated regularly with new features, bug fixes, and security enhancements, ensuring that users always have access to the latest tools and technologies.
This feature allows users to stay ahead of the curve on perpetual updates and instead focus on their productivity requirements.
In addition to its productivity tools, Windows 365 also provides robust security features that have numerous advantages over a traditional hardware device model.
With advanced threat protection, device management, and data protection that can be managed and controlled in the cloud, sensitive data can be secured and protected more consistently. This need is vital for CIOs and CSOs who struggle with updating large fleets of laptops with the latest security fixes and patches and application management.
Finally, Windows 365 has the potential to become more cost-effective than purchasing traditional PCs. With a subscription-based model, users only pay for what they use and can quickly scale up or down as their needs change. This element makes Windows 365 an ideal solution for businesses of all sizes — and individuals — allowing them to manage their costs and stay within budget.
With average wireless broadband speeds now climbing north of 200 Mbps in homes, offices, and even in public settings as fiber and 5G becomes more pervasive, the burden of computing speed shifts to the cloud and away from the local device itself. This consequence has enormous hardware cost savings implications.
Chromebooks Still Fall Short for Enterprise Users
The idea of running an operating system in the cloud is not new. Google has been doing this for years with Chromebook and its ChromeOS. First announced in 2011, a Chromebook relies heavily on web applications using the Google Chrome browser.
Chromebooks can work offline and utilize applications like Gmail, Google Calendar, and Google Drive to synchronize data when connected to the internet.
While Chromebooks have enjoyed significant success with educational institutions due to their low cost, their penetration into the enterprise space has been lackluster. The enormous dependence that corporate users have on using Windows-based applications has been a major hurdle for Chromebook to overcome, despite its significantly lower cost versus a traditional Windows-based laptop.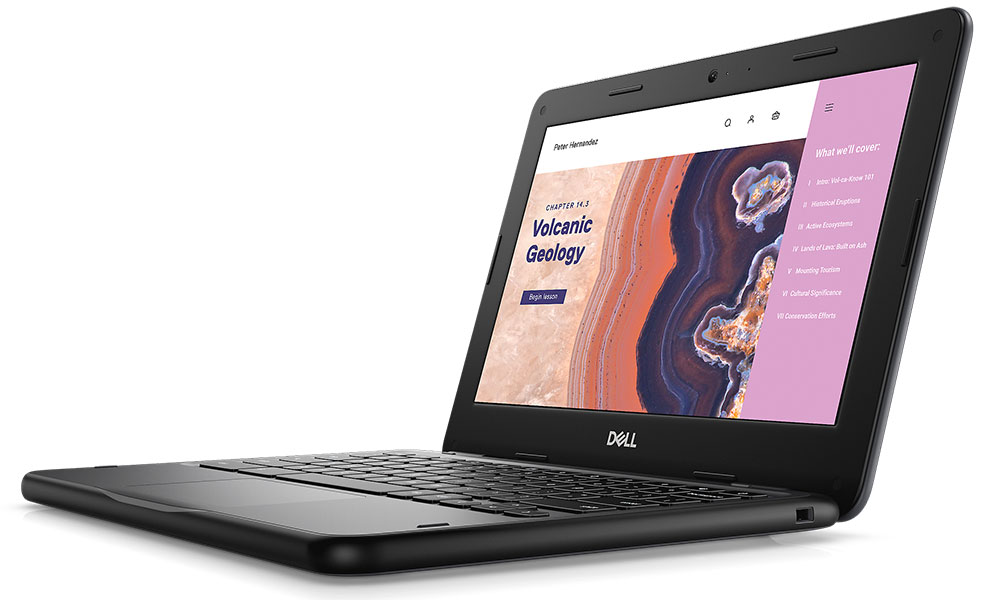 The Chromebook 3110 Laptop is designed for the education market. (Image Credit: Dell)
---
Ironically, the brutal truth is that most users depend on Microsoft 365 (Word/Outlook/Excel/PowerPoint) for word processing, email, spreadsheet modeling, and presentation needs. Google Workspace may be a great collaborative workplace platform, but many businesses (and even schools) have standardized on Microsoft 365 and OneDrive.
To bridge this gap, Microsoft and Google have joined forces to make Microsoft 365 a premium experience on ChromeOS, with full OneDrive integration for the Files app in the cards. Google recently posted an update that will bring this functionality to Chromebooks over the next several months.
However, for most enterprise users who require access to Windows-based apps where significant dollars have been invested over decades, this remains a "close but no cigar" situation, with Chromebooks remaining a non-starter for many large enterprise customers.
Implications for PC Makers
Not too long ago, PC manufacturers could rely on Microsoft to release a new version of Windows to spur an upsurge in PC sales. As a marketing executive with Compaq who attended the famous Windows 95 announcement in Redmond nearly 30 years ago, I witnessed the excitement — and even hysteria — that Microsoft was able to conjure up.
While Apple remains one of a tiny number of companies that can still summon that level of excitement on a massive scale, Microsoft's ability to replicate that level of user enthusiasm is now in the rear-view mirror. I don't mean that derisively. Microsoft is a much different and larger company today than in 1995, and it remains one of the world's great financial successes from a revenue and profitability standpoint.
But now, Microsoft realizes that connectivity improvements from a speed and latency standpoint over the past 20 years have made a "Windows in the cloud" scenario plausible and likely.
One could debate if a cloud-based Windows experience were sufficiently satisfying for all but the most demanding PC users, e.g., video content professionals and gamers.
Still, it's hard to repudiate that the cloud is the ultimate end game, and it's just a matter of time. Also, we cannot dismiss that the hybrid work phenomenon has played a role in making "Windows in the cloud" more appealing to business users.
Justifying the Cost of Windows 365
Simply stated, Windows 365 abolishes the need to buy a new PC.
While cost will always be a consideration for IT departments, Microsoft's monthly subscription price for businesses spans from $32 to $162 per user, depending on the number of processor cores, memory, and storage capacity.
Companies looking to get out of the hardware management business might find Windows 365 very tempting. Of course, you'll still need a lightweight hardware computing client, but it most likely won't be a $1,500 laptop.
Assuming that even a modest adoption of Windows 365 occurs over the next two or three years, the reduction in PC application service providers (ASP) will shake the rafters in the offices of every major PC manufacturer around the world — especially in Palo Alto/Houston, Austin, and Raleigh, homes of the three largest PC OEMs with a combined market share of more than 60%.
Even if only 20% of the PC market transitions to a Windows 365 business model over the next few years, the resulting impact due to dramatically lower ASPs could result in billions of dollars in lost revenue. That's serious stuff.
I'm aware of the enormous internal resistance that a PC OEM must face to confront this reality. Some OEMs will espouse a view that Windows 365 offering will not be a fait accompli and that the declining ASP reduction transition can be gracefully managed.
I'm dubious that scenario will play out as it will only take a few companies, assuming the user experience with Windows 365 is reasonable and doesn't impact overall productivity, to start messaging to the world how beneficial a cloud-based Windows approach is from a support, security, and image management standpoint.
Potential Impact on PC ASPs
From my perspective, the wiser PC OEMs will try to get ahead of this. Yes, there will be ASP declines, but there will also be an opportunity to define the experience consistent with the company's brand, value proposition, and security offerings that distinguish it from competitors.
But let's be clear: the anticipated declines in PC OEM ASPs as Windows 365 gains traction will probably not hit Chromebook-like levels because enterprise customers will value 4K displays, 5G capability, and other "care abouts" as the bill of materials emphasis shifts away from legacy processor players like AMD and Intel.
Notably, Qualcomm could benefit because of its line of low-cost Snapdragon SOCs that are tailor-made for Windows 365-class "thin" clients.
In addition, while PC clients may become more lightweight from a local processor, storage, and even graphics standpoint, those PC OEMs with world-class industrial design capability will have a leg up. These clients may have significantly lower price points, but end users won't forego great-looking designs.
While this conversation has focused primarily on enterprise and corporate businesses that tend to purchase PCs in fleets, the consumer market may be next on Microsoft's agenda. Some media reports state that Microsoft might offer Windows 12 to consumers via a low-cost Windows 365 subscription.
If anything, Windows 365 will presumably extend the PC's traditional hardware lifecycle beyond the current two to three years that most businesses use before replacing a conventional PC. If these new lower-priced PC clients facilitate significantly longer lifecycles, the impact on PC market revenue could be enormous.
Indeed, 2023 may be the year where we see this transition begin to occur. While the financial pain in lower revenues will not likely be unavoidable, the brave PC OEMs who get in front of this freight train have the best chance to exploit the opportunity and reinvent themselves.
Final Thoughts
In the late 1990s, desktop PC pricing started to decline precipitously due to strong market competitiveness, sending most PC OEMs into a tizzy as ASPs began to creep under the then-unheard-of $1,000 price band.
Keep in mind that Microsoft's current Windows 365 pricing for business customers is still expensive when considering that it doesn't include any hardware, only the license to use Windows 365, some productivity software, and product support.
It remains to be seen what price point PC OEMs will have to offer for a laptop client to make a Windows 365 monthly subscription viable from a cash outlay standpoint versus a traditional PC purchase that includes Windows 11.
Compaq dealt with this challenge by offshoring its PC manufacturing, designing PCs with lower-cost components, aggressive procurement, and implementing lifecycle management to a "just in time" inventory model that helped maximize margins.
Despite the tumult this caused at Compaq, the overall mantra was that while no company likes it when a market gets cannibalized, a company is much better off when it cannibalizes itself rather than letting competitors do it.
That might be the most potent lesson to embrace for the leading PC OEMs from the late 1990s.