Microsoft on Monday officially launched Windows Phone 8 at an event in San Francisco, hot on the heels of its Windows 8 launch last week.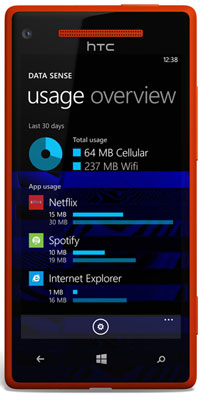 The Data Sense screen inWindows Phone 8
Windows Phone 8 "is not just having a lot of apps to choose from," Microsoft Vice President Joe Belfiore said during his presentation. He dismissed the "static grid of icons" introduced by Apple, which has become the standard, saying people are the focus of Windows Phone 8's design.
Belfiore showed off a slew of features introduced in the new mobile operating system, adding that with Microsoft's Sky Drive cloud service, those apps can run across Windows 8 PCs, Windows Phone 8 smartphones and Xbox.
Focusing on People
Microsoft has borrowed the Google+ Circles idea and renamed it "Rooms," offering it in Windows Phone 8's People Hub.
Rooms users can create sets of people with whom they can communicate privately, and users can set up their own Rooms as required. Users can see what people in a Room are up to on their social networks, and can share notes and calendars among people in a Room.
Users can invite iPhone and Windows Phone 7 users to a Room. They can get part of the Room's experience such as the calendar, but not the full experience, Belfiore said.
Android users, however, won't be included. "Due to the inconsistent calendar experience found on Android phones, use of the calendar on Android is not recommended," Microsoft spokesperson Katie Hamachek told TechNewsWorld.
Data Sense and Users' Plan Limits
Perhaps the most outstanding feature of Microsoft's mobile OS is Data Sense, which will help prevent users from going over their data plan's limits. "We tested the top 100 websites and, in our measurements, we found we got 45 percent more Web browsing on a data plan with Data Sense turned on," Belfiore stated.
Data Sense compresses Web pages users browse. It helps users find nearby WiFi hotspots so they can use them instead of their cellular minutes. Further, Data Sense automatically adjusts the way users' Windows Phone 8 phones behave as they get close to their plan's limits.
The feature also gives users an overall look at their data usage and shows how much data each of their apps is using. In addition, a live tile will pop up and notify users how much time they have left on their plan, Belfiore said.
Data Sense is rolling out on Verizon this fall, and will be available on other operators' networks later.
The Appification of Windows Phone 8
Apps are the lifeblood of smart devices, and 46 of the top 50 smartphone apps will be available on Windows Phone 8 devices, Belfiore announced. The Windows Phone 8 app store has about 120,000 apps, and hundreds more are being added every day.
New titles coming to Windows Phone 8 include "Temple Run," which Belfiore described as "a highly popular game on the iPhone and Android," "Angry Birds," "Fairway Solitaire," "Star Wars," and the voice-activated "UrbanSpoon."
Users who want to be able to hand their phones over to keep the little ones occupied without risking an accidental call to Mozambique will be able to take advantage of Kid's Corner, a parent-controlled screen built to contain kid-friendly apps. It has no access to the phone or text functions, however.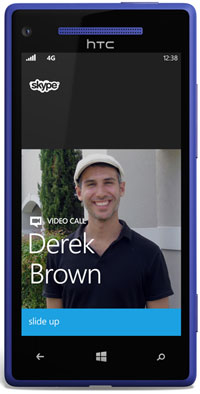 Skype on Windows Phone 8
Windows Phone 8 Live Apps can integrate with the lock screen so it will automatically display photographs, information and content from users' favorite apps, Belfiore said.
A new version of Skype that is "always on, so it's ready to receive a call or message at any time without running its code in background and draining your battery," has been built for Windows Phone 8, Belfiore revealed.
An optimized version of the Facebook app that lets users optimize their lock screens with information from that app and a new version of Twitter, with notifications and other features, have been built for Windows Phone 8.
Pandora for Windows Phone 8 will be available in early 2013, and will come with one year of ad-free music.
"Windows Phone 8 is anything but subtle in how it is attacking the market, and that's probably good," Carl Howe, vice president at the Yankee Group, told TechNewsWorld. "Microsoft needs a bold thrust to have a chance of competing."
However Windows has a lot of ground to cover because a Yankee Group survey of consumers in the United States in September found that only 7 percent of them plan to buy a Windows-based phone, Howe pointed out. The figures for the iPhone and Android were 42 percent each.