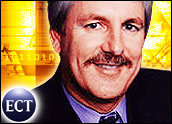 Last week's column covered much of the breadth of software inside Windows Vista. The piece addressed some of the features that probably were not widely known and covered likely competitive threats to Apple and Linux. To refresh, Apple is going into the Vista launch weaker and much less differentiated than when they fought the losing battle with the Windows 95 system, and Vista remains too different from Linux to offer the same kind of threat there.
What we couldn't mention, because I was sworn to secrecy, was one aspect of Vista that makes it different from any other OS I'm aware of, and also, what we will see from hardware vendors during the months that surround the launch of the product. I'll leave the "secret advantage" until the end of the piece and cover the hardware changes first; I think you'll be pleased with both.
The Other Side of Vista
As mentioned last week, Windows Vista laptops will gain a second display which will function like an embedded PDA to provide quick access to e-mail, calendars, music and possibly even video from a much, much lower power state. This, however, is only the tip of the iceberg.
Thanks to a little known feature in Windows Vista that nearly eliminates the dreaded blue screen of death, migrations will become much easier. While the Mac may still excel in this regard, one of the biggest impediments to new hardware purchases, the dreaded migration, will be made vastly improved. But will we really want this new hardware? You bet. Here is a peek.
Desktop Hardware
We'll deal with desktop hardware first. The most impressive improvement you're likely to see in the desktop class is with Windows Media Center hardware. You'll get a solid peek at this in a few weeks when the hardware that uses the intermediate release of this product shows up. It is, unfortunately, too early to talk about that, but I can tell you Media Center will get a lot more capable than it is now.
Right now there are two big problems with Media Center: It remains too complex, and getting high-definition content on it in the first place is nearly impossible. Recent agreements that Microsoft has reached with content owners, however, has opened the door to HD content coming into Media Center products next year.
This will allow the platform to fulfill more of its potential, and it is expected that products you buy this year will be upgradeable. In addition, capability that better integrates this platform into your home like built-in amplifiers and direct control (and indexing) of DVD and CD libraries will arrive, making it as simple as putting your DVDs and CDs into the carousel and leaving them to be indexed unattended.Tablet software hits the desktop as well, and there will be at least one monitor company that will be providing a compliant monitor to work with this (expect more later, too).
Think of this as a better digital canvas that you can better use to do photo editing, draw pictures, and collaborate using virtual white boards. I think we are understating dramatically just how interesting this will be when you can literally draw on your screen and share your drawings. Think how much fun kids will have with this — and how important it will be to keep the indelible magic markers the heck away from your PC screen.
What to Expect
Speaking of screens, they move up in size and down in cost. More of us will be using two or more monitors (I use four now and can't imagine using anything less these days) and many, initially at the high end, will use LED light sources extending their duty cycles nearly indefinitely. Look for a strong move up into the 42-inch range in the entertainment class for LCDs and the beginning of the end for plasmas. A large number will connect wirelessly much like the impressive wireless plasma screen announced by HP this month.
Ultra Low Power-Low Noise is the goal of the OEMs during this period and Intel and AMD are in a dead heat to provide the best platform here, however, they may get trumped by a little company called VIA which released a C7 processor recently that is plug-compatible with the Pentium M and vastly less expensive than virtually any other similar part in the market. Vista itself gets an improved near instant-on feature making this the closest thing we have yet had to a Windows appliance.
Customization will increasingly rule as the vendors move beyond built-to-order components and into customer colors and configurations. Think of variants in size that run the gamut from very large to very small and fit into almost any imagination.
Vista Laptops
Mirroring the customization of desktops above, laptops, which have been displacing desktop PCs in droves, will become massively customizable and go well beyond the stunning laptops we spoke about two weeks ago. Expect more co-branded products like the Ferrari, Livestrong, and Hummer and incredible color choices like the Voodoo Envy.
A huge percentage will have built-in wide area wireless broadband so that many of us no longer will have to pay extra for each hotspot we visit. Laptops become more blended entertainment devices and expect much better integration with technologies like TiVo To-Go, Sling Media, and Orb Networks. In short, expect your programming, particularly if you have a Media Center PC at home, to go wherever you are.
Battery life gets much better due to improvements in power management and with the new focus on multiple cores (which we will then have on laptops) and battery technology. Laptops will become more robust, extending beyond the semi-hardened features that Dell recently announced and Lenovo's unique and powerful solutions to create machines that are much more reliable and resistant to physical damage than what we have today.
Security will push the envelope with fingerprint readers becoming so common they are virtually ubiquitous, forecasting the end of password-remembering everyplace. Particularly on laptops — though some desktops will have this as well — you'll see the frequent use of the Trusted Platform Module to better secure drives and to better ensure that the files you get are from the source you expected them from.
Pricing and the Vista Secret Advantage
I saved the best two things for last.
Last week eMachines launched their new AMD-based desktop lines with very aggressive pricing. Next year, however, you are likely to see much of the market move to this range with 17-inch displays in the mid-US$200 range and relatively full featured (including Media Center) desktop computers for $600.
In addition, laptop computers with good features should drop to around $800. In short, you could buy a good desktop and a good laptop together for less than what either cost a few years back. That is not to say there won't be impressive, expensive products too, only that the mainstream will find easily affordable, quality offerings.
Now the part some of you have been waiting for: what makes Vista uniquely special. Vista is Jim Allchin's (Microsoft's Co-President, Platforms Products & Services Division) swan song. He and I have known this throughout the Vista development cycle. He looked at Windows a few years back and felt it was far from good enough to be his legacy, so he has busted his hump to make this thing great because he knew, right from the start, that this was what he likely will be remembered for.
I'm not aware of a single product in this space that has had the level of focus Jim has put into Windows Vista and that is why it is as vastly improved as it is over Windows XP. Whether that is a secret advantage or just secret sauce, I think it's already clear, the result will be a much better offering.
---
Rob Enderle
, a TechNewsWorld columnist, is the Principal Analyst for the
Enderle Group
, a consultancy that focuses on personal technology products and trends.
---