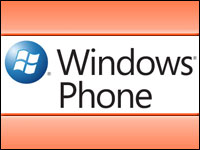 Microsoft has announced a global rollout of Windows Phone 7 smartphones.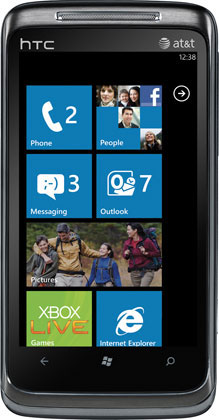 HTC Surround
Nine new WinPho 7 handsets will be available this holiday season from mobile operators in the United States, Canada, Europe and the Asia-Pacific region.
The devices are being made by Dell, HTC, LG and Samsung. All of them will run on the Qualcomm Snapdragon processor, Microsoft said.
In addition to offering standard Windows Phone enterprise capabilities such as support for Microsoft Outlook and Exchange, WinPho 7 includes consumer features such as a so-called people hub that provides updates on users' social networking profiles, a camera, and games.
In the United States, WinPho 7 smartphones will be available from AT&T and T-Mobile this holiday season. They will be offered on Verizon and Sprint next year.
"In developing Windows Phone 7, we are placing high-quality customer experience above all else," Deb Sommer, senior marketing manager for Microsoft, told TechNewsWorld. "In keeping with this goal, Microsoft chose to focus on delivering a great GSM/UMTS version to the world first, and then a great CDMA version in the first half of 2011."
The World Is Not Enough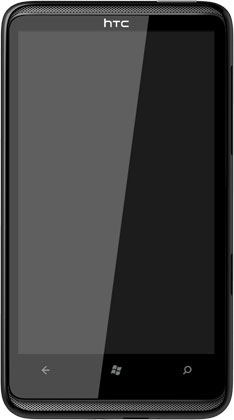 HTC HD7
Outside the U.S., WinPho 7 smartphones will be available in Canada, Mexico, the United Kingdom, Germany, France, Spain, Singapore and Australia, Microsoft said.
Nine WinPho 7 handsets will be rolled out for this holiday season worldwide.
In the U.S., AT&T Wireless will carry three handsets at US$199.99 each. These are the Samsung Focus, to be available Nov. 8; and the HTC Surround and the LG Quantum, which Microsoft's Sommer said will be available "in time for the holidays." She didn't state the pricing of the other phones.
T-Mobile USA will offer the HTC HD7 and Dell Venue Pro.
These devices will be available from the carriers' stores as well as online at their websites. Select models will be also available at Microsoft Store locations and from Amazon, Microsoft said.
Sprint and Verizon Wireless will begin carrying WinPho 7 smartphones in 2011.
WinPho 7 Software Features
Windows Phone 7 device owners will be able to use them to play MP3s from Microsoft's Zune service. Further, there will be a dedicated button for search that will deliver Bing for mobile, Web search results, local information and maps, among other things, from the Start screen.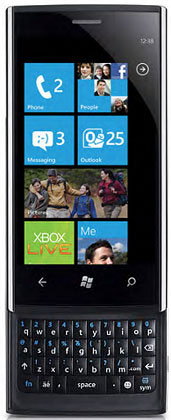 Dell Venue Pro
The Start screen is customizable and uses Live Tiles — large dynamic tiles that are designed for ease of use. These provide real-time updates from the Web, such as news, appointments, or friends' status from social networking sites. Users can easily create new Live Tiles from any content that they want, such as applications, websites or music.
"I played with some Windows 7 smartphones at CTIA and they're not bad at all," Maribel Lopez, principal analyst at and founder of Lopez Research, told TechNewsWorld. "It was a pretty easy experience."
WinPho 7 smartphones will come with a free FindMyPhone service on Windows Live. This new service lets users remotely ring and lock their smartphones if the devices become lost; users can also erase the data on the phones entirely. It also shows the location of the device on an online map.
Other features include a Windows Live solution that lets device owners manage their pictures online, Windows Live calendar and Office OneNote Mobile.
"Microsoft has done a really good job on the software side — it's simple to develop and use," Vipin Jain, CEO of Retrevo, told TechNewsWorld. Retrevo is offering RetrevoQ, a free app for WinPho 7 users that will help them make informed decisions when they want to purchase high-tech items.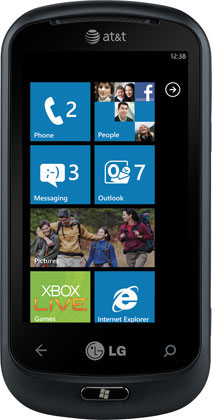 LG Quantum
RetrevoQ makes heavy use of WinPho 7 features such as Tiles, Toast notification, Metro UI and Panoramic Views.
"Microsoft approached us and showed us what it was thinking in terms of the whole user experience, and we thought this would be a good approach," Jain said.
Girls and Boys, Come Out and Play
Microsoft is also pushing WinPho 7 as a gaming platform. EA Mobile, a division of Electronic Arts, will offer WinPho 7 games that will be Xbox Live-enabled. Game titles will include perennial favorites "Tetris" and "Monopoly" as well as "The Sims 3" and "Need for Speed Undercover."
Other game creators include Microsoft Game Studios, Gameloft, Konami, Namco Bandai, PopCap and THQ. New titles will be released weekly, and users will be able to try games before they buy them.
Offering games may help push WinPho 7 device sales.
"Holiday sales are largely driven by consumer demand, and the partnership with EA and integration with both Windows and Office apps on the one hand, and Xbox Live on the other, should put Microsoft in pretty good stead," Charles King, principal analyst at Pund-IT, told TechNewsWorld.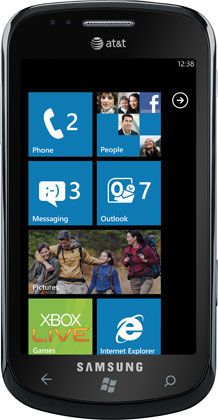 Samsung Focus
"The critical point will be to see how the company's wireless partners position these devices, particularly AT&T, which has an obvious and exclusive goldmine in the iPhone, at least for now," King added.
Keep On Truckin'
Microsoft is losing ground in the extremely competitive smartphone market to both the iPhone and Android. Windows Mobile 6 and its successor, version 6.5, didn't get much of a response from the market, and Microsoft's desperate bid to provide a stopgap measure by launching the Kin consumer phone in April flopped. Redmond had to pull the Kin six weeks after launching it through Verizon Wireless.
Will WinPho 7 take off, or will Microsoft take another pounding?
"Windows Phone 7 has to work, especially after the experience with Kin," Retrevo's Jain said. "We have seen that focus at Microsoft; it wants to do whatever it takes to be successful."