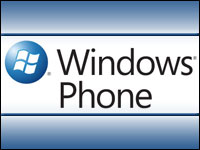 Microsoft released its first software update for Windows Phone 7 this week — and promptly stubbed its toe.
The update reportedly caused problems with Omnia 7 and Focus smartphones, both made by Samsung. Some users complained that the update left their phones "bricked," or rendered completely inoperable.
Microsoft has apparently temporary disabled the update for these devices.
Redmond did not respond to requests for comment by press time, while Samsung Mobile referred questions to company headquarters in Korea.
WinPho7's Wee Update
The update in question is a "relatively small one," according to the Windows Phone blog. It's designed to improve the software update process so that features users want, such as copy and paste, can be installed on their WinPho7 devices.
Microsoft is rolling out the update in phases.
Unlike some other mobile operating system vendors' updates, which are sent over the air, Microsoft took an old-fashioned approach with this update. WinPho7 device owners have to connect their phones to their computers through a USB cable and use either the Zune software for their PCs or the WinPho7 Connector for Mac to install the update.
Users who had previously installed the Zune software or the WinPho7 Connector on their computers previously may have to update those programs before proceeding with the update to WinPho7.
Microsoft's Pain
How could something have gone wrong with the update? Didn't Samsung, like other device manufacturers, work closely with Microsoft to ensure its products work well with WinPho7?
It's likely that the update wasn't thoroughly tested and was failing partway through the installation on the Samsung devices, speculated Chris Hazelton, a research director at the 451 Group. This is corrupting the devices' firmware, he suggested.
"Microsoft just can't catch a break," sighed Maribel Lopez, principal analyst at Lopez Research.
"This speaks to the complexities of having to create software that fits multiple vendors' platforms," Lopez told TechNewsWorld. "Something like this is bound to happen."
Google doesn't seem to have had a problem with rolling out an operating system that runs on multiple vendors' platforms, though — there don't seem to be any similar complaints from vendors making Android phones.
"We haven't heard of updates breaking phones using any other mobile OS vendor's platform," Lopez pointed out.
Microsoft will need to reissue the update, but it may hold off and wait until the next major software release, Hazelton told TechNewsWorld.
The reissue may come soon, he opined.
Impact on Microsoft
Microsoft's fallen well behind in the highly competitive mobile phone market, and the delayed debut of WinPho7 didn't help. When it announced earlier this month that it is teaming up with Nokia, which abandoned its own MeeGo and Symbian platforms for the marriage, criticism was raised that it was the wedding of two has-beens — Nokia has been losing ground steadily in the global mobile phone market itself.
"I would consider this more of an embarrassment than an actual setback," Lopez Research's Lopez said. "You can fix these things, but it's one of those things that you don't want to see in the headlines when you wake up in the morning if you're Microsoft."
On the other hand, the update issue won't deter any hardware vendors who have already committed to WinPho7, Lopez pointed out.
"Updates are difficult processes," the 451 Group's Hazelton said. "This could push back future updates slightly."
On the other hand, the problem might spur Microsoft to leap into the 21st century and begin issuing over-the-air updates like other mobile platform vendors do, Hazelton suggested.
"At this point, the over-the-air update should be a very simple thing," Lopez said.
"My biggest problem with Microsoft right now is that it has a new mobile operating system," Lopez added. "Until Nokia's announcement that it would work with Microsoft, it was unclear whether Windows Phone 7 would be longstanding; now it's unclear whether it's ready for prime time."