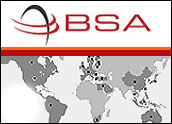 More than a third of the software on the world's PCs has been pirated from its makers, according to a study released yesterday by the Business Software Alliance (BSA), whose members include Adobe, Apple, Cisco Systems, IBM and Microsoft.
The annual study — this year conducted for the first time by IDC of Framingham, Massachusetts — showed that 36 percent of all software installed on the world's personal computers in 2003 was pirated, which cost software makers some US$29 billion in revenue.
It found that while $80 billion worth in software was installed on PCs worldwide last year, only $51 billion of it was purchased legally.
Major Challenge
"Software piracy continues to be a major challenge for economies worldwide," BSA President and CEO Robert Holleyman observed in a statement. "From Algeria to New Zealand, Canada to China, piracy deprives local governments of tax revenue, costs jobs throughout the technology supply chain and cripples the local, in-country software industry."
In addition to hiring IDC to do the study, the BSA also changed the project's methodology, which makes comparing 2003 numbers with those of prior years a dubious proposition.
"If you look at piracy from a losses perspective, it appears to have ballooned, but you have to consider that one of the main reasons that it has ballooned is that we're looking at a larger universe of software to begin with," Alex Manfredi, IDC program director for global project management told TechNewsWorld from his Miami, Florida office.
Exhaustive Universe
Past surveys were based on information from BSA members only, with some extrapolation, he explained.
He noted that IDC collects data for all vendors in all software markets. "So the universe that we're looking at is complete, is full, is exhaustive," he said.
BSA Vice President Robert Kruger cited several reasons for increases in swashbuckling activity.
Internet Problem
"In a number of regions of the world where piracy rates are already high and there isn't a lot of protection under law for intellectual property, the market is growing," he told TechNewsWorld.
"If the piracy rate in emerging markets — where people are rapidly integrating computers into their lives and businesses — does not drop, the worldwide piracy rate will continue to increase," added IDC Chief Research Officer John Gantz in a statement.
Another contributor to bootlegging growth is the Internet, Kruger maintained.
"Increases in bandwidth and the ability to move large files more easily and quickly over online connections has enabled users to identify and obtain illegal software over P2P [peer-to-peer] networks and download them just as many users are downloading illegal music files," he said.
XP for $40
"That's a trend that, if it isn't kept in check, could open up a whole new front for companies combating piracy," he added.
Buccaneers distributing their booty online often do so via spam. "There are lots of things being sold that don't appear to be genuine articles," asserted Alan Hockey, technical director for Clearswift in the United Kingdom, a maker of software for managing and securing communications and a prominent monitor of spam.
"Software is a major piece of spam activity," he told TechNewsWorld. "You can buy a copy of Windows 2000 or Windows XP for $40 and other programs substantially reduced from list price."
Bogus Auctions
Another source for illegitimate software has been online auction sites. "I know of one guy who bought a DVD with 50 or 60 Microsoft products on there and all the product keys on a piece of photocopied paper," Hockey recalled. "That isn't particularly genuine."
On a region-to-region basis the BSA study found:
Asia Pacific piracy rate to be 53 percent, with losses exceeding $7.5 billion;
Eastern Europe rate was 71 percent, with losses exceeding $2.1 billion;
Western Europe rate was 36 percent, with losses of $9.6 billion;
Latin American rate was 63 percent, with losses near $1.3 billion.
Middle Eastern and African rate averaged 56 percent, with losses exceeding $1 billion; and
North American rate was 23 percent, with losses exceeding $7.2 billion.