Xiaomi on Wednesday announced two new flagship smartphones in Beijing, the Mi Note and the Mi Note Pro.
The Mi Note has a metal frame and is protected on the front and back with 3D curved Gorilla Glass 3, which apparently makes it highly resistant to scratches and shattering.
Xiaomi compared the Mi Note to the iPhone 6 Plus, noting that the Note's 5.7-inch display is larger than the iPhone 6 Plus' 5.5-inch screen, and the Note is 0.15mm thinner and 11gm lighter.
However, "Xiaomi is not eating Apple's lunch — they are eating Samsung's," said Nick Spencer, a senior practice director at ABI Research.
"The names and sizes of the devices are no coincidence," he told TechNewsWorld.
Xiaomi "has Samsung on the run in China, and they are driving home the advantage by squarely pitching themselves against one of Samsung's last bastions of strength — the Galaxy Note," Spencer remarked.
The New Xiaomi Devices' Tech Specs
The Mi Note has a 2.5-GHz Snapdragon 801 processor and an Adreno 330 GPU from Qualcomm, a dual 4G micro/nano SIM card slot, and a 5.7-inch Sharp/JDI full HD display.
It will be available in 16-GB and 64-GB models.
The Note Pro has a Snapdragon 810 octa-core processor, an Adreno 430 GPU and a 2k display. That's not new — Sony, LG and Vivo offer smartphones with 2k displays too.
The Note Pro supports LTE-CAT 9, which offers download speeds of up to 450 Mbps.
Both devices run Android 5.0 Lollipop, skinned with Xiaomi's Mi UI.
Both have a Sony 13-MP f/2.0 rear camera with optical image stabilization and a 4-MP front camera with 2-micron pixels. They offer what appear to be excellent hi-fi audio capabilities as well.
The Mi Note, which begins shipping Jan. 27, is priced at $370 for the 16-GB version and $450 for the 64-GB mode. The Note Pro, to be released in March, will cost $530.
Taking On Cupertino
Like Apple, Xiaomi has "very savvy marketing, with constant flash sales being 'sold out' and creating a feeling of high demand and exclusivity," Spencer said. "They have a good community marketing model, constantly engaging with their user base, creating loyalty and inclusivity."
Xiaomi also "have a content play, adding to the uniqueness of the brand and community feel," Spencer added, that is "not dissimilar to Apple."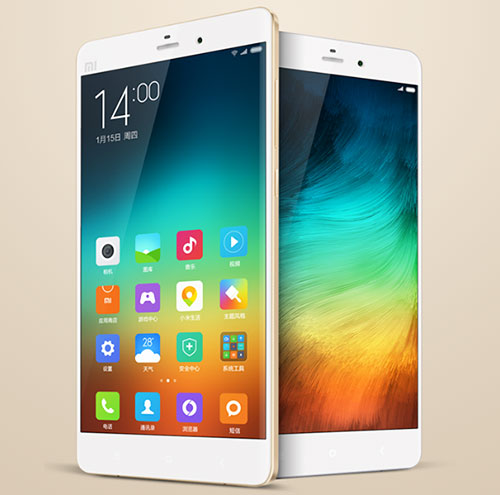 Xiaomi's Mi Note Pro
Xiaomi CEO Lei Jun "made multiple direct comparisons to the iPhone 6 Plus," Wayne Lam, a senior analyst at IHS, told TechNewsWorld. "The iPhone 6 Plus is extremely popular in China."
While the new Mi devices are "expensive compared to previous Xiaomi flagship phones, they come in well below the iPhone 6 Plus, which can run US $900-1,000 in China," Lam said.
Although Xiaomi "will likely ship a lot more phones than Apple in China in the coming years, the consumer perception of Apple is still that of a highly regarded luxury brand," he contended.
However, Xiaomi is not ready to tackle Apple in international markets.
Xiaomi "needs distribution channels, greater brand awareness, and they have to overcome their content and services dilemma," said Ian Fogg, a research senior director at IHS.
"One of their key differentiators is the quality of services … but when they go international, they have to include Google Services — and at that point, they'll lose some of their differentiation," Fogg told TechNewsWorld.
Further, Xiaomi needs to sort out patent issues — Ericsson is suing it for intellectual property violations in India.