Yahoo on Wednesday rolled out its new Yahoo Mobile service for smartphones. The company also announced Yahoo Messenger for the iPhone, which will be launched soon.
Yahoo Mobile for the Web is available as a service on the mobile Web, accessible by cell phones with Web browsers. It's also available at Apple's App Store for the iPhone and the iPod touch, Yahoo spokesperson Kate Sternberg told TechNewsWorld.
The mobile service can be accessed on more than 300 devices equipped with mobile browsers, Yahoo said. These include smartphones from Nokia, Research In Motion, Samsung, Sony Ericsson and Motorola, as well as Windows Mobile devices.
Users of Yahoo Mobile for the Web will have access to mobile search; news; oneConnect to stay in touch with contacts; email services from Yahoo, Google, AOL and Microsoft; social networking sites including Twitter and Facebook; and Yahoo's address book, calendar and instant messaging service.
The Java smartphone version of Yahoo Mobile for the Web has additional features. These include voice-controlled search capabilities; access to maps; widgets for services from Yahoo and other brands that can be browsed, added or removed at any time; and an integrated version of the Opera Mini 4.2 browser.
More on Mobile for the Web
Yahoo Mobile for the Web is available in the U.S., Canada, the UK, France, Germany, India, Indonesia and the Philippines. Versions for other countries will be rolled out throughout the rest of the year.
Yahoo Mobile for the Web is a tremendous improvement over Yahoo's previous offerings, according to Greg Sterling, founding principal of Sterling Market Intelligence.
"They had a number of different apps, and that made for a very fragmented experience," he told TechNewsWorld. "They've now consolidated all of that into a unified experience which is pretty consistent in look and feel. They've done a very good job."
Making a Move for the Moolah
With Yahoo Mobile for the Web, Yahoo is emphasizing its push into the potentially lucrative world of mobile advertising. Yahoo Mobile for the Web will feature display advertising from leading brands, and its integrated platform will let consumers send ads to friends, locate advertisers or their stores, and click to either call advertisers directly or learn more about the products or offers advertised.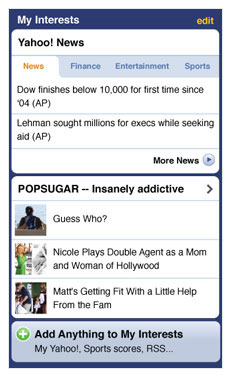 Mobile advertising is potentially a very lucrative market. "Google, Yahoo and Microsoft recognize that mobile is a very important frontier for their advertising business, maybe the most important frontier," Gartner analyst Andrew Frank told TechNewsWorld.
More importantly for Yahoo, which has been tottering financially since last year, advertising may help monetize the various new and improved mobile services it is offering.
"Mobile platforms are the latest frontier now, but people offering mobile services have to find some way of paying their bills," Charles King, principal analyst at Pund-IT, told TechNewsWorld. "People don't seem to want to pay for services online."
Can Mobile Ads Help Yahoo?
Picking up mobile ads could be a dicey proposition, however — Google's ad revenues slowed down in the fourth quarter of 2008, and the company has said this first quarter will be challenging. One sign of the times is Google's elimination Wednesday of its video units feature, which lets publishers show YouTube content and video ads on their pages.
However, Google's problems don't mean the door is closed to Yahoo, said Rob Enderle, principal analyst at the Enderle Group. "When you're underpenetrated in a market, you have head room even in a down market, and the mobile advertising market is underpenetrated," he told TechNewsWorld. "Remember, Google took a hit because they're the market leader and can't grow any more. Yahoo can move in on Google's market."
Yahoo's approach could help it monetize mobile ads, Gartner's Frank said. "The race isn't necessarily over in terms of digital advertising, which is increasingly becoming more of a three-channel proposition — the mobile screen, the PC screen and the TV screen," he said.
"Yahoo has made aggressive moves in the TV-screen area through its alliance with Intel and has a very grand vision of how it will extend its advertising to a more comprehensive, cross-platform experience," explained Frank, "whereas Google has been less transparent about its plans for developing these major channels, although it has made some major moves in mobile and the TV experience."
Yahoo and Intel teamed up last year to create the TV Widgets framework, a hardware and software platform that will work on TV sets, cable set-top boxes, and optical media players built with Intel's Media Processor CE 3100, to give TV watchers access to the Web. Best Buy has already begun selling Samsung LED 7100 Series high-definition TV sets equipped with Yahoo widgets.
Still, Yahoo will have to watch the ads it puts up. "The challenge is to have ads that are well-targeted and not too intrusive, not irrelevant — and also not to have too many ads," Sterling said.