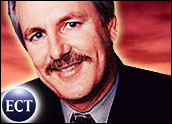 We are working our way toward the end of the year, and this year appears to be going out with a bang. The most recent drop in our river of discontent was a memo written by Yahoo's chief marketing officer talking about what other people in the company needed to do to fix it.
These things are always so well received that I thought it would be good to discuss this subject at length this week.
We'll end with a series of suggestions for tech gifts that I think lead the pack in terms of bringing a sparkle to that special someone's eyes.
Yahoo: All Peanut Buttered Up and No Place to Go
It is never a good thing when a top executive writes a memo blasting his peers and boss for running the company into the ground. The fact that he wasn't shot out of a cannon probably indicates both that a number of folks agree with him and that he must have some incriminating photos of someone important doing something stupid.
However, the core message that Yahoo is spreading its resources too thin should resonate with a lot of companies — as should the process executives need to go through to express displeasure with their own firm's management.
What many don't realize — and I certainly didn't at the time — is that executives can't just make decisions that seem obvious to the rank and file to make problems disappear. Or, put another way, they can make decisions — it's just they don't know the right ones to make.
The higher you go, the greater your risk of making a bad decision that can do material damage to your firm.
In addition, as a firm matures, it gets a lot of influential people who have strong opinions about where the next opportunities reside. These people have their own agenda, and moving against their pet projects can assure that your own pet projects won't survive.
That can create significant risk even if you do make the right decision, and it happens to be cutting a particular project.
So the firm, like Yahoo, gets stuck with a lot of projects that look equally high profile, and the executive staff is left to pull the company out of that mess.
Taking the Peanut Butter Out
I used to be part of a well-regarded serial turnaround team. When faced with a problem like this, the only way that I've learned works — without bringing in a turnaround manager to make large sweeping cuts — is to start by having the project managers build or update business plans.
You continue by prioritizing the projects, first by chance of success and potential revenue, and then by cost.
The highest-potential, lowest-cost projects go to the top of the list; the lowest-cost to the bottom.
You draw a line at available funding, and those projects that fall below the line become likely candidates for being cut.
Then you work from the bottom and check for dependencies. Those projects that have a lot of other projects above the line that depend on them move above the line — dropping the lowest in that grouping below the line.
After you finish this process, you should have a cut list comprised of projects that are most expensive, least likely to succeed, and with the fewest dependencies.
Avoiding Peanut Butter
Of course, this should be the big question: "How do you avoid this problem in the first place?"
The best way is to build a culture of quality over quantity, and make sure projects have good business plans with milestones that are monitored and enforced.
Remember that a problem like this one only flourishes when quality gives way to quantity in decision making, and when that happens, customers aren't happy.
It also helps a great deal if executives focus more on getting the job done well than they currently do.
In the end, this "spread too thin" problem is hardly Yahoo's alone, and other companies — like Microsoft and Intel — have experienced this in the past.
It can kill a company, and Yahoo executive management would be wise to focus on the problem itself before dictating a response.
Layoffs Too Easy
One thing that struck me about the memo was that while the CMO who authored it obviously didn't have a clear idea what, specifically, to do, he did have a clear idea that massive layoffs were necessary.
That's putting the cart before the horse, and such thinking can destroy morale and cause otherwise contented employees to start job-searching — or worse, behaving like disgruntled employees.
Layoffs, if necessary, should come after the number of projects is reduced, so that key employees are not lost in the process. Recall that when IBM carried out its big layoff in the early 90s, it lost the skills needed to build the AS400, one of the most critical projects it had during that period.
Blocking and Tackling
Now the "manifesto" was leaked — and the question is, who would want to leak it? The CMO who issued the memo could have leaked it to gain broad public support for what he felt the company needed to do. His opposition might have leaked it to discredit him and even imply that he leaked it himself.
These things can get rather ugly, and the example set of sending a broad memo that is critical of management is not one you'd want followed by the rank and file. The appropriate person to send out a memo like this is the CEO, whose job it really is to fix the related problem.
Yahoo may be better as a result of this memo going out, but the CMO may not survive what follows.
Holiday Gifts Over $500
H2X Master Spa Swim Spa: Deep Cycle batteries drive a propeller to create a swimming treadmill; a transducer pipes music in the water so you can swim to the beat; and it gives you a full water massage to work out the kinks when you're done. Cost is about US$32K plus crane and electric hook up (self contained).
Blade Electric Dirt Bike: Silently go off road and explore the wilderness in this stealth off road Motorcycle from Electric Moto Corp. Have fun and be environmentally correct. $3,500.
HP 37-inch MediaSmart TV: The first current-generation wireless flat-panel high definition display. Connects to the PC for pictures and music, and has a stunning picture and a piano black finish. Price just dropped to $2,000.
Sony HDR-SR1 Portable HD Video Camera: The problem with an HD display is that there is a shortage of HD content for it. The problem with HD cameras is that they tend to be too large to carry. The Sony is one of the smallest, has professional quality lenses, will take very high quality still pictures in a pinch, and will compress the file so you won't take a week to transfer it off the camera. $1,500.
Dell XPS M1210 ultra portable gaming laptop. Know someone who likes to game but doesn't like to advertise it or to carry a really heavy laptop? This one is relatively light, has full gaming performance, and sports an executive industrial design. Products like this from custom shops cost over $2,500, but from Dell, it's only $1,200.
Gateway 24″ Widescreen High-Definition Computer Monitor: The only monitor with a Faroudja upscaler to make regular definition video look high definition. Has the most complete set of features, including a very fast refresh, a rotating screen (for document editing) and a massive number of input options. It is HDCP-compliant to work with the new Blu-ray DVD players. $679
Toshiba Qosmio G35-AV660: Take all of your video with you on the road. Has a built in HD-DVD drive and built-in TV tuner. Screen is set to desktop levels — very bright — for TV and movie watching. Built-in Harmon/Kardon speakers and digital amplifier, and massive (for media, twin 120 GB hard drives). Even has a built-in HDMI connector to connect to large flat panel TVs. The ideal thing to take on a vacation with the kids, as they can watch their shows wherever you are. $3,000.
---
Rob Enderle
is a TechNewsWorld columnist and the Principal Analyst for the
Enderle Group
, a consultancy that focuses on personal technology products and trends.
---