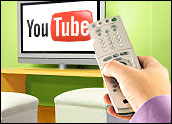 Google has launched a major interface redesign for YouTube. This latest change revamps the site overall. It also provides a new home page and simpler, customizable channels.
"We want to grow the amount of time people spend on the site, and we feel that growing channels is a way to help them find the videos they love," YouTube spokesperson Chris Dale told TechNewsWorld.
"It's really about redesigning the entire YouTube experience around these channels and making sure that people get more information and love what they get on YouTube," Dale said.
Look What They've Done To YouTube, Ma
There's a list of channels on the left-hand side of the new home page. They include trending, popular, music, entertainment, sports, science & technology, news & politics and gaming.
The center of the new home page has a new feed first introduced in the Cosmic Panda experimental UI YouTube unveiled in July.
Users can link their YouTube accounts to their Google+ and Facebook accounts and watch the videos their friends are sharing.
The channel design has been improved, with new channel templates.
YouTube's overall design has also been revamped based on suggestions users made when trying out Cosmic Panda. YouTube now has a consistent gray background, a more streamlined "watch" page and offers bigger video thumbnails.
"There's a group of power users on YouTube that use all the features and functionality built into the platform — [and] we want to build the experience around [them] and grow the number of power users on the site so they become more mainstream," YouTube's Dale said.
You can take a video tour of the new YouTube interface here.
I Don't Get No Satisfaction
Many users' comments on the YouTube blog announcing the site's new look and feel were negative.
Some didn't like the redesign, and others just wanted the old look and feel back.
"I think change is difficult for a lot of folks, and inevitably there's going to be a vocal minority of people that don't like the change, but our preliminary tests show users like it," YouTube's Dale stated.
Still others complained that Google seems to be emphasizing professionally made content that will get priority placement on the Channels section of the new YouTube front page, moving away from the amateur videos that have traditionally been its mainstay.
Money for Channels but Users Stay Free
"Google's trying to move to more professional content, but content owners don't trust them, which has been problematic," Rob Enderle, principal analyst at the Enderle Group, told TechNewsWorld.
Google's partners "are going to be buying for that [Channels section], but a user can choose what they want to appear in that bar," Dale pointed out. "It's user demand driven, and totally in the user's control."
If that's the case, it's difficult to see how Google can monetize the Channels section, which seems to be its goal.
No Revamp Left Behind
This latest YouTube UI revamp is one in a long line of ongoing refinements Google's making lately.
Google announced in October that more content would be coming to YouTube. This would include channels created by well-known personalities as well as content producers from the TV, film, music, news and sports fields.
Content would also come from innovative new media companies and some of YouTube's own partners. YouTube will continue to roll out the new content over the next year.
In July, Google introduced Cosmic Panda as a test. This offered more page designs and better editing tools to let users customize their channels. It also had a new look and feel and let users of computers running the Google Chrome browser keep watching when moving between videos, playlists and channels.
Back in February, Google launched what at the time it called one of the biggest redesigns in YouTube history.
This incorporated a new playlist design and introduced an AutoPlay On/Off switch that would control whether or not a user would automatically go on to the next video after the current one ended.
YouTube also introduced a queue feature to video search and integrated text and video comments.
"We're always listening to our users and we launch early and reiterate according to user feedback." Dale said. "We'll incorporate user comments into our future design."