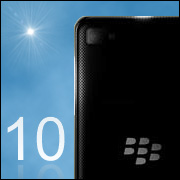 The handset maker previously known as RIM on Wednesday launched its new BlackBerry 10 smartphones: the Q10 with the familiar QWERTY keyboard, and something new for the company — the touchscreen-based Z10.
BlackBerry, as the firm is now called, will release the Z10 in the United States in March with the Q10 following in April.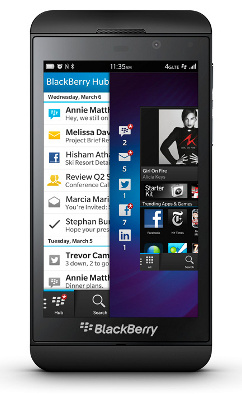 BlackBerry Z10
The company released full specifications of the Z10, but only had a placeholder Web page for the Q10 because "we'll be showcasing the Z10 and what it can do, and we'll release more information when we can," BlackBerry spokesperson Nick Manning told TechNewsWorld.
The Z10's Specs
The BlackBerry Z10 will have a touchscreen with gesture-based navigation, a virtual keyboard with contextual auto-correction, next-word prediction and a personalized learning engine that gets to know the way users type.
Its 4.2-inch screen has a resolution of 1280 x 768 pixels, and a 15:9 aspect ratio.
The Z10 has a dual-core 1.5 GHz CPU, 2 GB of RAM and 16 GB of flash memory. It also has a removable microSD memory card with up to 64 GB capacity; a USB 2.0 high-speed port for charging and data synchronization; and a micro HDMI port for connection to a projector or an HD TV set.
There's a 2 MP fixed-focus front camera with 3x digital zoom and image and video stabilization that can take videos at 720p. Features of the device's 8 MP autofocus rear camera include Back Side illumination for low-light performance; a 5-element F2.2 lens; a dedicated image signal processor; flash; image stabilization; 5x Enhanced Super Resolution digital zoom; and can record videos at 1080p.
The Z10 comes pre-loaded with various apps including BlackBerry apps; Facebook, Twitter and LinkedIn; Foursquare; YouTube; BlackBerry Connect for Dropbox; Print To Go; and Adobe Reader.
Other features include password protection, screen lock and sleep mode, and BlackBerry Balance, which restricts business apps and data from being accessed by personal apps.
The Z10 supports WiFi and Bluetooth. It incorporates Near Field Communication (NFC) technology and has GPS, an accelerometer, a magnetometer, a proximity and ambient light sensors, and a gyroscope.
It's the Experience, Not the Tech
Most of the specs listed for the Z10 are standard in smartphones. Understanding why may be the key to comprehending BlackBerry's strategy.
"The most interesting thing about the announcement was that it wasn't about specs," Carl Howe, a research vice president at the Yankee Group, told TechNewsWorld.
"BlackBerry is selling an experience now. I think that shows a very mature marketing plan and a conscious desire to market the products as more than the sum of their parts."
The Apps (May) Have It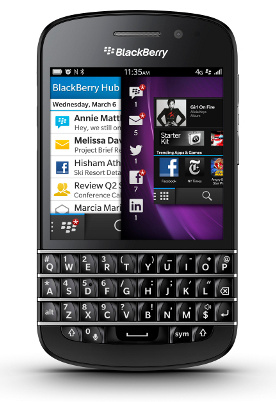 BlackBerry Q10
Apps are critical for any mobile device being marketed now, and the 70,000 apps offered on the BB10 platform "is the most number of apps that any new platform has launched with," Manning said.
"One of the things BlackBerry has done remarkably well is maintain the enthusiasm and interest of the developer community," Jeff Orr, a senior practice director at ABI Research, told TechNewsWorld. "There were more than 1 million app downloads on day one, and there's probably about 1,000 premier applications [that] include everything from Angry Birds Star Wars to a number of pretty hot titles, and they have things that are in development."
"BlackBerry 10 is launching with far more apps than Windows Phone 8 did when it launched," Yankee Group's Howe said. "I think it's probably enough to get started."
Making Headway in the Market
The challenge is whether BlackBerry can now make any headway in the smartphone market, where Android and iOS dominate.
Like Windows Phone 8, BlackBerry "is relevant in a space where the company has domain expertise but doesn't have the necessary channels and reach and audience," Orr pointed out. "The device, apps and platform are good, but their reach and their ability to maintain this vision are what the company have to prove."
If the company executes, said Howe, BlackBerry may become "a solid third ecosystem behind Apple and Android and ahead of Windows Phone 8."