Chances are, you know an Apple fanatic — someone whose iPhone, Mac or iPad is a prized possession. If you don't know a true fanatic, you probably know a fan — or barring that, someone who might appreciate an Apple-made gift this holiday season.
To help you cut through the chaff, from one Apple fanatic to… someone else entirely, I've put together a list of the best Apple gifts this holiday season, covering multiple price points.
Of course, we should get this out of the way right now: Most of Apple's price points are pretty high. While an Apple Watch, for example, might fit into a stocking, it's not exactly a gift that comes in at a stocking stuffer price.
In addition, you should know that Apple basically has turned its whole website into a storefront, so going to Apple to browse a traditional online store is just gone. You now browse product pages, and when you think you want to buy, you've got to find the "Buy" button. For a person considering a particular purchase, it's fine, but for a gift giver? Annoying. So here you go.
Under $25
1. Gift Cards — Seriously, Apple doesn't make hardly anything under US$25. The big gotcha with Apple's gift cards, though, is you have to pick the right one: An Apple Store Gift Card can be redeemed at a brick-and-mortar Apple Store or on the official Apple website, but not at the iTunes Store. You need to give an iTunes Gift Card if you want the recipient to be able to purchase items at the iTunes Store.
Astoundingly stupid, I know, and embarrassing when an Apple fan has to explain why their favorite $233 billion company can't figure this out. I mean really, who expects Grandma to know this?
2. Extra Cables — Apple does offer a handful of products under $25, but they are basically minor accessories. You can snag the always-needed extra Lightning to USB Cable for $19 (but the long 2 meter one that's great for long reaches is $29).
3. Remote Loop — OK, Apple sort of has a real accessory under $25 — the Remote Loop safety lanyard. You use it so you don't accidentally throw your Apple TV Siri Remote while working out or playing a game in front of your Apple TV.
Because this is one of the most infuriating kinds of purchases an Apple-loving fan has to make, it's not a terrible gift. It's actually sort of humorous and ironic because the extra price for this Remote Loop is just mind boggling: $12.99.
Under $50 – and Up
4. Apple Watch Bands — For $49, you can pick up a differently colored band for Apple Watch Sport users — or ramp up to the Leather Loop ($149) or Link Bracelet ($449). Lots of sweet options here, actually.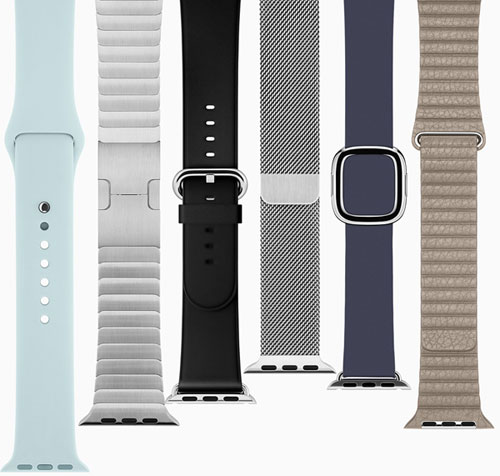 5. Apple World Travel Adapter Kit — Got a world traveler, or someone heading out for an international vacation? Get this kit for $29.
6. Apple Watch Magnetic Charging Dock — This $79 Apple Watch dock is a simple but nifty dock that lets you charge your Apple Watch flat or sideways, which lets you use it as a nightstand alarm clock.
7. Apple EarPods with Remote and Mic — Apple's included EarPods are pretty good, never fantastic, but solid enough. Despite getting a new pair with every iPhone purchase, these EarPods get abused and eventually manage to get lost. I never mind having an extra pair to leave in the pickup or by the bed ($29).
Under $100
8. Magic Mouse 2 — I'm a fan of the Magic Mouse 2, but I'm also old-school that way. The touch surface is handy for navigating my Mac and the precision on a variety of surfaces is fantastic ($79).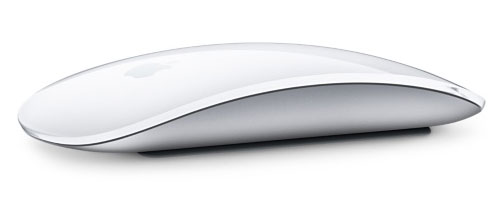 9. iPad Smart Covers — Apple makes some great magnetic iPad covers that are simple yet functional. There are a lot of great third-party covers, but you can't go wrong with Apple's. They are not exactly flashy or inspiring, but they do the job well. Price varies.
Under $300
10. Apple TV — If your Apple fanatic doesn't already have an Apple TV, this makes an excellent gift — but make sure you're getting the new Apple TV, the fat little 4th generation model.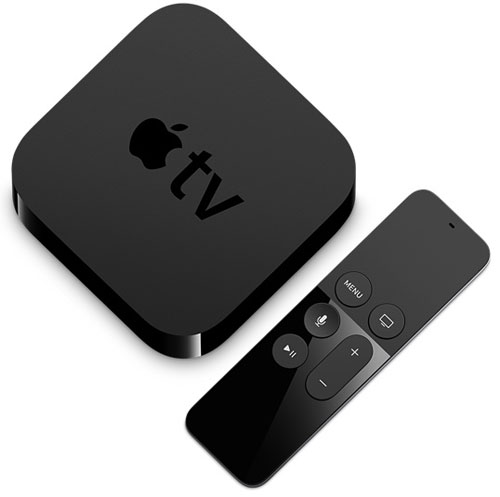 It comes in two versions: a 32-GB version good for everyone who watches mostly movies and TV and wants to use some cool apps; and a 64-GB version that's better for gamers who want to play graphic-heavy games on their Apple TV ($149-$199).
11. Magic Trackpad 2 — The Magic Trackpad 2 is a little spendy at $129, but its pressure-sensitive surface lets you bring the power of Apple's Force Touch to older Macs that don't have it built-in.
12. iPad mini 2 — Coming in at $269, the lowest-cost iPad is the iPad mini 2. It's a great little tablet, but it's also aging — get it only if the iPad mini 4, or better yet, iPad Air 2, is just out of your budget range.
13. Beats Powerbeats2 Wireless In-Ear Headphones — These are a bit spendy at $199, but hey, half the point of buying them is for the style and construction. They're great for active, sports and fitness enthusiasts with their over-the-ear hook to help keep them in place. Inspired by Lebron James, these bad boys are also sweat and water resistant.
14. Beats Solo2 Wireless On-Ear Headphones — Maybe not the very best sound quality, but the build and overall style is pretty great. Get Beats for Apple fans who just crave all things Apple ($299).
15. Apple AirPort Extreme — It took me a while to figure this out, but Apple's devices just seem to work a little better when they are connecting to an Apple-made WiFi base station. The price seems high, but when all of your devices get better signals and faster connection speeds, you'll appreciate it.
Of course, it helps to know that the AirPort Extreme base station uses a powerful beamforming antenna array to deliver better performance, which is your excuse for buying it, along with the chance to use the phrase, beamforming antenna array ($299).
Under $500
16. Apple Watch Sport — It's pretty hard to go wrong with an Apple Watch. This little wrist throwback device probably won't effect a massive change on your Apple fan's life, but there's so many little features packed into it that it's likely they will find a few ways to appreciate it.
The Sport starts at $349 and is the best buy. Should you step up to the stainless steel Apple Watch model for $200 more? I remain unconvinced it's worth it — snag some extra bands instead.
17. Beats Studio Wireless Over-Ear Headphones — A little bigger, a little more expensive, these Beats headphones offer a step up — with noise cancellation, no less ($379).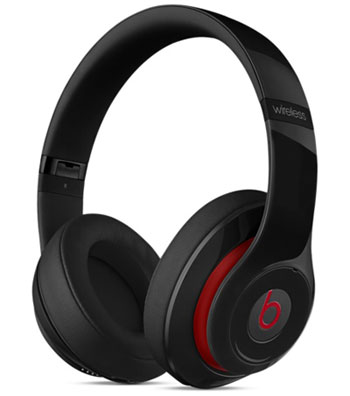 18. Mac mini — The least expensive Mac is also hard to recommend. While you can get into one for $499, it's a bit neglected in terms of overall performance; however, if you have an external monitor, keyboard, and mouse already — and are willing to cobble together your system with disparate parts — it's a good way to get into Mac OS X.
Under $1,000
19. iPhone 6s or iPhone 6s Plus — Starting at $649 and $749, the iPhone is arguably the most important device and experience for Apple fans. Hard to go wrong here.
20. iPad Pro — Let's get this straight: Not a very large percentage of people truly need the huge new 12-inch iPad Pro, but this iPad is a lust-worthy object. It boasts a sharp and glorious screen, and it weighs just 1.57 pounds. Inside, it uses Apple's crazy-powerful and efficient A9X 64-bit processor, which is 2.5 times as powerful as the A7 version from the iPad Air.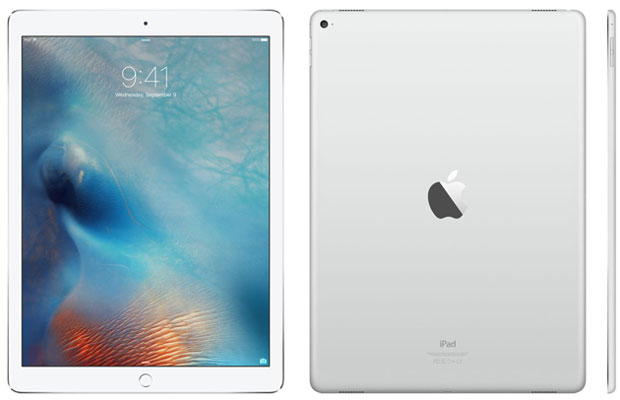 Plus, the iPad Pro works with the new Apple Pencil, which is great for artists, as well as the Apple Smart Keyboard, which is great for letting Apple fans get some real work done. The 32-GB entry-level model costs $799, while the 128-GB version goes for $949.
21. MacBook Air — There are two decent MacBook Air models available for under $1,000: the 11-incher and the 13-incher. The 11-incher goes for $899, and it's a super mobile unit. Pretty solid, really. The 13-incher is nearly as portable, offers more working space, and includes an SDXC card slot that's handy for photographers.
The downside? No super-sharp Retina display. The upside? Generally better performance than the new 12-inch Retina MacBook, at a lower cost and with a better keyboard. Oh, and one more thing: No new Force Touch trackpad, either. Still the Air is a popular, higher-value Mac option, even today.
Under $1,500
22. MacBook — At $1,299, the new MacBook with Retina display is a seriously ultralight wonder. What it lacks in overall performance, it makes up with lightness and screen-size balance. Pros and cons: The screen is gorgeous and the size is astoundingly packable, but the new keyboard is slightly annoying. It is best for frequent travelers or Apple fans who are often on the go.
23. 13-inch MacBook Pro with Retina display — The 13-inch MacBook Pro with Retina display offers the best overall bang for your Apple computing dollar. It sports a dual-core Intel Core i5 processor that will give you plenty of oomph for a few years. The 13-inch Retina screen looks fantastic and offers a good blend of portability with workspace. Bottom line? This Mac is a great option for the majority of Apple fans.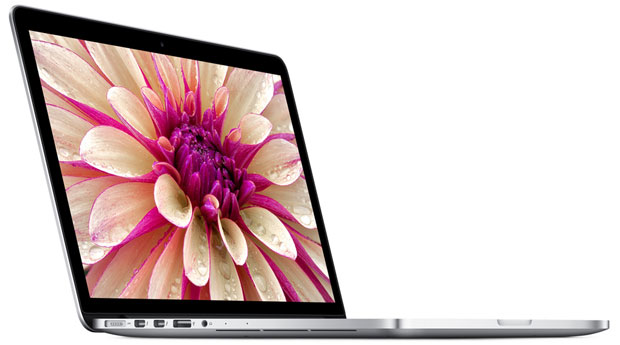 24. 21.5-inch iMac with Retina 4K display — This new Retina iMac is pretty sweet. Coming in at just $1,499, it's priced right and includes a quad-core Intel Core i5 processor.
This would be a knock-out hit if it weren't for one disappointing component — at $1,499 it comes with an old-school super-slow 5400-rpm hard drive. If it were easily user-upgradable, we could forgive this travesty, but since it's not, this iMac is best for school work or light business use.
Under $2,000
25. iMac 27-inch with Retina 5K display — Starting at $1,799, this huge and glorious iMac is just amazing.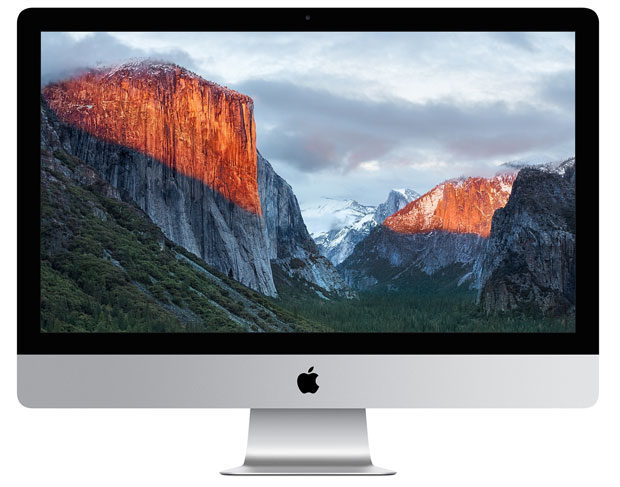 The only downside is the 7200-rpm hard drive, which means that if you can possibly afford it, you might consider stepping up to the next option at $1,999, which includes a faster Fusion Drive.
Over $2,000
26. 15-inch MacBook Pro with Retina Display — If price is no object, just go straight to Apple and customize a 15-inch MacBook Pro with Retina display.
Load that puppy up with the 2.8 GHz quad-core Intel i7 processor, along with 1 TB of fast Flash Storage… and happily plunk down $3,199. Your enthusiast or professional Apple lover will drool, hug it, and maybe even sleep with it tucked safely under one arm.
27. 27-inch iMac with Retina 5K display — Remember what you just read above this? Do the same thing here: Load up the big iMac with a screaming 4.0 GHz quad-core Intel Core i7 processor, then bump your memory up to 32 GB, get 1 TB of Flash Storage, and snag the AMD Radeon R9 M395X with 4 GB of video memory. Your final price? A cool $4,099. Pure awesomeness, though. Awesomeness.
28. Apple Watch Edition — For $12,000, if not more, you can buy a gold Apple Watch.
Don't be stupid. Seriously. If you buy this watch, you're probably bad for the world. Get a stainless steel option instead and spend your money on something better, ideally something that will leave the world a better place than how you found it.
Of course, all this is relative. Apple fans know this. You could argue that you ought to shell out for a cheaper Dell PC instead of a MacBook and spend the extra savings on doing good for the world… .
Yet there is a slight difference here. At under $2,000, most Apple products simply produce a higher overall level of lifespan and value — maybe not for everybody, but this definitely is a fundamental premise acceptable to most Apple fans. Plus, it often plays out in resale value.
But the Apple Watch Edition? Just look away, shake your head softly, and try not to think about it (or the people who buy it).
Meanwhile, happy holidays!