To cap off Monday's wide-ranging keynote at Apple's Worldwide Developers Conference in San Francisco, Apple CEO Tim Cook introduced a three-pronged music initiative.
"Music is such an important part of our lives and our culture," Cook said, showing off Apple's famous "one more thing" slide.
Apple executives Eddy Cue and Jimmy Iovine shared the demonstrations that followed, while musician Drake talked up how the new service will enable artists to connect with fans.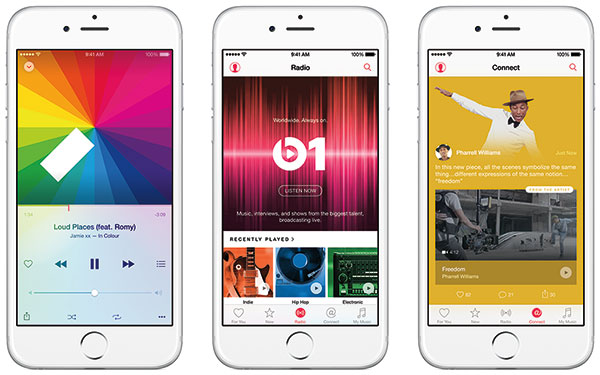 Apple Music combines a streaming music service with a new worldwide live radio station called "Beats 1" that will broadcast 24 hours a day from Los Angeles, New York and London.
The third element of Apple Music is aptly called "Connect." The new feature lets artists share lyrics, photos and videos, as well as release their latest songs directly to fans via their iPhones.
The basic pitch for Apple Music is that members get all the music they already own packaged alongside millions of songs from the Apple Music library. In various ways, Apple taps experts to handpick songs, artists, albums and shareable playlists to help push discovery. Along the way, members can add songs to their collections, which can be saved for offline listening, too.
Better yet, Apple Music lets iOS users ask Siri for help finding songs. On stage, Cue asked Siri to play the No. 1 song from May 1982 — the year he graduated, apparently — and Siri started playing Joan Jett's "I Love Rock 'n' Roll."
Similarly, he asked Siri to play the top 10 songs in the Alternative category and Siri responded by playing Walk the Moon's "Shut Up and Dance." With a slight hiccup in the first result, he was able to vaguely ask Siri to "play that song from Selma" and Siri was able to figure out that he was referring to the movie Selma and wanted to listen to the song "Glory."
Apple Music will launch June 30 and cost US$9.99 per month, or $14.99 per month for a family of six. The first three months will be free.
While Apple Music was clearly the most important new service announced today, Apple also revealed new apps and features for OS X El Capitan, iOS 9, Apple Pay, and its fledgling developer language, Swift.
OS X El Capitan
Based on the iconic slab of rock in Yosemite National Park, OS X El Capitan, the next version of Apple's operating system for Macs, is more about refinements than major changes. The new Safari includes usability features to make it easy to pin sites.
It adds the ability to identify which tabs are responsible for playing annoying audio — such as when a video advertisement automatically starts playing — presumably so you can mute it before you flip out and throw your Mac at a wall.
Apple also added a bunch of usability enhancements, starting with a new highly readable system font called "San Francisco" (shared with the Apple Watch). Mission Control has a simpler design that seems as if it will make it easier to find the window you want faster than before — when you've got lots of open apps and windows, of course.
It's now easier to create separate Spaces in order to group applications. If you're crunched for screen real estate, a new Split View feature automatically places two app windows side-by-side in full-screen mode.
Mail is smarter and does a better job of recognizing elements like names or events to add to contacts or calendars. You can swipe to delete messages now, too — as you do in iOS.
The built-in Notes app received a lot updates, transforming it from a simple text-based app to one that lets you drag and drop photos, PDFs, videos and other files into notes, as well as format the text and create checklists — all of which you can sync through iCloud between your Mac and iOS devices.
Apple's Metal graphics technology now accelerates animation and graphics to boost system-level rendering up to 50 percent, while also making the process up to 40 percent more efficient.
Developers can get access to the beta now, while the general public will have to wait until July, with the final version available this fall.
iOS 9
iOS 8 adoption was up to 83 percent, according to Apple — and that could get even better with iOS 9, because the available free space on a device that users will need has been significantly reduced to just 1.3 GB. So what's coming in iOS 9?
Siri seems to be a lot smarter, providing deeper access to apps as well as exhibiting location-based awareness and context.
For instance, during a demo of its new user interface, Craig Federighi, Apple's senior vice president of software engineering, asked Siri to show him "photos from Utah last August."
He could tell Siri to remind him to take his coffee off the roof of the car before getting in, he noted, or simply tell Siri to remind him about an event when he got home.
The new Siri promises to recognize your patterns and adjust accordingly. If, for instance, you work out every morning, Siri can learn from that, so that when you plug in your headphones, Siri can start playing the right workout music for you without being prompted.
iPad users gained a set of new features ripe for multitasking and doing real work: Slide Over lets you work in a second app without leaving the first app, while Split View lets you work on two apps side by side. Picture-in-Picture lets you watch a video in a small frame over the top of an app that you're working with — or take a FaceTime call while continuing to work in an app.
Apple's Maps now include public transportation details, including locations for subways, busses, trains, and ferries in select cities around the world — including Baltimore, Berlin, Chicago, London, Mexico City, New York City, Philadelphia, the San Francisco Bay Area, Toronto and Washington D.C. — as well as more than 300 cities in China, including Beijing, Chengdu and Shanghai.
In addition, Maps is now smart enough to offer directions that utilize multiple methods of transportation.
Apple Intros New 'News' App
The next new built-in Apple app to come to the iPhone and iPad will be News, a service and framework for users to select publications and types of content they want to read and engage with on their iPhones.
The content is delivered in a rich, uncluttered mobile-friendly way, in the new Apple News Format, which uses sweet typography, photo galleries and multimedia to let publishers deliver magazine-like articles on a mobile device.
Basically, Apple wants to replace your fractured hunting-and-gathering news experience with a single point of engagement — which is accessible even to very small publishers and websites (though details were scarce).
The iOS 9 beta is ready for developers now, and a public version will be ready in July. General availability is slated for this fall.
Apple promised some iPhone efficiency gains that will produce another hour of battery life in iOS 9, as well as a new low-power mode that can give you three more hours of life.
New APIs, Swift Go Open Source
Developers gained several new APIs to help them create better games. HomeKit gains support for more accessories, which can be controlled remotely through iCloud, and HealthKit gains tracking of new health metrics like hydration, UV exposure, and assistance with reproductive health.
Apple also announced that it would open-source its Swift application development language, which nabbed a blast of applause from the developer-focused audience. Swift has been used to create 15,000 apps in the App Store to date, and it can be used to create apps for both iOS and OS X, with support for Linux coming in the future.
Native Apps for Apple Watch
Apple briefly demoed a pair of new Apple Watch faces, one that uses photos as the background — or an album of your favorite photos — and another that uses time-lapse photos from several iconic places around the world.
More importantly, developers will be able to create native apps that run completely on the Apple Watch (instead of on the iPhone and the communicate to the Apple Watch). This should boost responsiveness for some apps. Developers also will be able to add Complications to each watch face, assuming that users implement those complications.
A new Time Travel feature lets you use the Digital Crown to scroll forward or backward through events, giving you contextual information from multiple apps — for instance, during the day you can scroll forward to night to see what events are on your calendar and what the weather will be like.
Apple also added a new Nightstand Mode that turns your Apple Watch into a bedside clock while it's charging during the night. When might all of this start showing up? You guessed it: sometime this fall.
More Apple Pay on the Way
Apple renamed the vague "Passbook" app "Wallet," noting that the company's goal is to replace the traditional wallet entirely. Apple Pay will add support for store loyalty and reward cards — and Apple Pay will be smart enough to recognize when you're in a store and can use such a loyalty card.
To date, more than 2,500 banks support Apple Pay, with Discover coming on board this fall. This summer, Apple Pay will be available in more than 1 million locations after Apple Pay comes to the UK — at launch, 250,000 locations will support Apple Pay in the UK.
Privacy Is Yours
While the Apple WWDC keynote was wide-ranging — some portions seemed rushed just to cover all the little tidbits — one theme popped up several times: user Privacy.
Remember hearing that the new features of Siri will be context- and location-aware? Apple isn't associating that collected user data with its customers. Apple says it's anonymous and not associated with an Apple ID — and that much of the data is randomized, not linked to other Apple services, and not shared with third parties.
At one point, Apple's SVP Federighi noted that Apple doesn't mine your email, photos, or contacts in the cloud to find out things about its customers, because "we honestly just don't want to know."