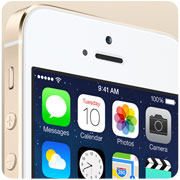 Apple has released a major update for iOS that takes its mobile firmware beyond the confines of smartphones and tablets and onto car dashboards.

The Apple CarPlay system, which will be available in select models this year, promises to insert the most common features of iPhone that a driver may wish to use while behind the wheel directly into the car's built-in display.
Drivers can get directions, make calls, send and access messages, and listen to music through the dashboard and a connected iPhone.
The iOS 7.1 update adds the functionality for iPhones to interact with compatible dashboards. Drivers will be able to control CarPlay through voice commands and a touchscreen, as well as the knobs, dials, and buttons that control the dashboard computer.
Third-Party Apps
Using the Maps app, drivers can access turn-by-turn directions with traffic conditions and an estimated arrival time. CarPlay can tap into addresses from mail, messages, contacts and calendars to try figuring out where drivers are most likely headed.
Users also can access music artists, albums, playlists and iTunes Radio through the car's controls or Siri, while the dashboard also can access and control other audio apps, including podcasts, Spotify and iHeartMusic.
"You'll see that over the next few years, we're going to be using iPhones as well as Androids and every other smartphone, while integrated with the car," said telecom analyst Jeff Kagan.
"Eventually, it's going to change the way we interact with our iPhone or with the car. It's part of the transformation of the smartphone," he told TechNewsWorld.
The iOS 7.1 release includes a number of other features, including a refreshed list view for Calendar events, an automatic HDR mode on the Camera app in the iPhone 5s, and a refreshed user interface for calls, FaceTime and other features.
Siri has been updated as well. Users will be able to hold down the Home button while they speak and release it when they're done to ensure the personal assistant tool listens to everything they have to say.
Touch ID Improvement
The Touch ID fingerprint recognition in the iPhone 5s has been improved, a crash bug related to the Home screen has been resolved, and iPhone 4 users will have increased performance and responsiveness on their iOS devices, Apple said.
Meanwhile, those who use FaceTime across multiple devices will see notifications cleared on their other devices after they take a call. There are other bug fixes to the firmware as well.
More Features Needed
While many of the new features have been welcomed by users, there still seem to be some features that Apple could introduce to make the platform more user-friendly.
Apple could allow users to close apps en masse, for example, suggested Kagan.
"You have to get rid of each window one by one," he pointed out.
"If you only do it once every few days or every few weeks, you have a lot of windows. It would be nice if it would just have a feature to get rid of all of them for you. I could just flick it once, and it's done, instead of sitting there for five minutes and flicking and flicking," Kagan said.
"I would have expected a more significant revamp of Apple Maps, because that is such a high- profile and critical application, especially in conjunction with CarPlay," Jim McGregor, principal analyst at Tirias Research, told TechNewsWorld.
In iOS 8, McGregor believes "that we will see more support for other user interface solutions, such as motion and gesture control. These will continue to improve over time."