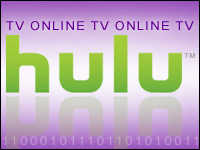 What Hulu giveth, Hulu taketh away. At first applauded for its openness in providing its content to other distributors, the online streaming video company — a joint venture of NBC Universal and News Corp. — this week pulled back that content from Web-to-TV software provider Boxee and TV.com, CBS's digital video service. However, CBS is now pushing back at Hulu, and those rumblings you hear on the digital horizon may be the first shots fired in a new round of major media company battles over the right to watch TV shows on your computer.
CBS interactive spokesperson Sarah Cain gave a statement that is short on words but speaks volumes regarding the potential for a fight: "CBS Interactive is well within its rights to stream Hulu video content on TV.com under its agreement with Hulu. We are evaluating our next steps at this time," Cain said.
Earlier this week Hulu sent this statement to other media organizations: "Hulu has contractual rights with regards to our relationship with TV.com and we are exercising those rights. Out of respect for their confidentiality, we will not disclose our discussions."
TechNewsWorld has sent an email request for reaction to Hulu CEO Jason Kilar; it had not received a response by press time.
Jockeying for Position
Both CBS and Hulu drew kudos last year for making digital deals with "frenemies," including the likes of online brand heavyweights AOL, MSN, Yahoo and, of course, each other, said Forrester Research senior analyst Bobby Tulsiani. However, its own success, couple with the economy's failure, may be forcing Hulu to revalue its content and consider new business models.
"Hulu has some of the most valuable content out there," Tulsiani told TechNewsWorld. "CBS has higher network ratings than Fox or NBC, but for the Web, Hulu's content is about as good as you can get — "Saturday Night Live," "Family Guy," "Simpsons," that library is perfect for the Web. It targets young people, it's clips, it's viral and episodic.
"In terms of being critical to business, you can absolutely understand why library size could become important. It's really valuable. Would you just give it away to your competitors? I can understand Hulu's position."
TV.com may be been singled out by Hulu because of CBS's desire to pump up its offerings on the site, Tulsiani says. "It could be jockeying for position. CBS is putting their full muscle behind it, more so than Yahoo or AOL or MSN, their other partners who have email, business and celebrity news and other categories."
Cable Entering the (PC Screen) Picture?
A report in The Wall Street Journal that cable companies may be trying to build out their own streaming video offerings for computers could also figure into the competitive mix, Tulsiani said, and may be sparking Hulu's actions this week. Comcast and Time Warner are poised, well capitalized and already pay fees to bring TV programming into your living room; adding another portal via your computer could be a logical next step. Hulu has partnerships with Comcast-owned networks including E! Entertainment, G4 and the Golf Channel.
Cable's entry into streaming PC video may force Hulu to start charging for some content. Right now Hulu is free, ad-supported TV on your PC, and the question of paid services is addressed on the "Media FAQ" page of its Web site:
Will Hulu always be ad-supported or are there any plans to charge for additional services?
Hulu's goal is to help people find and enjoy the world's premium content when, where and how they want it. We believe that offering free, ad-supported content is a good first step toward achieving that goal and that it is the model that will resonate with largest group of users today. That said, we also believe in listening closely to user feedback to help guide our future plans.
"Free resonates with consumers, but doesn't resonate as well with businesses," Tulsiani said. "We will start seeing more experimentation with paid models. Hulu's smart not to rule that out, although they do emphasize free because they know brand equity behind free is very powerful, especially at this time. But the cable guys are obviously already getting your (US)$40 a month. If they roll out a Web portal, can they charge $41? For Hulu to go from free to pay may be a tougher transition than cable going from pay to a little more pay."