Samsung used all the marketing and showmanship power at its disposal Thursday to take the wraps off its new Galaxy S4 smartphone, which highlights new ways for users to interact with a mobile device while improving the hardware that forms the foundation of its Galaxy product line.
"We've taken technology and innovation to help us get closer to what matters in your life," Samsung CEO J.K. Shin told the crowd gathered at New York's Radio City Music Hall, which served as a fitting backdrop for a tightly scripted, hour-long event right out of a Hollywood awards show, complete with orchestra, skits, videos and a wise-cracking emcee.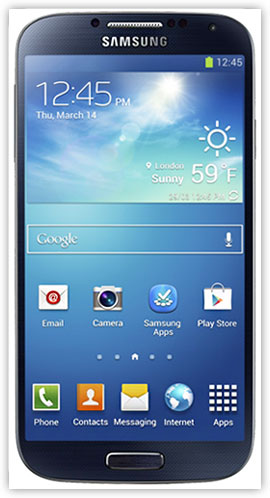 The Samsung Galaxy S4
The event underscored Samsung's commitment to use its considerable marketing budget and branding muscle to make the Galaxy S4 a bestselling smartphone, one that will help chip away at Apple's iPhone market share lead in the U.S.
"They understand the way consumers now perceive these products," Ben Bajarin, principal at Creative Strategies told TechNewsWorld. "You have to capture consumer attention. Anything the company does from that perspective is trying to capture consumer mindshare, and Samsung is willing to spend money to do that."
The S4's Specs
The Galaxy S4 will be available in the U.S. in April from all four major carriers; no pricing was announced.
The smartphone is similar to the Galaxy S III, but is thinner and features a 5-inch Super AMOLED HD screen — larger than both the S III and the iPhone 5 — with 441 ppi; resolution is 1920 x 1080 pixels. The S4 is powered by a 1.9 GHz quad-core processor and will ship with 16, 32 and 64 GB storage. There is a microSD storage slot.The phone supports WiFi, 3G and 4G LTE and has GPS and near field communication capabilities.
Samsung has boosted the camera of its new Galaxy phone; the rear camera has 13 MP resolution, with 2 MP for the front-facing lens. Both cameras shoot video at 1080p resolution.
The operating system has Android's 4.2.2 Jelly Bean as its foundation, although there was almost no mention of Google's mobile operating system during the event.
"This is absolutely the Android phone to beat," said Michael Morgan, mobile device analyst at ABI Research. "It will be hard for any handset OEM on the planet to put up a smartphone with equal technical specifications — to be able to produce en masse a smartphone with similar specs."
New Ways to Interact
The Galaxy S4 was rumored to have new eye-tracking features, and the smartphone does offer a minimal version of that technology in Smart Scroll, which recognizes when someone is looking at the screen; users then can tilt the phone to scroll up and down. Smart Pause uses facial recognition to sense when someone has looked away from a video game or movie they're watching on the phone, and will pause the action. Air View and Air Gesture recognize hand and finger movement so users can swipe and scroll through screens and website pages without actually having to touch the glass.
"Samsung has out-innovated Apple in the areas of innovation that brought Apple success, which is that user experience, that user interface," Morgan told TechNewsWorld.
Samsung is pushing the new features as having more of a direct connection to what consumers need and want in a mobile device. That includes the S Translator feature which supports text-to-speech and speech-to-text for communicating in 9 languages; type in a question in English and you'll hear a French translation, for example.
The S Health offerings can track calorie consumption and uses the phone's accelerometer to monitor walking/running activity, in a nod to the popularity of devices like FitBit. S Health also plays into a burgeoning Samsung Galaxy ecosystem with wearable accessories that monitor the body's vital signs and will connect via Bluetooth to the S4.
"They're loading a lot of interesting features," Bajarin said. "I'm not sure all of them are solving problems that the mass market cares about, but Samsung is distancing themselves from competitors on the Android side especially. They're loading quite a bit of top-tier innovations."
A Focus on the Camera
Many consumers have ditched traditional cameras for the ones that come with their smartphones. Samsung is addressing that market with new camera offerings, including the ability for both front and rear-facing cameras to capture images or video at the same time.
Sound and Shot lets users record audio for photos that can be shared via email or social media. Drama Shot can capture up to 100 images in four seconds, and then lets users put together a composite of their favorite scenes into a single image. "Samsung is leading the way with connected cameras," Julien Blin, mobile device analyst for Infonetics told TechNewsWorld. "They're leveraging their strength. Nobody should be surprised that they're doing what they do best."
Reaching Out to the Enterprise
The latest round of Samsung TV commercials are targeting business customers, and the company continued that effort with the introduction of Samsung Knox, a security feature that plays into the bring your own device (BYOD) trend in the enterprise. Samsung Knox builds a wall between personal and business content on the S4, which Samsung hopes will please corporate IT directors in terms of security while recognizing consumer privacy demands.
"Every since the Galaxy S III, Samsung has really stepped up its game," Blin said. "They're not looking back. They want to dominate, and that includes business use. They're investing a lot of time and money building teams to come up with best in class services and content and applications."
The S 4's Market Outlook
The fact that Samsung has loaded so many hardware and software features into the S4 shows its commitment to own the U.S. smartphone market, Morgan said. "Most OEM's might choose one or two or three of these features to put in a phone," he said. "Samsung has put everthing and the kitchen sink into this device. In a sense, I feel this device is more Samsung than Android in Samsung clothing. Samsung has more ownership of this device than Google has, and you can't say that about a lot of Android phones out there."
The S4 also puts Apple in a position where it has to respond with its own strong iPhone offering. "Apple is going to have to step up," Blin said. "Everybody's worried now that (Steve) Jobs is gone, but they still have talented people. But they have to show more and take more risks, because Samsung is not holding back on anything."