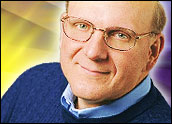 It will probably come as a surprise to the millions of people who have already purchased one, but the Apple iPad is just another PC, according to Microsoft CEO Steve Ballmer, who made the comments this week during a recent on-stage interview at the D8 Conference in Rancho Palos Verdes, Calif.
"Of course it is," Ballmer told Wall Street Journal tech columnist Walt Mossberg. "It's a different form factor of PC. It wouldn't surprise me to see the competition (Apple) try to eliminate the role of what they've had that hasn't been popular in order to popularize the thing that's new and fashionable."
Of course, Ballmer has a history of being very quotable at various technology gatherings, whether they are hosted by Microsoft or by outside entities such as the WSJ. So Ballmer didn't stop at the iPad; he also questioned the need for Google to develop two operating systems, Android for smartphones and tablets, and Chrome for everything else. "Why do Android? You can't get two — having two things, believe me, is not an aid to coherence in your ecosystem. Do one, make a bet, tell people what you believe in and go do it," Ballmer said.
Lest you think his appearance on stage — which he shared with Microsoft chief software architect Ray Ozzie — was all about getting digs in at the competition, Ballmer also admitted that Microsoft missed a key cycle in the smartphone wars and "we now find ourselves number five in the market."
The Form Factor Factor
Yet it's Ballmer's take on the future of computing devices and his contention that the iPad is just the first in a new round of machines that enable media consumption, entertainment and Web interactivity — just as PCs do today — that is getting the most attention in the tech media universe.
"I actually think he's missing something," Creative Strategies president Tim Bajarin told TechNewsWorld. "The more you play with the iPad, the more I think it's a paradigm shift in portable computing. It changes the way people think about computers. Number one, it's somewhat transparent when you're working or playing with it. You don't think of it as a personal computer. And secondly, its utilitarian nature is probably even more expanded because now I can read while laying in bed, in an easy chair, watching television or a lot of different scenarios where you just don't have the same thing with a laptop because of its form factor."
One point on which Bajarin and Ballmer agree, though, is that laptops and desktop machines won't be going away anytime soon and that the iPad and other tablets do represent a new PC platform, "but we think it's more than that. It's a new paradigm that has a huge upside for the industry."
Ballmer's point — that Apple is trying to define a new device category simply for business reasons — could also be applied to his company, says Directions on Microsoft analyst Matt Rosoff. "[Microsoft] have their own way of looking at the market. Certainly there are threats to Microsoft's business from low-cost PCs and tablets that don't run full versions of Windows. I think there is a niche for inexpensive devices that are mainly about consuming and some communications functions built in. So an iPad or touch-type table makes sense. When you're doing serious content creation, you're going to want a little more processing power."
Yet Apple CEO Steve Jobs has also said this version of the iPad won't be the last. Forthcoming iterations could be more powerful, have cameras and robust video editing programs included, and might end up being an alternative for work/productivity. "Apple has the ability to merge hardware and software and services, all in that single device," Rosoff told TechNewsWorld.
The Google Question
Rosoff also sees the necessity for Ballmer to attack the idea of Google's two operating systems, but not necessarily to cast aspersions on the forthcoming Chrome. "Chrome is a press release. Yes, there are some early builds out there that some people have compiled, but until we really see Google release a product using it, you can't evaluate it."
The danger to Microsoft really comes from Android-powered tablets like the new Dell Streak.
"Android has proven successful, so we know that Google is learning pretty quickly how to create an OS. It's entirely possible it could succeed. I do think the threat of mobile OSes moving upstack (for use in tablets) and cannibalizing the netbook market is a threat."
Yet thanks to strong relationships with OEMs and developers, Windows will remain a force in computing for a while. "People choose Windows for a variety of reasons — lots of application and hardware compatibility, and OEM's like it because it's what they know. So Windows is in a pretty good spot," Rosoff said.
However, extending the Windows brand to a successful smartphone OS remains a priority for Ballmer, Bajarin emphasized. "It is critical, and he's right — he calls it a cycle, but he missed more than a single cycle. He missed really expanding Windows Mobile at a time when enterprise smartphones were really exploding, and he missed it again with Apple's iPhone by not having anything close to competitive."