Microsoft Hardware on Monday unveiled several new mobile-friendly keyboards and mice designed specifically for use with its forthcoming Windows 8 and tablets: the Wedge Touch Mouse, the Wedge Mobile Keyboard, the Sculpt Touch Mouse, and the Sculpt Mobile Keyboard.
On Oct. 26, when Windows 8 becomes officially available, Microsoft will also be releasing new Windows 8 gestures for the Microsoft Touch Mouse.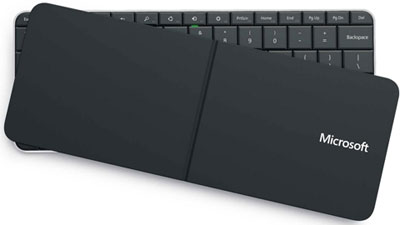 Microsoft Wedge Mobile Keyboard
The Wedge Touch Mouse is pocket-sized, offers four-way touch scrolling and navigation, and can be used on a variety of surfaces. The Wedge Mobile Keyboard is intended for use with a tablet, but with the feel of a full-size keyboard, and its cover converts to a tablet stand.
The Sculpt Touch Mouse includes a four-way touch scroll strip for up-and-down, left-and-right navigation, and it allows for users to swipe through windows and documents. And the Sculpt Mobile Keyboard is lightweight and has an ergonomic design.
Back to the Future
"Microsoft has always been a big player in the peripheral segment," technology consultant Eric Brown told TechNewsWorld.
"[It] sees the market moving away from a desktop/laptop-centric environment to a mobile- and agile-focused environment focused on tablets and phones," he said. "These new releases highlight the fact that they are thinking about the mobile marketplace and are positioning their peripheral segment squarely in the middle of that market."
With these new peripherals, Microsoft is highlighting the centrality of mobility in both its software and hardware.
"It seems to many [that] Microsoft is going back into the hardware game, [but] I don't see it that way," Chris Silva, a mobile industry analyst with the Altimeter Group, told TechNewsWorld.
"A new OS is coming out, and based on the past debacle that was the Vista launch — where hardware partners did not have a chance to prep hardware and drivers pre-release — Microsoft is providing reference architecture products that are designed to showcase the features in Windows 8," he said.
"Windows 8 is the first truly multiscreen OS that Microsoft has launched, [so] it has a vested interest in showcasing a fleet of related products to sell an ecosystem and an experience, not just software," continued Silva.
Tablet-friendliness seems to be the name of the game for Microsoft with these peripherals.
"The mice — especially the wedge-shaped ones — appear to be designed with gestures in mind," Avi Greengart, research director for consumer devices with Current Analysis, told TechNewsWorld.
"The keyboard cover with tablet stand suggests that Microsoft expects many consumers to buy tablets this fall, though its Surface models will come with their own keyboards built into their covers, and stands built into the Surface itself," he pointed out.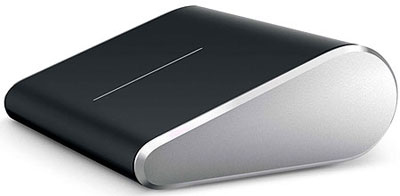 Microsoft Wedge Touch Mouse
In some ways, however, these new products are not exactly revolutionary.
"There are many similar products out in the marketplace from a number of vendors, so I am puzzled why Microsoft is even doing this," IT consultant Bill St. Arnaud told TechNewsWorld.
"The revenues will be tiny," he said. "I think it is another example of poor management and leadership at Microsoft."
Creating an Ecosystem
It might be, however, that Microsoft is simply following Apple's lead in building a complete ecosystem of matching software and hardware.
"Microsoft has been building up its retail location assets for a while to espouse a similar 'build the ecosystem, sell the experience' strategy," said Silva.
"The main difference [between Apple and Microsoft] is that Apple has pulled ahead to where the market is going, [making] money on well-designed hardware and [offering] up software at little cost," he said. "It'll be a while before Microsoft is there."