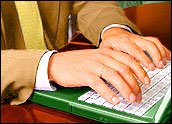 While they are instrumental in disseminating information and raising environmental consciousness, our dependence on digital electronics is also putting ever greater strains on us and our environment.
"Manufacturing a desktop computer and 17-inch CRT monitor uses at least 240 kg (530 lbs) of fossil fuels, 22 kg (50 lbs) of chemicals and 1,500 kg (3,330 lbs) of water — a total of 1.8 tons (1.9 English tons) of materials — roughly the weight of a sports utility vehicle or a rhinoceros," according to Computers and the Environment, a 2004 book released by United Nations University (UNU).
While mountains of e-waste continue to accumulate in dump sites and landfills around the world, establishing viable electronics recycling programs worldwide is slow going. It's a colossal task that requires long-term commitments from all parties that make up the life cycle of any laptop, PC or electronic product, not the least of which is the consumer.
Many players are well aware of their roles on the consumption side of the cycle. The disconnect lies on the back-end of the product life cycle loop, beginning with disposal, and its going to take major changes in values, attitudes and behavior if it is to be closed and a truly eco-friendly laptop and electronics industry develops.
A Vexing Problem
Almost all laptops and PCs in the U.S. are simply thrown in the trash, leaving governments, aid agencies and taxpaying consumers to pick up the costs — monetary, environmental and ultimately those related to health care. The Environmental Protection Agency (EPA) estimates that in 2005 only 330,000 pounds, or 12.5 percent, of the 2.63 million tons of electronic waste that was disposed was recovered for recycling. The other 87.5 percent ended up in landfills or incinerators. Exactly how they are being recycled is a large, thorny and troubling problem in and of itself.
More fundamentally, making a truly eco-friendly notebook, laptop or PC just isn't possible, certainly not at the present time.
"My usual answer is rather simple: We will never have a green PC or laptop. It's a high tech product — just keeping in mind how much energy and resources are needed to produce, use and then dispose of and recycle them — but we must ensure that they are designed, built and disposed of in ways that are environmentally sound. We need to establish a type of competition to develop ecologically sound products and processes. … Thermodynamically and technically it's possible, but it's not economically feasible," maintained Ruediger Kuehr at the United Nations University in Bonn, Germany, and a coauthor of Computers and the Environment.
Putting all this aside, let's take a look at what happens when hypothetical laptop owner Joe Verdi decides to be environmentally responsible and turn in his three- or four-year-old laptop for recycling.
A Short and Cautionary Tale
If Verdi resides in the U.S., or even in a more environmentally progressive EU member nation for that matter, chances are that his laptop will be exported to any one of a host of developing countries that effectively serve as dumping grounds for e-scrap and e-waste.
Seattle-based Basel Action Network (BAN) in its 2002 report "Exporting Harm" revealed that about 80 percent of electronic waste brought to recyclers in the U.S. is in fact not recycled within its borders but exported to Asia, most likely China, where "it is melted down in primitive, environmentally damaging conditions including the cooking and melting of computer circuit boards in vast quantity."
Local, state and federal governments consider the high-tech and electronics industry as the proverbial "goose that lays the golden egg"; they have also been eager to avoid dealing with even potentially serious environmental threats in a quest to promote industry, business and employment.
"For years, [the e-scrap and e-waste problem] was a dirty little secret, both on the production and disposal side — it's an energy and materials intensive industry, many of which are extremely toxic," Robin Schneider, vice chair of the Electronics Take-Back Coalition and executive director of the Texas Campaign for the Environment, told TechNewsWorld.
So what happens to the typical laptop in the U.S. once it comes to the end of its useful life?
About 88 percent will go to the landfills; the ones headed for a recycler will likely end up with scrap recyclers in developing countries where toxic elements such as mercury will be released into the environment, including the soil and groundwater, Schneider said.
"If it winds up in a place like Nigeria, Ghana or China, it is likely to be burned to keep volumes down in unregulated dump sites," she added.
In those countries, more than 80 percent of children have high levels of lead poisoning from burning toxic brominated flame retardants, said Schneider.
"Unfortunately, our EPA is ready and willing to keep this toxic trade going," Schneider elaborated. "If it goes to landfills, we have the same problem of mercury vaporizing upon shattering in a garbage truck or in the landfill and potentially leaching into groundwater. … A fraction of a teaspoon can contaminate a 70-acre lake."
The potential for such practices to come back and haunt consumers in the U.S. is becoming increasingly explicit and clear.
Ashland University chemistry professor Jeffrey Weidenhamer took from an Ohio discount store jewelry samples for his class to analyze. The samples led to a year-long research project, connecting with BAN and the publication of two research papers based on the discovery that electronic solders from e-waste and old car batteries were the likely sources of lead that was recently discovered in trinket and charm jewelry imported from China.
Creative, Coordinated Problem Solving
Changing "business as usual" and consumer mindsets that include every person in the world who purchases a laptop or piece of electronic equipment isn't simple, or cheap. It's a product life cycle loop that encompasses manufacturers, extends across transnational supply chains through retailers to every consumer in every nation and then on to those involved in collecting, recycling, reusing and disposing of e-waste and e-scrap.
Progress is being made, however. HP has been running its own recycling program for 20 years. It has take-back programs in more than 40 countries. Going forward, it aims to double its annual recovery rate and reach the 2 billion pound electronics and printer cartridge recycling mark by year-end 2010. The company last year met an initial goal set in 2004 of recycling 1 billion pounds of electronics.
HP in 2006 recovered 187 million pounds of electronics globally, 73 percent more than IBM, its closest competitor.
"Environmental responsibility is good business," said Mark Hurd, HP chairman and chief executive officer. "We've reached the tipping point where the price and performance of IT are no longer compromised by being green, but are now enhanced by it."
Operationally, HP's extensive list of environmental goals for last year included continuing to divert 87 percent of solid, nonhazardous waste from landfills globally and finding alternatives to the use of brominated flame retardants and PVC (polyvinyl chloride) in external case plastic parts of all new HP brand product models introduced after Dec. 31, 2006.
HP's recycling initiatives extend throughout the organization and beyond. Gathering accurate and timely data on product life cycles and materials and energy usage is the first and most critical step. It's in the process of assessing them for 95 percent of product materials, components, manufacturing and transportation suppliers by number and by spend.
Initial phases of employee training programs in China and Central Europe were completed this year. Auditors are being trained and supplier educational programs have been conducted in Brazil, Central Europe, China, India, Southeast Asia and Vietnam. In China, HP is coleading a program to create a "capability building strategy for the electronic sector" in cooperation with the World Bank, the Chinese government and the Shenzhen Electronics Association.
Governments Taking Action
Among world governments, the EU has been the most aggressive when it comes to taking on responsibility for tackling the e-waste and e-scrap issues. Its Waste Electrical and Electronic Equipment (WEEE) regulations went into effect on Jan. 2, 2007, but changing deeply ingrained practices at all points of the product life cycle is a very difficult nut to crack.
"By law, all EU members are condemning illegal exports, but there is still quite a lot still leaving Europe as products categorized for reuse and refurbishment. … Shipments are difficult to distinguish for customs officers and others," explained Kuehr.
Legislative impetus is now coming to head in the U.S. Twenty-three states introduced electronics recycling bills in 2007. "It's actually being adopted faster than I thought it would — three states over three years (2004-2006); (in 2007) five states adopted producer take-back laws for e-waste," Schneider noted.
"Electronics is really the cutting edge of producer take-back programs in the U.S. Because five bills passed, and in such diverse places — California, Texas, Connecticut, Minnesota and North Carolina — this year it became clear that's the way we're going," she continued. "State and local governments made a big difference; they realize they cannot afford all the costs and problems associated with e-waste and we've convinced the major electronics companies to support that. … The bill here in Texas was drafted by Dell and supported by HP after we did corporate campaigning and pressured them since 2002."
Closing the Loop
Adding to the momentum, the concepts of expanded, or individual, producer responsibility and "Cradle to Cradle" product and process design are gaining traction. Industry participants are devoting more resources and finding ways to recycle and reuse materials.
Developing the concepts entails establishing the market structure and incentives that result in "producers competing not only on the basis of how fast and how well they can manufacture their products, but how fast and how well they can recycle them," Schneider maintained.
Such creative environmental problem solving is also leading researchers and policy advisors to evaluate the idea of "product dematerialization."
"The ideal case from my point of view would be that the customer would not purchase the product but purchase the service for, say, a one-, two- or three-year period. … It is then returned to the manufacturer and the consumer is issued a new one, thereby closing the loop," Kuehr explained.
"In this way, it's in the interest of the assembler to make the most of the product's return. … I can see various positive effects from the dematerialization of electronic equipment — it would ensure the sharp progress of technologies, even shortening new product introduction periods. … There's been some testing of new products by large OEMs (original equipment manufacturers) on these issues, but there's no information as to how in-depth they were. There does not seem to be any attractive way of dealing with these problems, which makes it easier to continue business as usual. … This is visionary, not a one- or two-year effort, but mid- to long-term planning," he said.